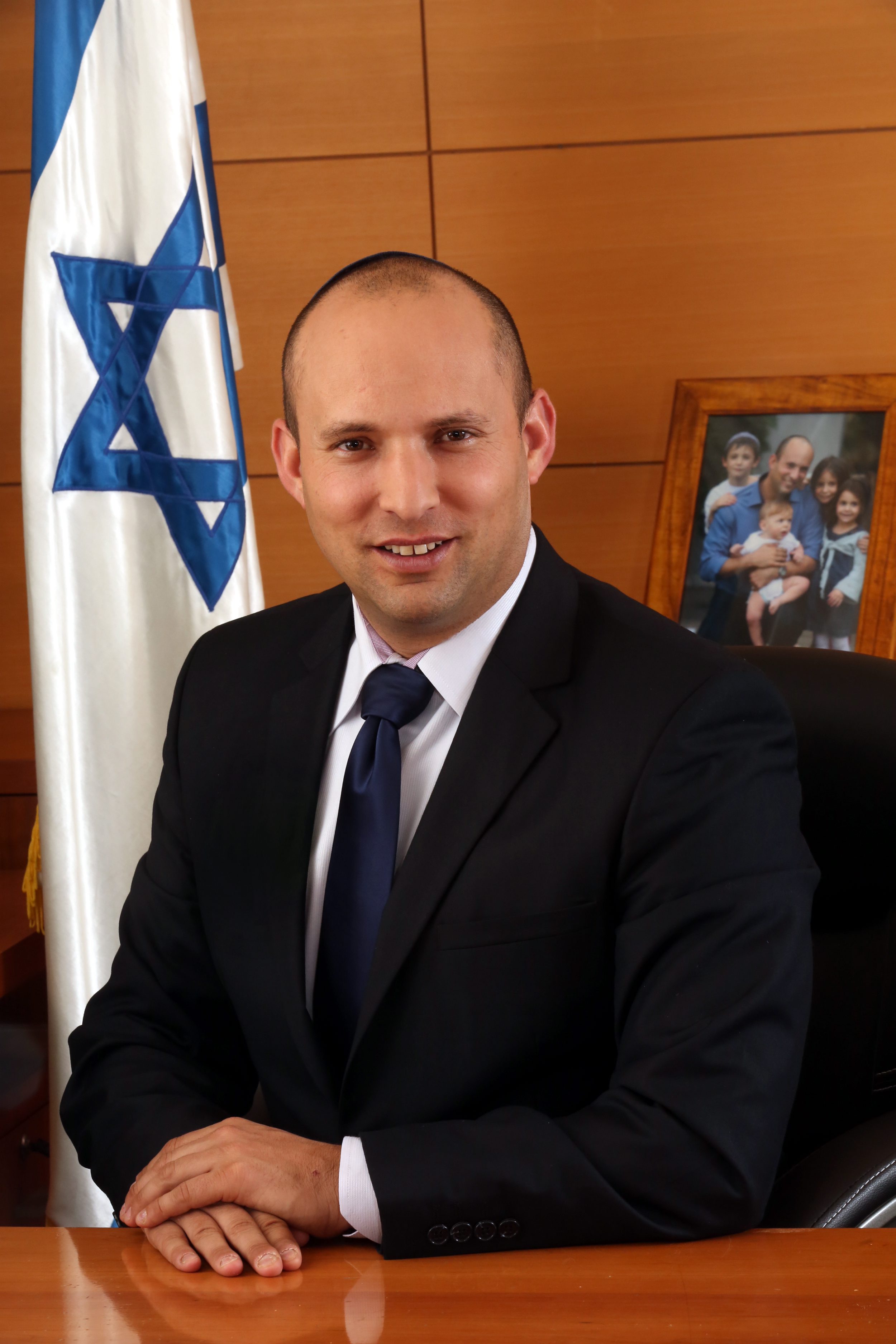 Naftali Bennett is a former software entrepreneur and an Israeli politician. He is the current leader of the Yamina Party.
Bennett was born in Haifa on March 25, 1972, to an American Jewish couple who had immigrated to Israel from San Francisco just after the Six Day War in 1967. He is the youngest of three sons.
Bennett attended a Chabad preschool when his family lived in Montreal and a religious high school. He was a youth leader in Bnei Akiva.
He served in the Israel Defense Forces in the elite special forces commando unit Sayeret Matkal as well as the special forces unit Maglan. After his service he earned a law degree at the Hebrew University of Jerusalem.
In 1999, he co-founded and co-owned the U.S. company Cyota focused on preventing various types of online fraud. The company was sold in 2005 for $145 million making him perhaps Israel's wealthiest politician. He has also served as CEO of Soluto, an Israeli cloud computing service, sold in 2013 for a reported $100–130 million.
From 2006 to 2008, Bennett served as Benjamin Netanyahu's Chief of Staff. In 2010, he was chosen to be the Director General of the Yesha Council and worked against a settlement freeze.
In April 2012, Bennett broke away from the Likud Party and joined The Jewish Home (Habayit Hayehudi, in Hebrew). In the January 2013 Knesset elections, Bennett's party won 12 seats in the parliament, making it the fifth largest party in the legislature.  In March 2013, Bennett and Yair Lapid, the head of the Yesh Atid Party, joined forces with Prime Minister Benjamin Netanyahu to form a coalition government. Bennett was rewarded with the position of Minister of Economy and Trade. He was also appointed Minister of Jerusalem and Diaspora Affairs.
Bennett was appointed Minister of Education, and Minister of Jerusalem and Diaspora Affairs following the election in March 2015. Netanyahu split the Ministry of Jerusalem and Diaspora Affairs, initially taking back the Jerusalem Affairs portfolio for himself. In October 2015, Bennett resigned from the Knesset to allow Shuli Mualem take his seat. His resignation took place under the Norwegian Law, which allowed ministers to resign their seats when in the cabinet but return to the Knesset if they leave the government. He returned to the Knesset in December 2015 after Avi Wortzman opted to vacate his seat.
In December 2018, Bennett was among the Jewish Home MKs to leave the party and form the breakaway New Right Party.
In the 2019 Knesset elections, New Right narrowly failed to cross the electoral threshold; as a result, Bennett did not gain a seat in the 21st Knesset. In June 2019, Netanyahu dismissed Bennett from the government. His party made a comeback, winning seven seats in the September 2019 elections and, in November, the prime minister appointed Bennett Minister of Defense.
Netanyahu pressured Bennett to form a union with the far right parties to increase the chance they would exceed the electoral threshold in the election for the 23rd Knesset in March 2020. Bennett, however, decided to run a joint slate – Yamina – with his Hayamin Hehadash Party and the National Union Party. The United Right as they were also called won six seats.
In the 2021 election, Bennett's Yamina Party won seven seats, but due to the split between the pro- and anti-Netanyahu factions, he was viewed as the kingmaker. While his natural allies are on the right, his opposition to Netanyahu, with whom he was once close before having a falling out, led him to reject an offer to join a coalition where he would become prime minister for two years and Netanyahu for two. When Netanyahu failed to form a coalition and Yair Lapid of Yesh Atid was given the mandate to form a government, Bennett said he wanted to be part of a broad coalition.
Just before the deadline expired to form a government Bennett agreed to join a coalition with Lapid and six other parties, including the Islamist Ra'am Party. According to the agreement, Bennett will serve as prime minister for the first two years and Lapid the second two. 
The government was confirmed by a vote of 50 to 49 with one abstention on June 13, 2021.
He is the first religious prime minister and first born of American parents. Like Netanyahu, he is fluent in English.
Bennett is the author of the Bennett Plan for solving the Israeli-Palestinian Conflict. The plan involves three divisions of the West Bank. Israel would annex Area C, while the Palestinian Authority would retain control over Areas A and B while working in concert with Israel's security forces to ensure peace. Gaza would be ruled by Egypt. Bennett does not support the creation of a Palestinian state.
According to Gabe Friedman, "Bennett advocates for free-market reforms, particularly in Israel's expensive housing market: He is against regulation, taxes and other restrictions on business. He is a proponent of widening Israel's network of trade partners around the world, including in emerging markets and in smaller countries with newer relationships with Israel."
Though Bennett had some legislative successes, notably passing a budget for the first time in three years, he did not manage the politics of his coalition well. Defections from his and other parties erased the narrow one vote margin he enjoyed in the Knesset and it became untenable to govern. On June 20, 2022, he announced he would move to dissolve Parliament and call for the country's fifth election in three years. The Knesset voted on June 30 to dissolve.
As per the coalition agreement, Foreign Minister Yair Lapid will serve as interim prime minister until a new government is formed.
"We did everything we possibly could to preserve this government, whose survival we see as a national interest," Mr. Bennett said. "To my regret, our efforts did not succeed," he added. Bennett subsequently announced he would not run in the next election and the Yamina Party would be taken over by Ayelet Shaked.
Bennett is married. He and his wife Gilat have four children.
---
Sources: Chaim Levinson, "Bennett's West Bank plan ignores existence of about 100,000 Palestinians," Haaretz, (January 17, 2013).
Revital Hovel, "Deconstructing Naftali Bennett: Growing up to be a leader," Haaretz, (January 18, 2013).
"Naftali Bennett," Wikipedia.
Barak Ravid, "1 big thing: Netanyahu failed. Now the fight begins," Axios, May 5, 2021).
Gabe Friedman, "Who is Naftali Bennett, Israel's likely next prime minister?" JTA, (June 1, 2021).
Patrick Kingsley and Isabel Kershner, "Israel's Government in Crisis After Senior Lawmaker Quits Coalition," New York Times, (April 6, 2022).
Patrick Kingsley, "Israel's Government Collapses, Setting Up 5th Election in 3 Years," New York Times, (June 20, 2022).
Michael Hauser Tov, "PM Bennett Announces He Will Not Run in Israel's Next Election," Haaretz, (June 29, 2022).
Portrait: Public domain via Wikimedia Commons.