U.S. Policy During WWII: The Bermuda Conference
(April 19 - 30, 1943)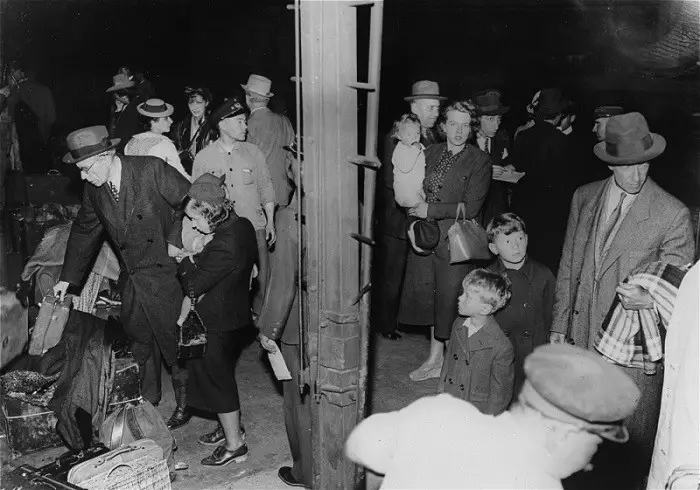 Polish-Jewish refugees seeking to leave Europe arrive in Lisbon. Following the German invasion of France, Jewish and non-Jewish refugee assistance organizations relocated their headquarters to Lisbon, the only neutral European port from which refugees could depart to North and South America. Lisbon, Portugal, (June 21-22, 1940).
The Bermuda Conference was an Anglo-American Conference on refugees in 1943.
During World War II, Jewish and general public opinion in the United States and the British Commonwealth urgently demanded that the Allied governments rescue the victims of the Nazi regime. Under pressure from parliament, churches, and humanitarian organizations, the British Foreign Office, on Jan. 20, 1943, proposed joint consultation between Britain and the United States to examine the problem and possible solutions. After an exchange of diplomatic notes, the Anglo-American Conference on Refugees was held in Bermuda from April 19 to 30, 1943.
The American delegation was headed by Harold Willis Dodds, president of Princeton University; the British delegation, by Richard Law, parliamentary undersecretary of state for foreign affairs. No private organizations or observers were admitted but interested Jewish organizations in America and England prepared memoranda proposing rescue measures. Chaim Weizmann submitted a document on behalf of the Jewish Agency for Palestine, underlining the importance of Palestine in the solution of the problem of Jewish refugees, and demanding abandonment of the policy based on the British White Paper policy of May 1939. The delegates, however, anxiously avoided referring to the Jews as the Nazis' major victims.
Disagreement between the two governments about continuing the Intergovernmental Committee of Refugees, founded at the Evian Conference in July 1938, took up most of the time but it was decided eventually to extend its mandate to deal with postwar problems. British plans for opening up camps in North Africa as a haven for refugees during the war proved impracticable.
After seven months – on December 10, 1943 – the report of the conference was published. Its only positive decision – to revive the Evian Committee – came too late to save a single Jew from the Holocaust.
---
BIBLIOGRAPHY
M. Wischnitzer, To Dwell in Safety (1948), 245–8; Adler-Rudel, in: YLBI, 11 (1966), 213–41; A.D. Morse, While Six Million Died (1968), index; World Jewish Congress (Australian Section), Bermuda Conference on Refugees (1943); A. Tartakower and K.R. Grossmann, The Jewish Refugee (1944), index.
---
Source: Encyclopaedia Judaica. © 2008 The Gale Group. All Rights Reserved.
Photo: US Holocaust Memorial Museum, courtesy of Ike Bitton.