George Patton
(1885 - 1945)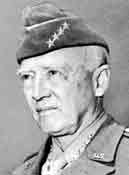 General George Smith Patton, Jr., was born on November 11, 1885 in San Gabriel, California. His military career was one of the most colorful of all 20th Century military leaders. He participated in the Pentathlon of the Stockholm Olympics in 1912 and placed fifth overall in the event. Later, he served as a member of General John J. Pershing's staff both during the punitive Expedition to Mexico and in World War I. He joined the newly formed Tank Corps, where he served until the Corps was abolished in 1920 at Fort Meade, Maryland. After World War I, he held a variety of staff jobs in Hawaii and Washington, D.C., and completed his military schooling as the distinguished graduate of the Army War College. He served as control officer for the mechanized maneuvers in Georgia and Louisiana, which tested the entire mechanized concept of the Army.
With the formation of the Armored Force in 1940 at Fort Knox, he transferred to the 2d Armored Division at Fort Benning, Georgia, and was named the Commanding General, 2d Armored Division, on April 11, 1941.
On November 8, 1942, Patton commanded the Western Task Force, the only all American force, landing in North Africa. After the American defeat at Kasserine Pass, he was given command of all American forces in the Tunisia Combat Area.
He commanded the Seventh army during the invasion of Sicily in July 1943 and served in this capacity until March 1944, when he was given command of the Third Army which became operational in France in August 1944. When American forces broke through the German defenses, Patton's Third Army dashed across Europe and exploited German weaknesses with remarkable success. In October 1945, he assumed command of the Fifteenth Army in American-occupied Germany.
After the defeat of Germany, Patton was put in charge of overseeing the displaced-persons (DP) camps in southern Germany. In a letter to Eisenhower, President Truman quoted from a report on conditions in the DP camps written by Earl Harrison. "As matters now stand, we appear to be treating the Jews as the Nazis treated them except that we do not exterminate them. They are in concentration camps in large numbers under our military guard instead of SS troops. One is led to wonder whether the German people, seeing this, are not supposing that we are following or at least condoning Nazi policy."
Patton said of the report, "Harrison and his ilk believe that the Displaced Person is a human being, which he is not, and this applies particularly to Jews who are lower than animals."
The "military guard" was Patton's idea. "If they [the Jewish DPs] were not kept under guard," he wrote in his diary, "they would not stay in the camps, would spread over the country like locusts, and would eventually have to be rounded up after quite a few of them had been shot and quite a few Germans murdered and pillaged."
Earlier, Patton had visited the German concentration camp of Ohrdruf with General Bradley. Although Bradley said Patton would not enter the camp, Patton wrote a letter to Eisenhower encouraging him to send reporters to document "the brutality of the Germans."
On December 21, 1945, General Patton died in Germany as a result of an automobile accident. He is buried among the soldiers who died in the Battle of the Bulge in Hamm, Luxembourg.
---
Source: Patton Museum of Cavalry and Armor;
Richard Cohen, "What Bill O'Reilly ignored about George Patton," Washington Post, (September 29, 2014).
Photo: Public Domain.