The SS (Schutzstaffel): SS-Verfügungstruppe
The SS-Verfügungstruppe (combat support force) (short: SS-VT) was created in 1934 from the merger of various Nazi and right-wing paramilitary formations. Two regiments were formed, in northern Germany the SS-Standarte "Germania", and in southern Germany SS-Standarte "Deutschland." In Berlin-Brandenburg they were incorporated into the SS-Leibstandarte Adolf Hitler. SS-Verfügungstruppe was considered as an armed wing of the General-SS and as a part of the Nazi party, instead of the Wehrmacht.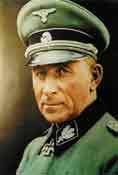 Unit Commander Paul Hausser
The SS regiments "Deutschland" and " Leibstandarte" participated in the 1936 occupation of the Rhineland, and parts of them were among the invading force in March 1938 during the Anschluss of Austria. Subsequently, the Austrian SS regiment "Der Führer" was formed. By late 1938, the units of the SS-VT were in part subordinate to Oberkommando der Wehrmacht and, on October 10, they were combined into the SS-Verfügungsdivision (short: V-Division) under the command of SS-Brigadeführer Paul Hausser.

Under Hausser, the V-Division was trained into an effective and skilled combat fighting force, taking part in the invasion of the Sudetenland in 1938 and Poland in 1939. V-Division never fought as a single unit, but was instead divided into smaller regiments dispersed among the various regular Army units. In 1940, after the invasion of France, V-Division was given the name "Reich," at the same time, "Reich" and other SS-VT units, along with Theodor Eicke's Totenkopf-Standarten, were subordinated to the new Kommandoamt der Waffen-SS and from then on called the Waffen-SS.

It was not until after the start of the Russian campaign, "Operation Barbarossa," that the Division got its final name: Das Reich.
---
Sources: Wikipedia