The SS (Schutzstaffel): Totenkopfring
The Totenkopfring, also known as Death's head ring is frequently, and wrongly, believed to have been a wedding ring of the Nazi Party. It was, in fact, a highly prized award of Heinrich Himmler's Schutzstaffel or SS.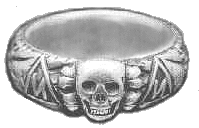 The ring was at first presented to senior officers of the Old Guard who had displayed extraordinary valiance and leadership skill in battle. Later, as the entrance requirements of the undermanned SS were lowered, so were those of the Totenkopfring. It was soon available to any officer with 3 years service in the SS.

The runed design of the ring reflects Himmler's interest for mythology and the occult. The skull (or Totenkopf) was the traditional symbol of the SS, taken from other German and Prussian military units of the past, The two Sieg (victory) runes represent the lightning flash runes of the Schutzstaffel, while the Hagall rune represents the faith and camaraderie that was idealised by the leaders of the organisation. The Hakenkreuz or swastika was originally a rune meaning light and hope. However, the SS liked to portray this as another influential symbol of the power of the Aryan race. The Heilzeichen, on the rear of the ring, was a creation of the SS designers rather than a historical rune. It symbolises all the ideals of the SS, from camaraderie to their belief that SS men should sacrifice all for their brothers, as is emphasised by the SS motto "Give death and take death."

At the end of the war, Himmler, seeing the ring as a personification of all he believed, had all the remaining rings blast-sealed into a mountain near Wewelsburg, where one of his significant castles was situated. All rings were to be returned to the Reichsfuehrer upon the bearer's death or when they left the SS. Around 14,500 rings are thought to be in existence today, and therefore are very rare, collectable items, often reaching up to £4,500 in sales. Copies are widely available and are very affordable and convincing. The rings show the name of the bearer, the date of presentation, and a facsimile of Himmler's signature, plus the abbreviations. S Lb. for "Seinen lieben" or "to dear."
---
Sources: Wikipedia; Picture courtesy of: U.S. National Archives.