Walter Rauff
(1906 - 1984)
Walter Rauff was a member of the Reich Security Main Office, the Reichssicherheitshauptamt, a department of the SS created by Heinrich Himmler in 1939. Rauff was involved in the development of "Gassing Vans": mobile gas chambers used to fatally poison Jews, persons with disabilities, and communists, who were considered by the SS as enemies of the German State.
According to declassified C.I.A.documents: "as an official of the Criminal Technical Institute of the Reich Security Main Office, Rauff designed gas vans used to poison Jews and persons with disabilities." He later was involved in persecution of Jews in North Africa, and there is a postwar report in the file that he tried to arrange the extermination of Jews in Egypt during late 1942.
Near the end of the war Rauff, then an SS and police official in northern Italy, tried to gain credit for the surrender of German forces in Italy but ended up only surrendering himself. After escaping from an American internment camp in Italy, Rauff hid in a number of Italian convents, apparently under the protection of Bishop Alois Hudal. In 1948 he was recruited by Syrian intelligence and went to Damascus (only to fall out of favor after a coup there a year later).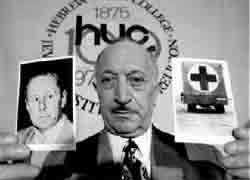 Simon Wiesenthal holds photos of Walter Rauff and a gassing van used by
the Germans to kill thousands of Jews, people with disabilities, and communists.
According to one report, he tortured Jews in Syria. He and his family then settled in Ecuador, later shifting to Chile, where he may have served in Chilean intelligence. officials could not determine Rauff's exact position. The C.I.A. report adds: "In any case, the government of General Augusto Pinochet resisted all calls for his extradition to stand trial in West Germany."
Rauff was arrested in 1962 after Germany requested his extradition, but was freed by Chile's Supreme Court five months later. In 1972, Chilean President Salvador Allende, at the request of the Nazi hunter Simon Wiesenthal, asked the Chilean Supreme Court to extradite Rauff to Germany. This application was again denied.
After settling in Chile, Rauff worked as a manager of a king crab cannery in Punta Arenas, the southernmost city in South America. After his release by the Chilean Supreme Court, Rauff disappeared. He was discovered by the documentary filmmaker William Bemister in Los Pozos, Santiago, Chile in 1979, and interviewed on film. This interview was included in the Emmy-winning film "The Hunter and the Hunted" and shown on the PBS Network in the United States on October 21, 1981. Rauff died in 1984.
---
Sources: Wikipedia. 
Photo courtesy of Chabad.org.