Science & Technology — Research & Development
telecommunications
Government and public bodies are primary sources of R&D funding, providing financial support for well over half of Israel's R&D activities. The major share of these funds for civilian R&D purposes is allocated for economic development, mainly in industrial and agricultural spheres, which, in comparison to other countries, constitutes a very large part of the total; over 40 percent is earmarked for advancement of knowledge through national, bi-national and government research funds and through the General University Funds provided by the Planning and Budgeting Committee of the Council of Higher Education; the remainder is dedicated to various health and social welfare fields.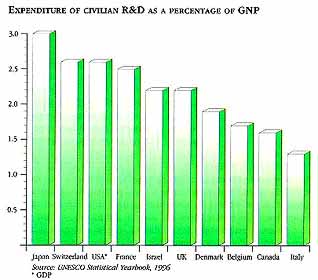 Professional Personnel
Israel's large reservoir of qualified professional personnel is primarily responsibile for its scientific and technological attainments. In 1996, university graduates comprised 20 percent of the country's workers. As the many highly-trained scientists, engineers and technicians among the hundreds of thousands of immigrants from the former Soviet Union gradually enter the labor force, this percentage is rising dramatically and will significantly affect Israel's scientific and technological achievements for decades to come.
---
Source: Israeli Ministry of Foreign Affairs