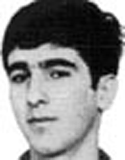 Ron Arad is an Israeli Air Force pilot who was captured during the First Lebanon War and was considered as missing-in-action for nearly 30 years before he was declared dead..
Arab (born May 5, 1958) was born in Israel, the son of Batya and the late Dov Arad. Ron and his wife Tami have a daughter, Yuval. Before his capture, Ron was a student of chemical engineering entering his second year of studies at the Technion Israel Institute of Technology in Haifa.
A captain and a navigator with the Israeli Air Force, Arad was captured by enemy forces on October 16, 1986, after parachuting out of his Phantom jet while on an operation during the First Lebanon War.
Captain Arad was last seen parachuting out of his IDF Phantom jet while on an operation in southern Lebanon. Arad likely landed in the area of Say'da and was captured by members of the Islamic fundamentalist AMAL Militia who then brought him to Beirut. At that time he was personally held by AMAL's then-head of security, Mustafa Dirani. The leader of AMAL, Nabi Berri, announced that he was holding Arad and proposed a prisoner exchange for Shiite and Lebanese detainees.
In 1987 the Israeli government received handwritten letters and a picture of a bearded Arad, as proof that he was still alive.
In early 1988, Dirani severed his ties with Amal due to ideological differences and took Ron Arad with him. That year, he formed a new group, called the "Resistance of the Believers." Arad was held captive by Dirani's group until the beginning of 1989. After negotiations between "Resistance of the Believers" and the Iranians, Arad was handed over to the Iranian Revolutionary Guards in exchange for a large sum of money. Sources in Israel believe that Captain Ron Arad is still being held by this group - and according to an April 8, 1993, edition of the Jerusalem Report, he was held captive somewhere in Iran. Israeli Special Forces captured Dirani in 1994 and interrogated him about Arad, but he did not know the pilot's current whereabouts. Most of the information we have about what happened after Arad's capture came from these interrogation sessions.
The son of a former Iranian Revolutionary Gaurds commander now living in the United States claimed to have information related to Arad in 1998, but his monetary demands were too high and the Israeli government refused.
In 2003, an Israeli intelligence agent was killed while on a mission to rescue Arad based on credible information, which turned out to be false. A reward of $10 million was offered by a group seeking information on Arad's whereabouts in December of 2003. A commission formed in 2004 sought to learn Arad's fate based on interrogation transcripts from Dirani and intelligence gathered since the interrogations. The commission concluded that he had been held in Tehran, Iran begining in 1990, but was then likely transferred to Lebanon and held in an Iranian Revolutionary Guards facility. He died in that facility sometime between 1995 and 1997 and was buried in an unknown location. This information was suppressed by the Israeli government, but was released after a petition to the Supreme Court by an Israeli journalist. Regardless of the conclusions of this commission, Israeli officials announced that they would continue to search for Arad until they found credible proof that he was in fact dead.
Hezbollah leader Hassan Nasrallah stated in 2006 that he believed Arad to be dead, and his remains lost. Israel received a two-decade old letter written by Arad to his family in late 2007. No further information was provided to the public, although Hezbollah allegedly carried out an internal investigation and provided a report to a UN commission mediating between Lebanon and Israel.
In October 2016, news reports revealed that a joint investigation carried out by Mossad and IDF Military Intelligence, based on new information received over the previous two years, concluded that Arad had likely died in 1988.
---
Sources: Wikipedia.
"Israel believes missing airman Ron Arad died in 1988 — report," Times of Israel, (October 10, 2016).