Roland von Hoesslin
(1915 - 1944)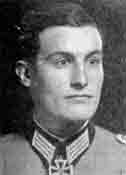 In 1935, Roland von Hoesslin joined Cavalry Regiment No.17 as officer candidate. In 1938, he was commissioned as second lieutenant and participated in the military operations associated with Hitler's annexation of Austria and then Czechoslovakia's Sudetenland.
In 1941, he was aAssigned to Field Marshal Erwin Rommel's Afrika Korps as first lieutenant. He also served on the Korps staff as assistant operations officer. He was later promoted to captain and led his company into battle with distinction.
In June 1942, Hoesslin earned the Iron Cross, Second and First Class for action at battles of El Adem and Trigh Capuzzo. A month later, he was awarded the Knight's Cross for gallantry in first battle of El Alamein while leading a battalion that spearheaded the advance on Egypt under Rommel's command. He was severely wounded in that battle, sent home to Germany, and promoted to the rank of Major. Later he was given command of Armored Reconnaissance Training and Replacement Battalion No.24 based at Meiningen.
Hoesslin was recruited into the conspiracy to kill Hitler by Colonel Claus von Stauffenberg via a mutual friend, Peter Sauerbuch, and former comrade of Cavalry Regiment No.17.
Hoesslin's assignment was to surround and isolate the fuehrer's Wolf's Lair headquarters with three companies of troops under his command after Stauffenberg assassinated Hitler. But on July 20, 1944, circumstances beyond his control thwarted the plan.
He was arrested shortly after July 20 and sentenced to death by the People's Court. He was executed on October 13, 1944.
---
Sources: Joric Center