Rochus Misch
(1917 - 2013)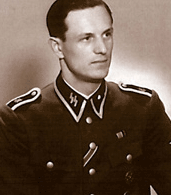 Rochus Misch was a member of the Nazi SS and served as personal bodyguard for Adolf Hitler.

Misch (born July 29, 1917; died September 5, 2013) was born in Alt-Schalkowitz near Oppeln in the Province of Silesia (modern-day Poland). He was orphaned at the age of three after his father died of wounds sustained during World War I and his mother passed away of pneumonia.

Misch joined the SS in 1937 and two years later he was shot and wounded during the Nazis' Polish campaign, an act for which he was awarded the Iron Cross Second Class. During his recovery, Misch was invited, along with Johannes Hentschel, to join the Leibstandarte SS Adolf Hitler (LSSAH) and act as one of Hitler's two chief bodyguards and assistants.

In late April 1945, as the Soviet Army neared Berlin, Misch retreated with Hentschel, Hitler and a few others to the now-famous underground bunker beneath the government headquarters in the German capital. Misch manned the telephones, taking charge of the switchboard that connected Hitler to his men outside.

On April 29, Misch was present for the nuptials of Hitler and mistress Eva Braun, later noting to the British paper The Sunday Express: "The marriage was over by about 2:30 a.m., and I wondered how I would address her - Mrs. Hitler?"

On April 30, Misch witnessed the disocvery of Hitler's and Braun's bodies after they had both committed suicide. "I didn't hear the shots myself because I was working on the telephones," Misch told the news service Agence France-Presse in 2005. "But then I heard someone shout, 'Linge, Linge, I think it has happened.'" The following day Misch watched as Magda Goebbels, the wife of Nazi propoganda minister Joseph Goebbels, murdered their six children and then committed suicide.

Misch fled the bunker on May 2, was captured by the Red Army and spent the following nine years in Soviet labor camps. He returned to Berlin in December 1953 and later ran a paint and wallpaper store.

To the end of his life, Misch remained, to all appearances, a devoted admirer of Hitler, the man he called "boss." In 1995, the Toronto Star wrote that, "Even now, Rochus Misch's eyes still take on a special shine whenever he speaks [Hitler's] name." In 2003, The Sunday Express called Misch "the most unrepentant and unapologetic Hitler supporter you could ever have the misfortune to meet."

Misch died in Berlin. He was 96 years old.
---
Sources: New York Times (September 6, 2013); BBC News (September 3, 2009); Wikipedia