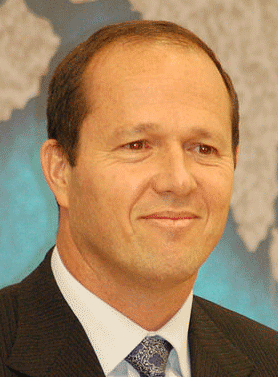 Nir Barkat is an Israeli politican who has served as Mayor of Jerusalem since 2008.
Barkat (born October 19, 1959) was born and raised in Jerusalem. From 1977 to 1983, Barkat performed his cumpuslory service in the Israel Defense Forces as an infantry soldier in the Paratroopers Brigade. Upon completion of his service, Barkat earned his bachelors degree in computer science from the Hebrew University of Jerusalem.
In 1988, Barkat founded the software company BRM which specialized in antivirus software. The company would later became an incubator venture firm that invested in several companies such as Check Point and Backweb.
Barkat entered the Israeli political world in January 2003 when he founded the Jerusalem Will Succeed political party and ran in the Jerusalem mayoral race, eventually losing to Uri Lupoliansky but gaining enough support to be named head of the opposition on the city council.
In November 2008, Barkat ran again in the mayoral contest and won, gaining 52% of the votes in defeating Meir Porush and Lupoliansky.
Barkat won reelection as Jerusalem's mayor in the October 2013 elections with 52% of the vote after securing endorsements from the Labor and Meretz parties.
---
Sources: Jerusalem Municipality; Wikipedia; Photo courtesy of Chatham House