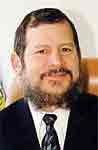 Uri Lupolianski is an Israeli politican who served as Mayor of Jerusalem from 2003 to 2008.
Lupolianski was born in Haifa, studied at the Yavne School in Haifa and afterwards at Yeshivat Hanegev. He served in the Israeli Defense Forces and worked as a teacher in a religious school in Jerusalem.
In 1976, he established the Yad Sarah organization in memory of his grandmother, who died in the Holocaust, which lends out medical equipment and supplies a variety of services to the sick, elderly and lonely. Today, Yad Sarah has some 6,000 volunteers working out of 96 branches countrywide, serving Jews, Muslims, Christians and Druze alike. For his work with Yad Sarah, Mr. Lupolianski has received numerous awards and prizes, including the Israel Prize; the Presidents Volunteer Prize; the Knesset Speaker's Award and the Kaplan Prize for Efficiency.
In 1989, Lupolianski was elected as a Jerusalem City Council member. He held the positions of lead Deputy Mayor, Chairperson of the Planning and Building committee and was responsible for the Family Services and Community Portfolio. Additionally, he became a member of the National Building and Planning Committee and the Committee for the Development of Holy Places.
In June 2003, Lupolianski was elected Mayor of Jerusalem running for the United Torah Judaism political party. He succeeded Ehud Olmert and was succeeded by Nir Barkat in 2008.
Mr. Lupolianski is married to wife Michal (nee Schneller). The couple has 12 children and six grandchildren.
---
Sources: Jerusalem Municipality