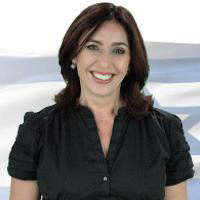 Miri Regev is an Israeli politician and a former Brigadier-general in the Israel Defense Forces, in which she served as IDF Spokeswoman. She is currently a member of the Knesset for Likud and Minister of Culture and Sport.
Regev was born in Kiryat Gat in 1965 to Moroccan Jewish immigrant parents. In 1983 she joined the Gadna, where she became a platoon commander, serving in the position until 1986. She has a Master's Degree in Business and a Bachelor's Degree in Informal Education. She is married and has three children.
She then began serving as the IDF Spokesperson's representative in the Israeli Southern Command. Regev was promoted to a Colonel rank for the position of Deputy IDF Spokesperson in 2002. In 2003, she was appointed coordinator of the national public relations efforts at the Israeli Prime Minister's Office in preparation for the Iraq War. After a short stint (2004–2005) as the Chief Press and Media Censor, she was promoted to the rank of Brigadier General and to the position of IDF Spokesperson in 2005. She served in this position during Israel's disengagement from Gaza in 2005 and the 2006 Lebanon War. In 2007, she was discharged and succeeded by Avi Benayahu.
In November 2008, Regev joined the Likud party, saying that she had been a supporter of the party's platform for many years. She won twenty-seventh place on the party's list for the 2009 elections, just high enough to enter the Knesset as Likud won 27 seats.
In May 2012, Regev participated in an anti-immigration protest and called illegal Sudanese immigrants "a cancer in our body." She later said that the quote was misrepresented, and apologized for seeming to compare human beings to cancer.
Regev was re-elected in the 2015 elections after being placed fifth on the Likud list. She was subsequently appointed Minister of Culture and Sport in the government.
She served as Minister of Transportation in the 35th government and was reappointed to the position in the 37th.
She is married to Dror Regev and has three children.
---
Sources: "Appointment of new IDF Spokesperson" IDF, (August 7, 2007).
"IDF Spokeswoman Miri Regev to leave army". Jerusalem Post, (May 11, 2007).
Somfalvi, Attila.  "Benny Begin to run for Knesset". Ynetnews, (November 2, 2008).
Nesher, Talila.  "Demonstrators attack African migrants in south Tel Aviv Israel News". Haaretz, (May 24, 2012).
 Hoffman, Gil  "Miri Regev apologizes for calling migrants 'cancer'". The Jerusalem Post, (May 27, 2012).
Likud list CEC.
Wikipedia.
Wikimedia, By Segal [CC BY-SA 2.5 (http://creativecommons.org/licenses/by-sa/2.5)], from Wikimedia Commons.