Kurt Zeitzler
(1895 - 1963)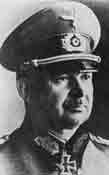 Kurt Zeitzler, the son of a pastor, was born in Cossmar-Luckau, Germany on June 9, 1895. He joined the German Army and during the First World War commanded an infantry battalion.
Zeitzler remained in the army and became one of the early supporters of Adolf Hitler and the Nazi Party. In 1934, he joined the first panzer forces and, by 1938, had reached the rank of lieutenant colonel.
On the outbreak of the Second World War Zeitzler was in the 14th Army and served under General Siegmund List during the invasion of Poland. In 1940, he was appointed as chief of staff to General Paul von Kleist and saw action in France in 1940. He held this position with Kleist in Greece and in the Soviet Union.
In January 1942, Zeitzler became chief of staff to General Gerd von Rundstedt and played an important role in defeating the Allies at Dieppe on August 19. Hitler heard good reports of Zeitzler and considered appointing him to a senior post at GHQ. Despite objections from Wilhelm Keitel and Alfred Jodl, Hitler decided in September 1942 that Zeitzler should replace General Franz Halder as Chief of General Staff.
At first Zeitzler went along with Hitler's military decisions, but the two clashed over his "no withdrawal" policy in the Soviet Union. Zeitzler attempted to resign after the disaster at Stalingrad but Hitler refused to accept it. After further disagreements Zeitzler claimed ill-health and on July 20, 1944, left office. Hitler was furious and dismissed him from the German Army. Kurt Zeitzler died on September 25, 1963.
---
Sources: Spartacus Schoolnet