Julius Streicher
(1885 - 1946)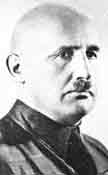 Julius Streicher was a prominent member of the Nazi Party.

Streicher was born in Fleinhausen, Germany on February 12, 1885 and was the son of a teacher. He worked as an elementary school teacher until joining the German Army in 1914. Streicher won the Iron Cross and reached the rank of lieutenant by the time the Armistice was signed in 1918.

In 1919, Streicher co-founded the anti-Semitic organization Deutsch-Soziale Partei and two years later joined the the National Socialist German Workers Party (NSDAP). In 1923, Streicher founded and edited the racist newspapers, Der Stuermer (1923-45) which he used to build up a deep hatred of the Jewish race. Eventually the newspaper reached a circulation of 800,000.

In the newspaper Streicher argued that the Jews were responsible for the depression, unemployment and inflation in Germany. He claimed that Jews were white-slavers and were responsible for over 90 per cent of the prostitutes in the country.

Streicher had a low IQ (102) and was considered by many observers to be insane. Despite this his newspaper and his speaking tours made him one of the best known leaders in Nazi Germany.

In 1940 he was deprived of all party offices after printing untrue stories about Hermann Goering. However he remained on good terms with Adolf Hitler.

Julius Streicher was found guilty of crimes against humanity at the Nuremberg War Crimes Trial. His last words before he was executed on October, 16, 1946, were, "Heil Hitler."
---
Sources: Spartacus; Robert S. Wistrich, Who's Who in Nazi Germany, Psychology Press, 2002, p.250.