Israel Air Force: In the War of Independence
(1948)
The Sherut Avir (Air Service) was organized under the aegis of the Haganah two weeks before the U.N. vote for partition in November 1947. Starting with fewer than a dozen light airplanes, most of them borrowed from "Aviron," the Jewish airline, Sherut Avir barely made a ripple in the swirling current of events. It did succeed, however, in accomplishing a number of missions: it maintained contact with besieged settlements, accompanied convoys and occasionally helped to beat back attacks. More importantly, it laid the foundation on which a real force could be built.
As independence — and the Arab invasion — drew near, an effort was made to acquire "real" aircraft and find the men to fly them. Dummy companies were set up on several continents to buy a wide variety of planes through incredible means. At the same time, a call went out which attracted a most unusual cadre of seasoned World War II pilots: Jews and Gentiles, idealists and adventurers, volunteers and mercenaries. Together, they created an Air Force with a unique flavor.
On May 14, 1948, Israel became a reality. The next day, Arab forces invaded by land and bombed Israeli cities by air at will. Against this desperate backdrop, the First Fighter Squadron was formed. On its two initial missions, it stopped an Egyptian advance and put an end to the bombing of Tel Aviv. Additional aircraft soon began to arrive. Spitfires and Mustangs provided real muscle. Harvards dive-bombed. A few B-17's arrived via Czechoslovakia, bombing Egypt on their way to Israel. The IAF then brought the war to Arab cities. Gaza, El-Arish, Cairo, Amman and Damascus were now within reach.
When the southern settlements of the Negev were cut off, a makeshift airstrip was readied near Kibbutz Dorot, and Operation Avak (Dust) was born. The IAF helped regain control of the Negev in Operation Yoav. During Operation Horev, IAF pilots shot down five RAF planes in two dogfights on January 7, 1949. In all, 15 Egyptian and two Syrian planes were downed during the War of Independence. Yet the glory of aerial combat did not come cheaply: 31 fliers gave their lives during the war.* Most fell from ground-fire, some to the dangers of flying machines of questionable airworthiness. Yet the bottom line was that Israel's skies were now secure ... and would remain so.
The First IAF Fighter Mission:Stopping and Egyptian Column Near Ashdod (May 29, 1948)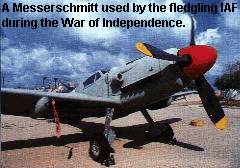 With little to defend itself in May '48, Israel hurriedly purchased a number of second rate Czech-made Messerschmitts. The planes were taken apart, transported to Israel at night, and secretly reassembled at Ekron (later to become Tel Nof Air Force Base). The first pilots hoped to employ this force against the main Egyptian air threat based at El Arish.

Yet fate had other plans for them. An Egyptian column of some 500 vehicles was making its way up the Coastal Road towards Tel Aviv. The column halted briefly at a bombed-out bridge near Ashdod. Barely 20 miles separated the enemy from its objective. With no alternative, the first four fully assembled planes were pressed into action. Lou Lenart, an experienced American volunteer, was selected to lead the historic mission. He was joined by Moddy Alon, Ezer Weizman and Eddie Cohen.

Each plane swooped down on the enemy with two 70-kg bombs. They continued to strafe the column despite heavy ground fire. Unfortunately, the Messerschmitts' untested 20 mm cannons and machine guns jammed quickly and the few rounds that they fired didn't inflict much damage. But the psychological effect was enormous. The surprised Egyptians scattered for cover in the face of a bona fide aerial attack. By the time they regrouped, they had lost the offensive.

Israel's outnumbered Givati forces seized the opportunity to launch a counterattack and stopped the advance in its tracks. The bombed-out bridge later became known as Gesher Ad Halom (Until Here). The price of success was high: Eddie Cohen, a South African-born pilot, was killed when his Messerschmitt crashed and burned. As a result, the First Fighter Squadron lost one-fourth of its aircraft and one-fifth of its pilots on its maiden combat sortie. This was to set the tone for the future: achieving the mission despite personal sacrifice.
The First Aerial Victory (June 3, 1948)
The significance of the IAF's first successful engagement went far beyond the glory of shooting down an enemy plane. In the first days of Israel's independence, it was the Arabs who enjoyed complete freedom in Israeli skies. Egyptian Dakota transports were used as bombers and attacked Tel Aviv with impunity. Moddy Alon, commander of the First Fighter Squadron, decided to put an end to this intolerable situation.

As the air raid sirens went off, Tel Aviv residents were surprised to see a small, dark spot rapidly approaching the heavy bombers. Moddy fired his Messerschmitt's guns at the first Dakota above the main streets of the city. The enemy plane lost altitude and crashed in the dunes south of the modern suburb of Bat Yam. Moddy then pursued and caught the second Dakota. After taking a few well-aimed rounds, the second aircraft was seen diving down towards the coast west of Rehovot, a large black cloud signaling its crash. In Tel Aviv there was dancing in the streets. Grateful residents filled Moddy's hotel room with flowers, champagne and chocolates: gifts to the pilot who saved the city.

*Eddy Kaplansky, an IAF pilot during the war notes that there were two additional IAF casualties. Glenn King and Bill Gerson were killed on April 21, 1948 when their heavily overloaded C-46 crashed on take-off at Mexico City airport while bound for Israel with a military cargo. Kaplansky says these two Americans were actually the IAF's first casualties.
---
Sources: Israel Defense Forces