Women of the Israel Defense Forces, Air Force, Navy, & Special Forces
---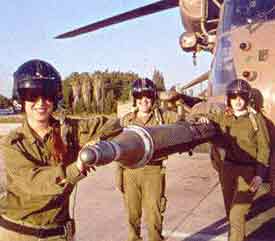 Female paramedics in the elite Unit-669
From Israel's founding in 1948 until the mid-1990s, women were excluded from serving as pilots in the Israeli Air Force and from joining Special Forces units.
In 1997, on appeal from Alice Miller who filed with the Israeli Supreme Court for acceptance into IDF's elite Air Force flight school, the IDF began to change its policy toward women in these highly coveted combat positions.
In 2000, the Equality amendment to the Defense Service Law stated that the right of women to serve in any role in the IDF is equal to the right of men, and from that point forward women have joined many elite units in the IDF.
In 2001, Lt. Roni Zuckerman became the fourth woman to complete the arduous Air Force training and the first ever to reach the status of combat fighter pilot. Four years later, a second female passed the intensive fighter pilot course and two other female soldiers graduated to serve as transport pilots. During the Second Lebanon War in 2006, female helicopter pilots took part in field missions alongside their male counterparts.
In December 2011, five female pilots completed flight school at the 163rd graduation ceremony of the Israeli Air Force Flight Academy.
There are also female operators in various roles in Special Forces units, including:
YAMAG
Unit 669
YABAN
Oket'sz
Unit 8200
Since Alice Miller's 1997 appeal, 38 females received pilot's wings from the Israeli Air Force. This group includes sixteen combat navigators, three combat pilots, seven helicopter pilots, and twelve cargo pilots. 
In 2000, Ora Peled became the first woman to complete the Israeli Navy's officers training course.
In October 2015, 24-year-old Or Cohen became the first female to be appointed commander of a Naval combat vessel, Dvora ship 817. 
The IAF appointed its first female squadron leader in August 2018.  Major G. was appointed commander of the 122 Air Intelligence Squadron, which includes five Gulfstream jets. She began her IDF service in 2003, where she trained as a transport plane pilot.  
Also in 2018, the navy allowed women to train to serve on missile ships
In September 2019, Lt. Col. G. (last names of active-duty soldiers are not published) became the first woman to command an Israeli Air Force squadron. The 35-year-old joined the IDF in 2003 and became a specialist in piloting transport aircraft. She subsequently served as deputy commander of the Nachshon Squadron, which operates surveillance aircraft before being promoted to commander.
 "Lt. Col. G, the mother of two boys, is a role model and an inspiration to thousands of women in the State of Israel," said IAF Commander Maj. Gen. Amikam Norkin. "Well done, our first operational squadron commander in the air force. We have been waiting for this for 71 years."
In October 2019, a woman was nominated for the first time in Israel's history to serve as the chief intelligence officer for an IDF regional command.
In 2020, Captain S. (her full name is not allowed to be published) became the first female F-35 pilot and is believed to be the second woman to fly the plane in combat. Previously, she flew F-16s.
Sgt. Jessica Klempert became the first female machinist to serve on an Israeli Navy missile ship in 2021. She is responsible for monitoring the ship's machines and operating its generators and motors.
Also in 2021, Lt.-Col. G was promoted to colonel and the position of deputy commander of Unit 8200's Digital Division. She is the first woman to hold the position. She was the head of the unit's cyber center.
"I have been privileged to serve in Unit 8200, whose mission is to maintain the security of the State of Israel," G said, adding that "our responsibility in the Intelligence Division is broad, from the collection of intelligence information to its extraction."
Col. Weiss (IDF Photo)
The week before, Brig.-Gen. Yifat Tomer-Yerushalmi was appointed military advocate-general and promoted to be the second female major-general in the IDF's history. Tomer-Yerushalmi replaced Maj.-Gen. Sharon Afek, the first openly gay major-general in the IDF.
In August 2021, Maj. N. (her name is withheld due to security reasons) was appointed deputy commander of the 119th "Bat" Squadron, which flies F-16s out of the Ramon Airbase in the south of the country.
The IDF announced plans in January 2022 to launch a new female company to cater to religious women who wish to serve.
In 2022, the IDF appointed the first female Muslim-Arab major in the country's history – Ella Waweya. The first female brigade commander was also appointed. Reut Rettig-Weiss was also given the rank of Colonel. She will command the Artillery Brigade of the 99th Division and lead Fire Support at the Urban Warfare Training Center.
---
Sources: Israeli Special Forces.
Mitch Ginsburg. "38 IAF Female Pilots Shatter the Glass Firmament," Times of Israel, (December 28, 2014).
Ahiya Raved. "Meet Israel'ss First Ever Female Naval Commander," Ynet News (October 20, 2015).
Anna Ahronheim. IAF Gets First Female Squadron Leader, Jerusalem Post, (August 8, 2018).
Lilach Shoval, "IAF pilot makes history as first female squadron commander," Israel Hayom, (September 25, 2019).
Judah Ari Gross, "In first, IDF names female colonel as chief intel officer for regional command," Times of Israel, (October 29, 2019).
Anna Ahronheim, "Israeli Air Force makes history: First female F-35 pilot," Jerusalem Post, (September 18, 2020).
Bat-Chen Epstein Elias, "Israeli Navy embarks on new traditions," Israel Hayom, (December 15, 2020).
Anna Ahronheim, "Another woman breaks IDF's glass ceiling," Jerusalem Post, (July 19, 2021).
Anna Ahronheim, "Female pilot to become IAF combat squadron deputy commander," Jerusalem Post, (August 18, 2021).
"IDF to open new unit for religious female soldiers," JNS, (January 3, 2022).