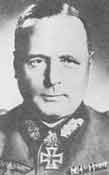 Hans Hube was born in Naumburg, Germany, on October 29, 1880. He joined the German Army and in 1910 was promoted to the rank of lieutenant. He served throughout the First World War and was seriously wounded and as a result lost his left arm.
Despite his disability, Hube remained in the army and in 1939 was promoted to colonel. Hube took part in the invasion of Poland where he was again seriously wounded. He returned to duty the following year and as commander of the 16th Motorized Division participated in the Western Offensive.
Promoted to major general he participated in Operation Barbarossa. A brave officer, Hube won the Knight's Cross (August 1941), Oakleaves (January 1942) and Swords (December 1942). Hube was at Stalingrad and was one of the senior officers evacuated from the front on January 28, 1943, when it was clear the German Army would be defeated.
In March 1943, Hube was given command of 14th Panzer Corps and soon afterward was sent to Italy. In July, General Erwin Rommel sent Hube to Sicily.
Hube, Germany's only one-armed general in the Second World War, was placed in command of the 1st Panzer Army in October 1943. He was badly defeated by General Ivan Konev and the Red Army at Dniester in March 1944. Soon afterward, he clashed with General Erich von Manstein when he ordered him to stay north of the Carpathians. When Manstein was replaced by General Walther Model, Hube got his way and was able to retreat across the Dniester.
On April 20, 1944 Hube returned to Germany where Adolf Hitler personally awarded him the Diamonds. Hans Hube was killed when his plane crashed while returning to the Eastern Front on April 21, 1944.
---
Sources: Spartacus Schoolnet