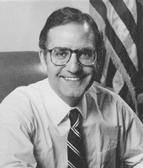 George Mitchell was the U.S. Special Envoy for Middle East Peace appointed by President Barack Obama on January 22, 2009, a position he held until May 2011.
Mitchell was born in Waterville, Maine on August 20, 1933 to a Lebanese mother and an Irish father who both lacked education yet emphasized its importance for all of their children.  He received his undergraduate degree from Bowdoin College in 1954. Mitchell served until 1956 as an officer in the U.S. Army Counter-Intelligence Corps in Berlin before returning to the United States to study law at Georgetown University.  He received his law degree in 1960.
From 1960 to 1962, Mitchell served as a trial lawyer in the Justice Department.  Following that, until 1965, he was Executive Assistant to Democratic Senator Edmund S. Muskie of Maine.  He returned to Maine to practice law from 1965 to 1977 and served as the U.S. Attorney for Maine from 1977 to 1979 when he became the U.S. District Judge for Maine.
Mitchell was appointed to the United States Senate in May 1980 as the replacement for Senator Muskie when he resigned to become Secretary of State.  Mitchell was elected for his first full term in 1982, and then reelected in 1988 and elected Senate Majority Leader. 
From 1995 to 2000, Mitchell served as the Chairman of the International Commission on Disarmament in Northern Ireland and Chairman of the subsequent peace negotiations that culminated in the Belfast Agreement in 1999.  Following this success, President Bill Clinton, Prime Minister Ehud Barak of Israel, and Palestinian Authority Chairman Yasser Arafat asked Mitchell to chair the Sharm el-Sheikh International Fact-Finding Committee to examine solutions for the conflict between the Israelis and Palestinians.  The Mitchell Report, published in 2001, called on Israel to halt the expansion of its settlements in the West Bank and Gaza Strip and on the Palestinians to end violence against Israel.
Mitchell was appointed to serve as President Barack Obama's Special Envoy to the Middle East on January 22, 2009.  The appointment came almost immediately after President Obama's inauguration and the new administration's pledge to renew American peacemaking efforts in the Middle East, especially in light of the most recent round of conflict between Hamas and Israel that flared up at yearend 2008.
At the press conference held by the U.S. Department of State to announce his appointment, Mitchell explained his shared vision with President Obama and Secretary of State Hillary Clinton for a Jewish state in Israel living beside a Palestinian state in peace and security.  He additionally pledged his "full effort in the search for peace and stability in the Middle East." 
In response to Mitchell's appointment, Israel's U.S. ambassador, Sallai Meridor, congratulated him in a statement that also said Israel holds him "in high regard and looks forward to working with him on taking the next steps towards realizing a future of peace and security for Israel and her neighbors."  While his appointment also drew praise from dovish and centrist American organizations such as Israel Policy Forum, Americans for Peace Now, and the American Jewish Committee, it drew criticism from groups opposed to Israeli deals with the Palestinians.
Mitchell was awarded the Presidential Medal of Freedom on March 17, 1999. Other awards and honors he has received include the Philadelphia Liberty Medal, the Truman Istitute Peace Prize, the German Peace Prize, and the United Nations (UNESCO) Peace Prize.
---
Sources: Wikipedia