Ireland Virtual Jewish History Tour
Jews have lived in Ireland for centuries. The earliest reference is in the Annals of Innisfallen, a chronicle of medieval Irish history, in the year 1079, which states, "Five Jews came from over the sea with gifts to Tairdelbach [king of Munster] and then were sent back again over the sea." Today, the Jewish community of Ireland numbers approximately 2,700, with almost two-thirds living in Dublin. Between 2011 and 2016, the Jewish population of Ireland increased by 30%, which officials attributed to an influx of young professionals working with U.S.-based multinational firms that have set up offices in Ireland. Jewish immigrants from Israel, South Africa, North America, and Eastern Europe also contributed to the growth of Ireland's Jewish community since the 1990s.
Early Jewish History
Modern Community
Relations with Israel
Jews of Northern Ireland
Contact
Early Jewish History
The Annals of Innisfallen, a chronicle of Ireland's medieval history written by monks, reveals the island had Jewish residents as far back as 1079. Following the expulsion of the Jews from Portugal in 1496, some Jews made their way to the South coast. In the town of Youghal in Cork County, the first Jewish Mayor in Ireland, Mr. William Annyas, was elected in 1555. In later years, Mr. Robert Briscoe was elected Lord Mayor of Dublin in 1956 and 1961, his son Mr. Ben Briscoe in 1988, and Mr. Gerald Goldberg, Lord Mayor of Cork, in 1977.
In 1660, the earliest recorded synagogue was established, consisting of a prayer room in Crane Lane, opposite Dublin Castle. The oldest Jewish cemetery dates from the early 1700s and is situated near Ballybough Bridge, Clontarf, Dublin 3.
Many Jews did not arrive in Ireland on purpose, disembarking ships early believing they had reached America or simply being tricked by ship captains.  
Small numbers of Jews came and went between the 12th and 18th centuries, but by the beginning of the 19th century, the Jewish community had dwindled to just three families. Jewish immigration picked up in the 1820s, mainly from England, Germany, and Poland.
Following the end of the Napoleonic Wars, there was some Jewish immigration from Central Europe. By 1880, over 450 Jews had settled in Dublin. They spoke English and were very prosperous. There was a synagogue on Mary's Abbey, just north of the River Liffey. Lithuanian Jews began arriving in 1881, and by 1900, Dublin was home to more than 3,000 Jews.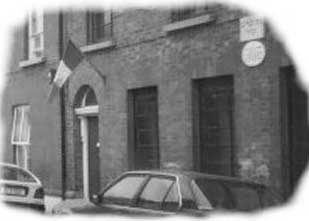 The Jewish Museum in Dublin
(formerly Walworth Road Synagogue)
The largest influx of Jews occurred between 1880 and 1910, when approximately 2,000 Jews arrived from Eastern Europe and settled mainly in Dublin, with smaller numbers settling in Belfast, Cork, Derry, Drogheda, Limerick, Lurgan, Londonberry, and Waterford. They engaged in trade, manufacturing, and other professions.
In Dublin, the Lithuanian Jews settled south of the center, in an area that was eventually dubbed "Little Jerusalem." Many of the immigrants became peddlers, petty traders, and moneylenders. The second generation would eventually go on to become a major force in the manufacture of clothing and furniture.
The Limerick community dissipated after the so-called Limerick Pogrom in 1904, essentially an anti-Jewish economic boycott rather than a physical attack. It was the only blatant, organized anti-Semitic incident in modern Irish history, according to an article in the JTA.
Only a handful of Jews came during the Nazi period and shortly after the end of World War II. Ireland remained neutral during this time.
The Jews of Ireland had a silver age when their population peaked at approximately 5,500 from 1880 to the end of the 1940s. The numbers have since declined, but the Jewish population is slowly growing for the first time in 50 years.
The first Jewish cabinet minister is believed to have been Mervyn Taylor, who served for about four years as equality and law reform minister between 1993 and 1997. He served as a Labor Party lawmaker for 16 years until his retirement in 1997.
Modern Day Community
After World War II, slow economic growth and the tendency for young people to study abroad took a heavy toll on the Jewish community. Ninety percent of those who left settled in Britain, Israel, and the United States. Since the mid-1990s, as Ireland's economy began to grow, a small number of Israelis, Americans, and South Africans have started to return. About 1,300 Jews reside in Dublin today, and another 400 are scattered about the country.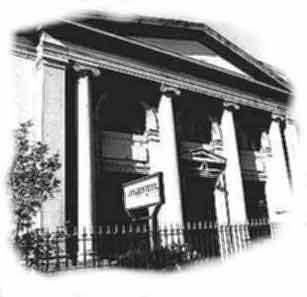 The former Dublin Greenville Hall Synagogue
Most now live beyond the Grand Canal, which is the southern border of Little Jerusalem, to the south Dublin neighborhoods of Terenure, Rathmines and Rathgar. Today, many are doctors, lawyers, and university professors, although some still own retail shops. The community has a mikveh, a bakery, and a Jewish day school called Stratford College which also has many non-Jews among its student body and faculty. There used to be 11 kosher butcher shops in Dublin, but now kosher meat has to be shipped in from England.
Dublin has two synagogues:
Dublin Hebrew Congregation on Rathfarnham Road in Terenure is the largest of the three and is the seat of Ireland's chief rabbi (the appointment of a chief rabbi has been put on hold since 2008 for financial reasons). It follows the Orthodox tradition, with a tendency towards the modern Orthodox.
Dublin Jewish Progressive Congregation is at 7 Leicester Avenue in Rathgar and is more liberal.
Dublin Hebrew Congregation's historic Adelaide Road Synagogue was de-consecrated because the community had shrunk so much that it could no longer maintain two traditional congregations.
Although Cork was once home to some 400 Jews, it now only boasts a population of five. However, at least three times a year, for Passover, the High Holidays, and Chanukah, Jewish life in Cork becomes vibrant once again, as the synagogue founded in 1893 fills with as many as 100 people. Cork's synagogue is located at 10 South Terrace and was built in 1896. Shalom Park, directly in front of the Hibernian Buildings along Albert Road, honors the street's Jewish history, although the last Jewish family moved out over 30 years ago. It was dedicated in 1989.
Thirteen graves at a Jewish cemetery in Belfast were damaged, vandalized, and broken on August 26, 2016. Henry McDonald, a journalist with the Belfast Telegraph, reported that "the vandals used hammers and blocks to break up the headstones, while a larger mob looked on encouraging their actions. There is clear evidence here of forward-planning... it is undoubtedly the case that the desecration was motivated by anti-Jew hatred."
Anti-Semitism
A study of anti-Semitism in Ireland in 2021found:
Anti-Jewish racism spreads within the corridors of power and, unlike in the UK or U.S., appears to be as much driven from the top down as the reverse.
Some Irish politicians are obsessed with attacking Israel and Zionism, treating it in a manner different from the way they treat all other international issues.
Irish politicians share material that is clearly fake, and that comes from social media accounts that are blatantly anti-Semitic.
The argument that allegations of anti-Semitism are about stifling "criticism of Israel" is used to shield some of the most horrific anti-Jewish racism.
The problem stretches across politics and NGOs and spills onto the street. There is little political will and few voices to counter it. This has led to a proliferation throughout the Irish mainstream.
In almost every town analyzed, many of the key "activists" have a history of sharing anti-Semitic content or giving voice to anti-Semitic ideology. There is even little or no reaction to activists sharing Holocaust Denial.
Anti-Semitism is a key motivator in anti-Zionist activity. The people who share anti-Semitic ideology are often those handing out leaflets, organizing the protest, and starting groups in their local areas.
These anti-Zionists view Zionists as "global manipulators," "thieves," "bloodsuckers," and as people "intent on destroying the world to fulfil their own evil agenda."
Traditional Christian anti-Semitism plays a significant role in compounding the problem in Ireland, and Christian NGOs facilitate the spread of anti-Semitism there.
In anti-Zionism, far-right and far-left merge.
The report also described the circumstances surrounding the resignation in 2014 of Alan Shatter, the country`s only Jewish Minister for Justice and Defense, who was wrongly condemned and described as the Irish Dreyfus.
Following the release of the report, Maurice Cohen, Chair of the Jewish Representative Council of Ireland, released a statement calling on the government to immediately adopt the IHRA definition of anti-Semitism, to appoint an envoy on anti-Semitism to the European Commission, and to publicly apologize to Shatter.
Relations with Israel
The Democratic Unionist Party (DUP) joined the coalition with Theresa May's Conservative Party in June 2017 to help her form a government, which bodes well for ties with Israel. Northern Ireland's DUP Members of Parliament are amongst the staunchest supporters of Israel in the House of Commons. According to Steven Jaffe, Christian Zionism is a potent force amongst Ulster's church-going Protestant community, the traditional heartland of DUP support.
Irish airline Ryanair tripled their amount of flight options to Israel in February 2016 with the addition of 15 new flight routes, including 7 new routes to Tel Aviv.  
Members of the Dublin City Council elected to fly the Palestinian flag outside of Dublin City Hall for one month in May 2017 following a heated debate.  The decision to fly the flag in solidarity with the Palestinian people was approved after a vote of 42 members in favor out of 63 total. An amendment to the proposal, which would have seen both the Israeli and Palestinian flags flown outside Dublin City Hall, was defeated, with 43 members of the City Council voting against it. 
Israel's first ambassador to Ireland arrived in 1994. Since 1948, 673 Irish Jews have immigrated to Israel.
The Jews of Northern Ireland
Prior to the 19th century, no record existed of a significant Jewish settlement in Northern Ireland. There was, however, at least one Jew residing in Belfast in the year 1652, a tailor named Manuel Lightfoot.
Around 1845, Mr. Daniel Jaffe, a merchant from Hamburg, visited Belfast to establish contacts in the sale of linens. Within the next decade, he established three Jaffe Brothers, George Betzold & Company, and Moore & Weinberg linen houses in Belfast. During this time, the Dublin Jewish minister was the Rev. Julius Sandheim. In his Register of Births, the earliest recorded Jewish birth was a male child born in 1849 to Meir Levy.
Grave of an unknown Jewish person in Castletroy, Limerick.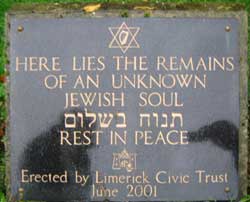 By the year 1869, the number of Jewish residents in Belfast had grown to twenty-one. In the following year, a synagogue in Great Victoria Street was founded by Mr. Jaffe, Mr. Weinberg, Mr. Betzhold, Mr. Boas, Mr. Lippman, and Mr. Portheim. The project was funded by Mr. Daniel Jaffe. Rev. Dr. Joseph Chotzner officiated and conducted Hebrew and religion classes for the Jewish children of Belfast at his home at 71 Great Victoria Street.
In 1891, 282 Jews lived in Northern Ireland, 205 of whom were located in Belfast and five in Londonderry. The introduction by the Russian Parliament of the "May Laws" in 1882 caused an exodus of Russian Jewry fleeing Tsarist oppression. A sprinkling of such fugitives found their way to Belfast. The Belfast Hebrew Board of Guardians was then formed by Mr. Max Veital in 1893. Mr. Veital, along with a Mr. Cohen, was also instrumental in founding the Belfast Chevra Kadisha, or the Belfast Holy Burial Society. In 1896, a Belfast Hebrew Ladies Foreign Benevolent Society was created. By 1901, 708 Jews resided in Belfast, 58 in Londonderry, and 899 in all of Ulster.
The several Russian Jewish families that arrived in Belfast were given a safe haven from the pogroms and vicious persecution of their homeland. Despite economic hardships, these families managed to rent a small house in the Carlisle Circus, New Lodge Road and Lower Antrim Road area. They were kindly received by the local inhabitants and, shortly afterwards, established a prayer house on Jackson Street. With an increase in childbirth, the Regent Street School was soon established at the rear of the present Clifton Street Orange Hall. The Greenville Hall Synagogue, located on Annesley Street, opened in 1904, after a significant donation from Sir Otto Jaffe, president of the community and Lord Mayor of Belfast. Three years later, the Jaffe Public Elementary School at the corner of Cliftonville and Antrim Road was founded.
One of the most renowned figures of the early part of the 20th century was Rabbi Jacob Shachter, who officiated the synagogue from 1926 until 1953. Rabbi Dr. Isaac Herzog, known as the "Sinn Féin Rabbi," was appointed the first Chief Rabbi of the Irish Free State. From 1937 until his death in 1959, was the Ashkenazi chief rabbi of British Mandate Palestine and Israel. His son, Chaim,  Israel's sixth president, was born in Belfast in 1918.
Barney Hurwitz, the long-serving President of the Belfast Hebrew Congregation, was appointed a Justice of the Peace and honored by the OBE. Louis Hyman also was appointed Justice of Peace. Jackie Morris was declared His Excellency the Israel Ambassador to New Zealand after having served as the consul in New York.
In 1907, the National School for Jewish Children was established. A children's hostel opened on Clifton Park Avenue during the Second World War, and a Millisle farm served as a refuge for children escaping the war.
---
Contact
Jewish Representative Council of Ireland
CHAIRMAN: Maurice COHEN
Address:Herzog House Zion Road Rathgar, Dublin 6
Tel:+ 3531 4923751
Email:[email protected]
---
Sources: Ireland Jewish Community.
"Ireland," WCJ.
Phyllis Ellen Funke, "The Jewish Traveller: Belfast." Hadassah Magazine, (November 2003).
JTA, (March 30, 2007).
Alan Tigay, "The Jewish Traveller: Dublin." Hadassah Magazine, (March 2008).
Barney Portnoy, "'Time to Stand by Ireland's Jews,' Declares Belfast Columnist in Wake of Cemetery Desecration," Algemeiner, (August 30, 2016).
Louise Kelly, "Ryanair announces major expansion of Israel operations with addition of 15 new routes," Independent, (February 1, 2017).
"Dublin City Council agrees to fly Palestinian flag over City Hall," DublinLive.ie, (May 9, 2017).
Steven Jaffe, "Opinion: Conservatives working with DUP will be good news for Israel," Jewish News, (June 9, 2017).
Renee Ghert-Zand, "Irish Jews face uncertain future (as usual)," Times of Israel, (March 17, 2013).
"Jewish Population in Ireland Rises by 30%, Much to Surprise of Local Community," Haaretz, (October 14, 2017).
Cnaan Liphshiz, "Mervyn Taylor, Ireland's first Jewish cabinet minister, dies at 89," JTA, (September 24, 2021).
David Collier, "Ireland and Antisemitism Report," (October 2021).
Maurice Cohen, "Statement on Behalf of the Jewish Representative Council of Ireland," (October 8, 2021).