Georg von Boeselager
(1915 - 1944)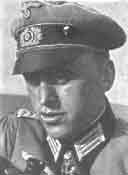 Georg von Boeselager was the commander of a cavalry regiment in Army Group Center. He was recruited into the conspiracy to kill Adolf Hitler by General Henning von Tresckow.
Boeselager made plans to assassinate Adolf Hitler during the fuehrer's visit to Army Group Center HQ in Smolensk on March 13, 1943. Though having distinguished himself in combat on the Eastern Front, and having been awarded the Knights Cross with Oak Leaves, Boeselager claimed he was not up to the task of assassinating Hitler on his own. He volunteered to lead his cavalry regiment to storm the Wolf's Lair and dispose of Hitler in that fashion, however, repeated attempts by Tresckow to get Boeselager's regiment transferred to Rastenberg met with failure.
Boeselager was later transferred to the Western Front where he served as liaison for Tresckow and attempted in vain to persuade Field Marshal Guenther von Kluge to request Tresckow's transfer to Kluge's HQ in France. Soon after he was killed in action on the eastern front.
---
Sources: Joric Center