Erich Priebke
(1913 - 2013)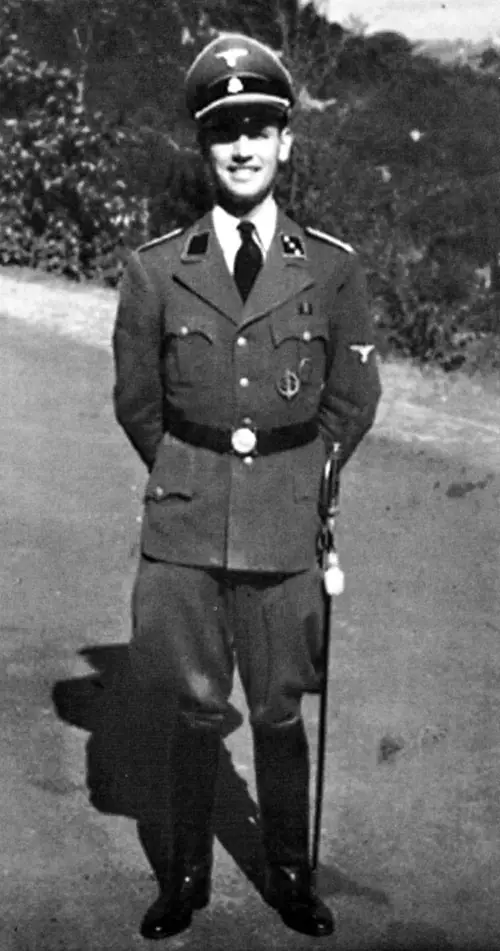 Erich Priebke was a SS Hauptsturmführer of Nazi Germany who participated in the massacres at the Ardeatine caves in Rome.
Priebke (born July 29, 1913; died October 11, 2013) was born in Hennigsdorf, Germany. Serving as an officer in the Nazi SS, Priebke was among the forces sent by Adolf Hitler to secure Italy from allied invasion in 1943.
In March 1944, 33 German soldiers marching on Via Rasella were killed by a bomb set off by Italian Communist partisans. Hitler made an order that within 24 hours, ten Italians were to be shot for each dead German. Nazi authorities in Rome quickly compiled a list of 330 civilians which were to be killed, many of them prisoners for petty offenses, many Jews and some other people also got arrested.
The victims were transported to the Ardeatine caves in groups of five people where they were led into the cave with their hands tied behind their back and then shot in the neck. Many were forced to kneel down over the bodies of those who had been killed before them because the cave had become filled with dead bodies. During the massacre, it was found that by mistake five extra people over the total of 330 were brough to the cave, however they were killed anyway since they had already arrived.
With 75 Jews among the victims, the Ardeatine caves massacre is the largest single murderous episode of the Holocaust in Italy.
In post-WWII trials, Priebke was set to be tried for his role in the massacre, but he managed to escape from a British prison camp in northeastern Italy in 1946. Two years later, Priebke got help from ODESSA and fled to Argentina where he lived for more than 50 years. In addition to the massacre, Priebke is thought to have participated in the deportation of 6,000-7,000 Jews from Italy to Auschwitz concentration camp, and to have tortured political prisoners.
In 1994, Priebke felt it was safe to talk about the incident and was interviewed for a story by American reporter Sam Donaldson of ABC News. In the interview, Priebke told about his role in the massacre and also excused his actions by saying that he only followed orders from the Gestapo chief of Rome, Lieutenant Oberst Herbert Kappler. Priebke also told Donaldson that the victims - from 14 year old boys to 75 year old men - were nothing but terrorists. He admitted that it was he who compiled the lists of those going to be executed.
Donaldson's report proved how little remorse Priebke felt for his actions. Following international outrage, Argentinian authorities arrested Priebke but because of his old age and poor health, he was at not imprisoned and rather held in house arrest. After 17 months of delays, the Argentinian supreme court decided that Priebke was to be extradited to Italy and he was put on a direct flight from Bariloche to Ciampino, a military airport close to the Ardeatine caves where the executions had been carried out many years earlier.
On trial in Italy, Priebke declared himself not guilty. He did not deny what he had done, but he denied any responsibility. He blamed the massacre on the Italian civilians who were behind the original attack on the German soldiers and also said that since the order came directly from Hitler, he thought it was a legitimate punishment.
During the trial it became clear that Priebke had also personally shot two Italians.
The judges voted 2 against and 1 for sentencing the Priebke for taking part of the massacres. At the end of the trial, however, Priebke was ruled not guilty because the case was judged to have expired. On August 1, 1996, orders were given for his immediate release.
The judgement was appealed by the prosecutors. The day after the trial ended, Germany asked Italy to keep Priebke imprisoned until their demand to have him extradited was processed as Germany wanted to put him on trial for the murder of the two people he personally had shot.
In March 1997, the Italian Supreme Court decided that Priebke could not be extradited to Germany because he was not to be tried for the same crime twice. However, it was also decided that the court that had originally freed Priebke was incompetent and a new trial was scheduled.
On April 14, 1997, this new trial began and Priebke was sentenced to 15 years in prison, while another man who also was part of the massacre, Karl Hass, was sentenced to 10 years. Priebke only had to do 5 years because of a previous amnesty and he got some more time subtracted because of the time he had spent under house arrest and in custody in Italy. The sentence thus was to be 2-3 years.
Still denying all responsibility, Priebke appealed the case. The appellate court decided that he had committed cruel murders of the first degree and sentenced him instead to life in prison. Priebke appealed this ruling all the way to the European Court of Human Rights in Strasbourg.
On October 11, 2013, Priebke died in Italy at the age of 100 and his body was buried in the long-abandoned cemetery of a prison in Rome after both the city of Rome and the Catholic Church barred his family from having a public funeral service or a marked grave.
---
Sources: BBC News (October 11, 2013).
Wikipedia.
JTA (November 7, 2013).
Photo: Public domain via Wikimedia Commons.