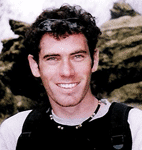 Eldad Regev was one of two IDF soldiers kidnapped by Hezbollah terrorists on a cross-border raid in July 2006.
Regev (born August 16, 1980) was born and raised in Qiryat Motzkin. He went to high school at the Yeshiva High School in Kiryat Shmuel, and after his mother's death, while he was in the 12th grade, Regev enrolled in a combat unit of the Israel Defense Forces. He fulfilled his mandatory service in the Givati infantry brigade.
Following his army service, Regev spent some time traveling in the Far East and later began pre-law studies at Bar Ilan University.
On July 12, 2006, while partaking in required reserve duty, Regev's military patrol along the Lebanese border was attacked by Hezbollah terrorists and he was kidnapped along with Ehud Goldwasser and taken into Lebanon. From that day on, Regev and Goldwasser were added to the list of IDF soldiers missing in action.
The cross-border raid by Hezbollah forced Israel to launch the Second Lebanon War with the dual hopes of reducing Hezbollah's military strength and securing the release of Regev and Goldwasser. Unfortunately, the second objective was not successful.
On April 12, 2007, the U.S. Congress passed Resolution 92 demanding the immediate release of all Israeli soldiers by Hamas and Hezbollah, in particular Gilad Shalit, Regev, and Goldwasser.
On July 16, 2008, Hezbollah and Israel reached an exchange deal that saw the bodies of Goldwasser and Regev returned to Israel for Lebanese terrorist Samir Kuntar, four other Hezbollah fighters Israel captured in the 2006 war, and the remains of 199 Lebanese and Palestinian terrorists.
On Thursday, July 17, 2008, Regev was posthumously promoted to the rank of Sergeant First Class and was buried at the Haifa Military Cemetery.
---
Sources: Wikipedia.
Israel Ministry of Foreign Affairs.