Gilad Shalit is a former Israel Defense Forces soldier who was kidnapped by Hamas in 2006.  He was returned to Israel in 2011.
Shalit (born August 28, 1986) is the son of Aviva and Noam, brother to Yoel and Hadas, and is both an Israeli and French citizen. He was born in the northern coastal city of Nahariya but was raised from the age of two in Mitzpe Hila, a small town in the western Galilee.
After graduating with distinction from the science class of Manor Kabri High School, Shalit began his military service at the end of July 2005. Despite having a low medical profile which precluded him from serving in the Infantry Corps, Shalit preferred to serve in a combat unit and followed his elder brother Yoel into the armored corps.
On June 25, 2006, Shalit - a corporal at the time - was captured in a cross border raid near the Kerem Shalom crossing to the Gaza Strip by Hamas terrorists. The terrorists dug underneath the border from Gaza, emerged on the Israeli side and subsequently sprayed automatic fire and grenades toward Shalit's tank which had been on patrol. Two IDF soldiers (Pavel Slutsker and Chanan Barak) were killed in the attack, three others were wounded and Shalit, wounded as well, was abducted and forced back into Gaza.
Immediately following the attack, the IDF released the following statement:
Today, Sunday, June 25, 2006, the 29th of Sivan, during an infiltration and attack by terrorists to the area around the Kerem Shalom crossing [from Israel to Gaza], an IDF officer and soldier were killed, another soldier was kidnapped and four more were injured.

At 5:40 AM, a squad of terrorists from the Hamas and Popular Resistance Committee organizations, infiltrated into Israeli territory in the area of the Kerem Shalom and Sufa border crossings through a tunnel that was dug from the area of Rafah. The terrorists, under cover of mortar and anti-tank missile fire, attacked a number of military targets, among them a tank. IDF forces immediately responded in force, from which at least two of the terrorists were killed.

This terror attack was perpetrated with help from Hamas generals and had the go ahead from the Hamas leadership. The IDF subsequently holds the Palestinian Authority and the Hamas as responsible for this dastardly attack and for the fate of the kidnapped soldier.
The IDF subsequently launched Operation Summer Rains, during which infantry units advanced into Gaza in an attempt to secure the release of Shalit. The operation, though, was unsuccessful; within a matter of weeks the Hezbollah abduction of soldiers Ehud Goldwasser and Eldad Regevturned Israel's attention away from Gaza to its northern flank.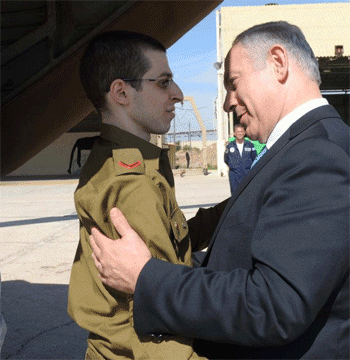 PM Netanyahu greets Shalit after he was returned to Israel in a prisoner exchange deal
The Israeli government initially stated that it would not negotiate for the release of Shalit, but international intervention from Egypt, Germany and the European Union attempted efforts to work out an exchange deal. In October 2009, Hamas released a short video clip in which Shalit could be seen holding a daily newspaper and reading a written message that called on Prime Minister Netanyahu to do everything in his power to free him. In June 2011, the International Red Cross called on Hamas to provide further proof that Shalit was still alive but the group balked at the request.
On August 28, 2011 - Shalit's twenty-fifth birthday and sixth in captivity - Shalit's parents released a letter they hoped would reach Gilad. In the letter, the parents wrote, "You must believe that we do not forget you, we do not forget the fact that next Sunday you will be 25 years old, that this is your sixth birthday in captivity, that more than a fifth of your young life has been spent in a dungeon, a Hamas pit."
On September 7, 2011, U.S. ambassador to the United Nations Susan Rice released a statement calling on Hamas to release Shalit: "As I have said repeatedly in the UN Security Council, Hamas must immediately and unconditionally release Gilad Shalit."
On October 11, 2011, Prime Minister Netanyahu announced the signing of an exchange deal for the release of Shalit. Assembeled through German mediators and the Egyptian government, the deal stipulated that Israel would release 1,027 Palestinian prisoners in a staggered move over the coming months. During Cabinet discussions on the deal, the heads of Israel's security services – Director of the Shin Bet Yoram Cohen, Chief of Staff Benny Gantz, Director of the Mossad Tamir Pardo and the PM's special envoy to the negotiations David Meidan - presented the agreement and its various aspects and expressed their support for it. The Government approved the agreement by a large majority with 26 ministers voting in favor and 3 against.
PM Netanyahu said: "This is a difficult decision to make, but a leadership is examined in moments like these, in its ability to make difficult decisions. I am bringing Gilad Shalit home, to his parents Noam and Aviva, his brother Yoel, his sister Hadas, his grandfather Zvi, and the people of Israel."
In the early afternoon of October 18, 2011, Shalit was set free and returned to Israel after 1,940 days in Hamas captivity. Preliminary medical and psychological exams were performed on Shalit at an IDF base in the south of the country and he was deemed healthy and strong enough to meet his parents and travel home. He was also promoted to the rank of sergeant first class.
On June 23, 2021, Shalit married his longtime girlfriend Nitzan Shabbat.
---
Sources: Israel Ministry of Foreign Affairs.
Wikipedia.
BBC.
Haaretz.
Embassy of Israel. 
Israel Defense Forces.
IDF Spokesperson.
Prime Minister of Israel.
"Gilad Shalit gets married, 10 years after release from Hamas captivity," Times of Israel, (June 23, 2021).