Eberhard von Breitenbuch
(1910 - 1980)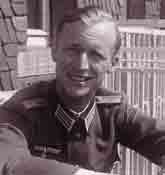 Eberhard von Breitenbuch was a reserve Cavalry Captain in Army Group Center and aide to Field Marshals Erwin von Witzleben, Ernst Busch, and Guenther von Kluge.
He was recruited into the conspiracy to kill Hitler by General Henning von Tresckow.
According to the Joric site, Breitenbuch approached Colonel Claus von Stauffenberg as a volunteer to assassinate Hitler. Breitenbuch assured Stauffenberg that despite the presence of SS guards during a fuehrer conference, he was a "crack-shot" and preferred to kill Hitler with his service pistol rather than use a time bomb. Breitenbuch's son, however, says that his father never approached Stauffenberg. Andreas von Breitenbuch said part of his father's mission in the conspiracy was to convince Field Marshal von Kluge of the necessity of Hitler's assassination and taking part in the conspiracy; but he failed to do either.
On March 11, 1944, armed with a 7.65 mm Browning concealed in his trouser-pocket, aide-de-camp Breitenbuch accompanied Field Marshal Ernst Busch to Hitler's Berghof residence to attend a fuehrer conference. But Breitenbuch was denied entry into the conference because of a fuehrer directive issued earlier that same day prohibiting ADC's from attending fuehrer briefings.
Despite the collapse of Stauffenberg's July 20 coup attempt, the Gestapo never suspected Breitenbuch and his involvement in the conspiracy was never divulged by those who were arrested.
Breitenbuch died on September 21, 1980.
---
Sources: Joric Center; Email from Andreas von Breitenbuch. Photo courtesy of Andreas von Breitenbuch.