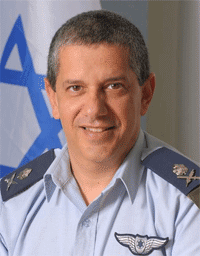 Major-General Amir Eshel is a former Israeli fighter-pilot and the current Commander in Chief of the Israeli Air Force.
Eshel (born 1959 in Jaffa) was drafted into the Israel Defense Forces in 1977 and enlisted in the 88th fighter pilot training course. He completed the intensive Air Force Flight Academy in 1979. After completing the course, Eshel began his service as a "Skyhawk" pilot, which he flew during the 1982 War in Lebanon.  Later in his career he served as an instructor in the Flight Academy as well as a commander of F-16 and F-4 fighter plane squadrons at the Tel Nof and Ramon air force bases.
While commander of the Tel Nof base in 2003, Eshel led the formation of F-15 planes that performed a fly-over of the Auschwitz-Birkenau concentration camp in Poland. From the cockpit flying over the camp and an Israeli army ceremony, Eshel broadcast the following message:
"We pilots of the Air Force, flying in the skies above the camp of horrors, arose from the ashes of the millions of victims and shoulder their silent cries, salute their courage and promise to be the shield of the Jewish people and its nation Israel."
In 2004, Eshel became head of the IAF's Air Group, commanding all operational assets, and in January 2006, he was appointed IAF Chief of Staff, a role he filled during the 2006 Lebanon War. Eshel was subsequently credited with the improvements to air-ground integration implemented after the war.
On March 27, 2008, he was promoted to the rank of Major General and appointed head of the IDF's Planning Directorate.
On February 5, 2012, Israeli Defense Minister Ehud Barak and Chief-of-Staff Benny Gantz announced Eshel as Ido Nehoshtan's successor as Commander in Chief of the Israeli Air Force when the latter completes his tenure in May 2012.
Maj. Gen. Eshel holds a B.A. from Auburn University in Alabama and a Masters in Political Science from Haifa University from the National Security College. He is married to wife Abigail and is the father of three children: daughter Inbar and sons Yoav and Ori.
---
Sources: IDF Spokesman; Israel Defense Forces; YnetNews (February 6, 2012); Wikipedia; Photo courtesy of the IDF