Myths & Facts
By: Mitchell G. Bard
INDEX OF MYTHS:
(2005-2016 archives - CLICK HERE)
2017
The Iran Nuclear Agreement is Working. (September 20)
The Palestinians are descendants of the Canaanites. (August 8)
Anti-boycott legislation violates the First Amendment. (August 1)
Israel is violating the status quo at the Temple Mount by installing metal detectors. (July 21)
Does Israel Need Checkpoints? (July 6)
The Palestinian Authority Ceased Payments to Terrorists. (June 21)
Hamas has a new charter repudiating its goal to destroy Israel. (May 11)
The Palestinian Authority does not pay terrorists. (May 4)
Marwan Barghouti is a man of peace who should be released from prison. (April 28)
Palestinians believe in a two-state solution. (February 24)
Palestinian groups actually care about Palestinians, and are not just anti-Semitic. (February 24)
A Palestinian state will be democratic. (January 11)
A Palestinian state will be democratic.
FACT
One of the assumptions of supporters of the two-state solution in the West is that a Palestinian state will be democratic. Given that no democratic Arab states exist in the Middle East; it is illogical to believe a Palestinian state would be any different. All evidence to this point suggests that a Palestinian state would be yet another autocratic one that denies its people human and civil rights Americans take for granted. Worse, it is likely a Palestinian state will become an autocratic theocracy similar to Saudi Arabia or another radical Islamic regime modeled after Iran.
One need only observe the authoritarian rule of the "moderate" Mahmoud Abbas for a foreshadowing of things to come. Abbas was elected in 2005, but has repeatedly canceled elections, remaining in office more than a decade beyond the end of his term. Abbas does not allow freedom of speech, assembly, or religion. Critics of the regime are jailed or, in some cases, executed. Women's rights are a slight improvement over those in Gaza, but honor killings and other abuses remain common and gays are persecuted based on Koranic prohibitions forbidding homosexuality.
Putting aside the threat of a radical Islamic state on Israel's border, the threat to the liberties of Palestinians are also at stake if the Palestinians are allowed to create another Sharia-based state. Such an entity already exists in the Gaza Strip where Hamas rules according to its interpretation of Islam and already resembles Iran in its treatment of women and persecution of Christians.
Abbas is viewed as secular but has become radicalized over the years and openly parrots radical Islamists. In July 2014, for example, Abbas explicitly said the war with Israel is a "war for Allah," a remark that set off renewed attacks by Palestinians against Jews in Jerusalem (Itamar Marcus, "Abbas Calls for 'War for Allah,'" Palestinian Media Watch, July 27, 2014).
The world's obsessive focus on Israeli settlements has allowed Abbas and the leaders of Hamas to oppress their people with impunity. Human rights organizations and Western governments have turned a blind eye to their abuses and, rather than hold them to account, they have been encouraged to continue their undemocratic behavior.
Those who believe in a two-state solution, and lament the possibility it has become less likely, should direct their criticism at the Palestinians' growing radicalism, which threatens the well-being of their own people and the security of Israel.
MYTH:
Palestinian groups actually care about Palestinians, and are not just anti-Semitic.
FACT
People of good will on all sides of the political spectrum recognize the difficulties Palestinians experience living under Israeli rule, and many would like to see the establishment of a Palestinian state coexisting beside Israel.
Numerous proponents of Palestinian rights, however, are selective in their concern for the Palestinian people. The anti-Semitic BDS campaign advocates, along with many other sympathizers who cry crocodile tears for the Palestinians on campus and in the media, only care about Palestinian-Jewish interactions.
One longstanding example is the complete lack of interest in the treatment of Palestinians in refugee camps in Arab states. Hundreds of thousands of Palestinians have languished in camps in Jordan, Lebanon and Syria for decades. They remain in camps for one reason: the Arab states refuse to resettle them or grant them citizenship.
Ironically, at a time when Arab refugees are being welcomed around the world (albeit sometimes reluctantly by Western societies), Palestinian refugees remain unwanted in lands where they share the same language, religion and culture.
Why have Palestinians been treated so callously by their fellow Arabs?
One historical reason is that the Arab states wanted to keep the refugee issue on the agenda to embarrass Israel and induce international pressure on Israel to allow them to immigrate. The Arab hope was to flood Israel with hostile Palestinians who could act as a fifth-column weakening Israel from within. As the refugee population swelled to a population now exceeding five million, thanks to the absurd criteria of the UN Refugee Relief and Works Agency (UNRWA), the Arabs expected the Jewish population to be exceeded by that of the Palestinians, effectively changing Israel into a Palestinian state.
For decades, the Arab goal was to destroy Israel and the Palestinians were used as pawns. That motivation has subsided in recent years after Egypt and Jordan signed peace treaties with Israel, and other Arab states began to recognize they share strategic interests with Israel.
Still, the Arab states would prefer to be rid of the Palestinians because they are held in low esteem (despised in some places), threaten local economies and are distrusted. You never hear advocates for the Palestinians complain, however, about the virtual incarceration of Palestinians in camps by Arab leaders.
Where are the campus protests over Lebanon's treatment of Palestinians? According to UNRWA, they face a variety of employment restrictions, are denied social and civil rights, have no access to public social services and very limited access to public health or educational facilities.
Few of today's students are old enough to remember when Kuwait expelled 300,000 Palestinians in retaliation for Palestinian support for Saddam Hussein's aggression. Advocates for the Palestinians at the time were also silent.
Today, the situation for Palestinians may be worse than ever, not in the West Bank or Gaza, but in Syria. An estimated 560,000 Palestinians lived in Syria before the Syrian Civil War, accounting for roughly 3 percent of the population (UNRWA: 560,000 Palestinian refugees affected in the Syria crises The Palestine Information Center, January 24, 2017). Over 337,000 live in refugee camps, the largest of which, Yarmouk, has been besieged by the forces of both ISIS and the Assad regime. Nearly 3,500 Palestinians have been killed in Syria (Khaled Abu Toameh, "The Other Palestinians" Gatestone Institute, August 31, 2016).
Most the estimated 450,000 Palestinians living in Syria are internally displaced, lacking access to even basic services and food. More than 120,000 Palestinians have fled Syria; an estimated 31,000 now live in Lebanon, another 16,000 live in Jordan, and many more seek refuge in Europe. (UNRWA)
Two West Bank parties – the PFLP and the Arab Socialist Ba'ath Party – have both given their support to the Assad regime even as 450 Palestinians were tortured to death by the Assad regime and 1,100 more were imprisoned (Mehdi Hasan, "The Palestinians of Yarmouk and the shameful silence when Israel is not to blame" The Guardian, April 12, 2015).
Meanwhile, more than 100,000 Palestinians from the territories work in Israel, where they enjoy equal workers' rights with Israeli citizens. Thousands more work in the settlements that Palestinian advocates thousands of miles away revile. Palestinians in the West Bank enjoy a higher standard of living than most Arabs outside the oil-rich Gulf States, and all their brethren in the refugee camps. No Palestinians are being turned into refugees or killed as part of a deliberate campaign to eliminate them. In fact, in past peace talks, Israel expressed a willingness to accept as many as 100,000 refugees as part of a final settlement.
Israel alone is vilified for its treatment of the Palestinians. A global anti-Semitic BDS movement is intimidating artists who wish to visit and perform in Israel, seeking to deny Israelis or their supporters academic freedom and roiling campuses with disingenuous divestment resolutions. Activists engage in die-ins, build mock walls, and disrupt speakers who dare to speak positively about Israel.
Meanwhile, hundreds of thousands of Palestinians face deprivation, death and displacement in Syria and not a word of protest is heard from those who profess concern for the Palestinian people. No coalitions are mobilized, no demonstrations organized and no weeklong events scheduled to publicize the plight of the Palestinians in Syria.
Looking at the evidence, it appears that Palestinian lives are considered unimportant unless they are somehow intertwined with Jews. The selective outrage directed at Israel raises serious questions about the motives of many of the people who profess concern for the Palestinian people, and may explain why so many have joined the anti-Semitic campaign to delegitimize Israel.
MYTH:
Palestinians believe in a two-state solution.
FACT
While Palestinian leaders sometimes give lip-service to the idea of a two-state solution, they convey a very different message in word and deed. They also communicate what many believe to be their true goal – a single state of Palestine replacing Israel – through imagery. Take this map that appeared on the Palestinian Authority web site, which really communicates better than any words the Palestinian objective.
The President of the Palestinian Authority, Mahmoud Abbas, is also head of its dominant faction, Fatah. The word "Fatah" is a reverse acronym of the Arabic Harekat at-Tahrir al-Wataniyyeh al-Falastiniyyeh, meaning "conquest by means of jihad [Islamic holy war]." The Fatah flag features a grenade with crossed rifles superimposed on the map of Israel. This emphasizes the dedication of Fatah, along with the other "liberation" groups, to the "armed struggle" against Israel, which is a euphemism for terrorism against civilians.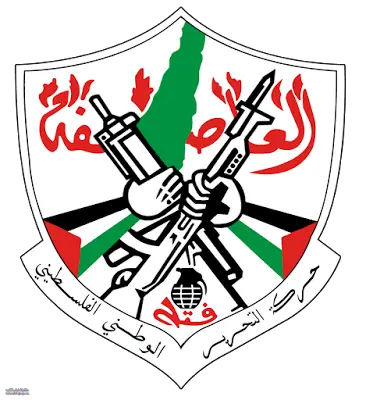 It should be noted that Fatah is often referred to as "secular;" however, Fatah's goal is similar to that of the radical Islamic Hamas organization in its devotion to jihad. This is a reminder that the conflict with Israel is less about land and politics and more about the refusal of Muslim extremists to accept a Jewish state. Not surprisingly, the "moderate" Mahmoud Abbas has repeatedly refused to recognize Israel as a Jewish state or agree to a settlement that would result in a Palestinian state coexisting with the Jewish state of Israel.
Fatah is the largest faction of the PLO, which has its own unambiguous emblem:
To make sure that young Palestinians get the message, this is the emblem for the Fatah Youth Movement:
The Palestinian education system is committed to communicating to students of all ages that there is only one state from the Mediterranean Sea to the Jordan river – Palestine.
PA Minister of Education poses with map of
Palestine replacing Israel (February 2, 2017)
The Palestinian textbooks send a similar message to school children. It is difficult to find a book that has a map of Israel. Here are just two examples:

"Al-Tarbiyah al-Wataniyyah" ("National Education")
3rd grade, page 49, academic year 2002-2003

"The Geography of Palestine"-
The two-state solution may provide the best opportunity for peace between Israelis and Palestinians, but the evidence suggests the Palestinians have a different goal in mind (Intelligence and Terrorism Information Center at the Center for Special Studies (C.S.S), Palestinian Media Watch).
MYTH:
Marwan Barghouti is a man of peace who should be released from prison.
FACT
The New York Times published an op-ed by Marwan Barghouti describing him as "a Palestinian leader and parliamentarian." It was a description that provoked an uproar and was so misleading that the Times public editor apologized for the failure to fully identify the biography and credentials of the writer who she acknowledged "was given five consecutive life terms after being convicted in an Israeli criminal court of premeditated murder for his role in terrorist attacks that killed five people, along with other crimes" (Liz Spayd, "An Op-Ed Author Omits His Crimes, and The Times Does Too," New York Times, April 18, 2017).
Barghouti had been out of the news before his op-ed explaining his call for Palestinian prisoners in Israeli jails to go on a hunger strike. Contrary to the Times's characterization of Barghouti, his experience as a leader is limited to commanding a terrorist organization.
Barghouti was the commander of the Tanzim, a terrorist arm of the PLO directed by Yasser Arafat. He also coordinated the activities of these "nationalist forces" with those of the Islamist organizations. In 2004, an Israeli court found that he gave direct orders resulting in the deaths of five people:
Yosef Habi (52, from Netanya), Eli Dahan (53, from Lod), and policeman Salim Barakat (33, from Yarka) were killed and many people were injured in an attack at the Seafood Market restaurant in Tel Aviv on March 5, 2002.
Yoela Chen (45, from Giv'at Ze'ev) was murdered in an attack at a gas station near the entrance to Giv'at Ze'ev on January 15, 2002.
The Greek monk Georgios Tsibouktzakis (36, from the St. George Monastery) was murdered in an attack on the road between Jerusalem and Ma'ale Adumim on June 12, 2001.
Barghouti also asked Arafat to approve payments to terrorists (Yossi Kuperwasser, "Who is Marwan Barghouti?" Jerusalem Center for Public Affairs, April 19, 2017).
Though Palestinians often complain about Israeli military courts, suggesting they are unfair, Barghouti was convicted in a civilian court. He has served only 15 years of the five life sentences plus 40 years he was given by the court. He is not a political prisoner and has he been mistreated. One person who has seen his cell noted it is well lit and full of books, which helped him complete a Ph.D. in political science from prison (Reuven Ben-Shalom, "No Nelson Mandela," Jerusalem Post, April 18, 2017).
During his incarceration, Barghouti has not been known for advocating prisoners' rights; hence, the suspicion that his effort to mobilize a strike now has less to do with prison conditions and more to do with politics. Mahmoud Abbas is on his last legs and jockeying has begun to succeed him. Instead of appointing him to a senior post, Abbas has been taking steps to isolate Barghouti and his supporters within Fatah (Avi Issacharoff, "Marwan Barghouti's great gamble," Times of Israel, April 18, 2017).
Should the Palestinian Authority ever hold an election, something Abbas has put off for more than a decade to stay in power, it is conceivable that Barghouti could be elected president based on some polls, but the reliability of Palestinian polls is questionable given the lack of free speech in the PA. Moreover, his popularity is partly due to his status as a prisoner responsible for killing Jews, his immunity from charges of corruption because of his incarceration, and his inability to make any political decisions from jail that might upset voters. Though he has occasionally made statements suggesting he is interested in reaching a peace agreement with Israel, he has indicated no willingness to compromise on core issues such as refugees, settlements, borders or Jerusalem, making him no less intransigent than Abbas or his mentor Arafat.
The idea that Barghouti could become the unquestioned leader of the Palestinians and broker a peace treaty is merely hypothetical (fanciful may be a better word). Barghouti's role in the murder of five Israelis and involvement in terrorism, however, is a fact. In the past, ignoring facts to engage in wishful thinking has not brought Israelis or Palestinians peace or security.
MYTH:
The Palestinian Authority does not pay terrorists.
FACT
Though the Palestinians have repeatedly pledged to end terrorism and incitement – Yasser Arafat's renunciation of terror was a prerequisite to the Oslo negotiations – the Palestinian Authority provides generous financial payments to terrorists and their families provide incentives for attacks against Israelis.
According to laws passed in 2004 and amended in 2013, Palestinians and Israeli Arabs who are convicted of terrorism are entitled to monthly stipends. Men who have served at least five years in Israeli jails, and women who served at least two, are entitled to these "salaries" for life. Those imprisoned for three to five years receive $570 per month. Someone sentenced to 30 years or more is entitled to $3,400 per month. The more heinous the crime, the more money a prisoner receives. The government also provides health insurance and tuition for prisoners as well as their spouses and children. Families of terrorists who have died or were wounded receive $1,560 plus monthly checks for at least $364. Members of PLO factions arrested outside of "Palestine" are also entitled to benefits. Israeli Arabs and Arab residents of Jerusalem receive bonuses.
Once released, prisoners are given priority for employment. Any male ex-prisoner incarcerated for 10 or more years, and female who served five years, is entitled to a position in the PA. All former prisoners' social security and pension fees are paid according to the number of years they spent in jail. If their salary is lower than what they received in prison, the PA makes up the difference and, if a prisoner cannot be employed, they are still entitled to a monthly salary, disability payments and death benefits payable to their families (Douglas J. Feith & Sander Gerber, "The Department of Pay-for-Slay," Commentary, March 15, 2017; Thane Rosenbaum, "Palestinians are rewarding terrorists. The U.S. should stop enabling them," Washington Post, April 30, 2017).
The PA, which has been in dire financial straits, and is completely dependent on foreign aid for its survival, spends roughly $140 million for payments to terrorists who are in jail or have been released. In 2016, more than 32,500 martyrs' families received payments of approximately $175 million. Thus, nearly 7 percent of the PA budget is dedicated to terrorism.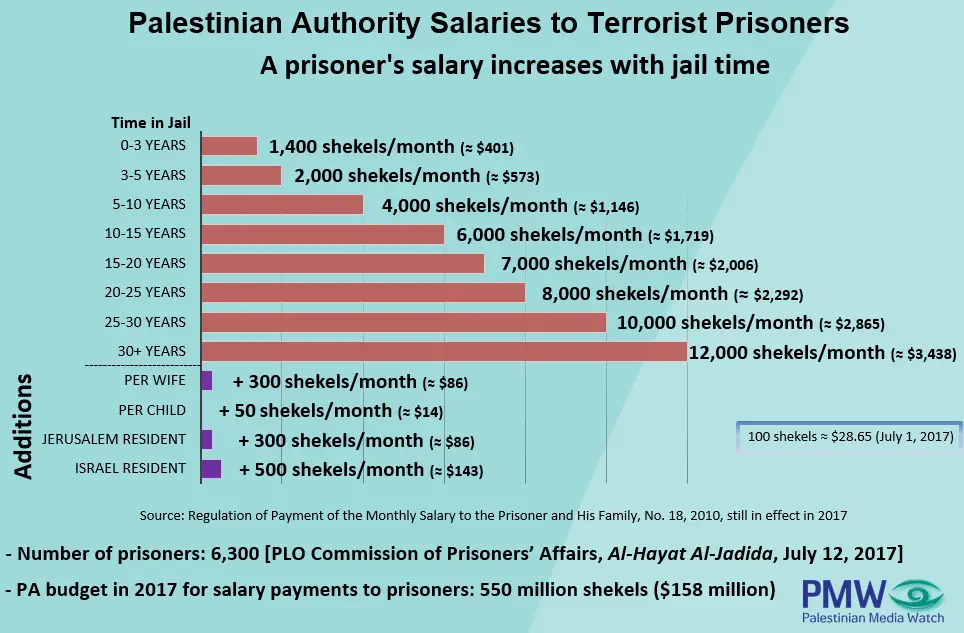 The United States and some European countries have realized they are underwriting this "pay-for-slay" policy and called on Mahmoud Abbas to cease these payments. Congress is considering legislation that would cut aid, now approximately $400 million annually, if the PA continues these payments. Abbas, however, not only refuses to halt the stipends to terrorists, he has increased the amount allotted to them and their families (Itamar Marcus, "PA defies US, will raise payments to Martyrs' families," Palestinian Media Watch, April 9, 2017; "Abbas will continue to pay Palestinian prisoners, PA minister says," Times of Israel, April 29, 2017).
Peace and terrorism are incompatible. The incessant violence directed at Israeli citizens by Palestinians is the principal obstacle to ending the conflict. Israelis of all political stripes are unwilling to risk ceding territory to the Palestinians so long as they believe this will make them more insecure. They learned a painful lesson when all the Jews living in the Gaza Strip were evacuated and instead of peace they were bombarded with more than 10,000 rockets. So long as the Palestinian Authority continues to provide financial incentives for Palestinians to engage in terror, no one should expect Israel to withdraw from the West Bank. Some Palestinians may expect their brothers and sisters who have been imprisoned or died fighting to liberate "Palestine" to be compensated; however, they are only sabotaging their hopes for gaining independence.
By continuing to provide financial aid to the PA, Europe and the United States are subsidizing Palestinian terror and undermining their interest in ending the conflict.
Hamas has a new charter repudiating its goal to destroy Israel.
FACT
Hamas announced on May 1, 2017, that it was adopting a new political policy document. Fawzi Barhoum, a Hamas spokesman in Gaza, said the group had to move beyond its original charter to achieve its goals. "The document gives us a chance to connect with the outside world," he said. "To the world, our message is: Hamas is not radical. We are a pragmatic and civilized movement. We do not hate the Jews. We only fight who occupies our lands and kills our people" (Ian Fisher, "In Palestinian Power Struggle, Hamas Moderates Talk on Israel," New York Times, May 1, 2017).
This new document, however, neither replaces the charter nor abrogates the group's founding document calling for Israel's destruction, according senior Hamas official Mahmoud al-Zahar. This is clear from the supposedly significant reference to the idea of accepting the creation of a Palestinian state in the West Bank and Jerusalem based on the 1949 armistice line. The statement reiterates several times, however, that Hamas does not seek to liberate the West Bank, but all of Palestine from the river to the Sea (Points 2 and 20).
"When people say that Hamas has accepted the 1967 borders, like others, it is an offense to us," Zahar said. "We have reaffirmed the unchanging, constant principles that we do not recognize Israel; we do not recognize the land occupied in 1948 as belonging to Israel; and we do not recognize that the people who came here [Jews] own this land." Zahar said the reference to the 1967 borders "is a tactical step that does not harm the right of the Palestinians to all of the land of Palestine" ("Official Denies Hamas Has Softened Stance Toward Israel," Reuters, May 10, 2017; Amad, March 28, 2017, translated by Palestinian Media Watch, April 21, 2017).
The statement also rejects any peace agreement with Israel and calls for ceasing the beneficial cooperative activities between Israelis and Palestinians made possible by the Oslo Accords (Point 21).
The document also repeatedly claims that "Palestine," which includes Israel, has a special status as "an Arab Islamic land." "Palestine," however, has no special status in Islam or connection to Arabs living outside the area (Points 3, 7 and 10).
Though acknowledging the area as the birthplace of Jesus Christ, the statement makes no mention anywhere of a Jewish connection to the Land of Israel. Hamas also claims Jerusalem as the capital of "Palestine." A state of Palestine has never existed and Jerusalem has never been the capital of any state other than Israel or the ancient Jewish kingdoms. The city has no special status for the Arabs and only the religious shrines are of significance to Muslims (Point 7).
The demand that Palestinian refugees be allowed to return to land that is now Israel is a nonstarter for negotiations. Even Palestinian negotiators have acknowledged this is an unreasonable demand (Points 12, 13, and 20).
In a clear effort to avoid being accused of anti-Semitism, the statement replaces many of the blatantly anti-Semitic references in the charter with euphemistic references to "Zionists" and specifically says it has no conflict with Jews. Hamas is aware, however, that most Zionists are Jews. Hamas also insists that only Palestinians have a right to self-determination. Denying the same right to the Jewish people is anti-Semitic (Points 14, 16 and 18).
The "moderation" of the new statement does not include a repudiation; on the contrary, Hamas doubles down by suggesting it has a divine right to engage in terrorism and that the entire Arab/Islamic world has an obligation to engage in a jihad against Israel (Points 15, 23, 25 and 26).
The statement's references to tolerance and upholding human rights are laughable given the group's persecution of Christians, gays and other Palestinians who do not accept its radical Islamic ideology (Points 8 and 17).
Hamas also rewrites history throughout the document as when it suggests anti-Semitism was purely a European phenomenon (Point 17). While their experience in Europe was different, and in many cases more severe, Jews in Arab and Muslim lands was frequently persecuted. Muslims created a special category of second-class treatment for Jews and Christians known as dhimmitude.
The notion that Hamas is moderating its positions is belied by the recent appointment of Yahya Sinwar, who "represents the most radical and extreme line of Hamas," according to Kobi Michael, a former head of the Palestinian desk at Israel's Ministry for Strategic Affairs (Isabel Kershner, "Hamas Appoints Hard-Line Militant as Gaza Leader," New York Times, February 13, 2017).
Sinwar favors improving ties between Hamas and Iran and, while the statement talks about an interest in unifying the Palestinian people, Hamas has been arresting Fatah members in the Gaza Strip in its ongoing campaign to weaken Mahmoud Abbas and undermine the Palestinian Authority. The organization also remains active in the West Bank where its operatives seek to overthrow Abbas ("Fatah claims that Hamas arrested its members in Gaza," Middle East Monitor, January 16, 2017; "Fatah-Hamas relations," Palestinian Media Watch, Undated).
Even Fatah dismissed the new charter as "nothing new" ("Hamas' political document has nothing new, says Fatah," WAFA, May 2, 2017) and Yossi Kuperwasser, a retired Israeli brigadier general who led the army's research arm, said, "Not even one mind" will be changed in Israel ("Nobody will be affected by this" (Ian Fisher, "In Palestinian Power Struggle, Hamas Moderates Talk on Israel," New York Times, May 1, 2017).
The international community, apparently, the target of the new statement, should not change its policy of excluding Hamas from negotiations since the group deliberately reiterated positions that conflict with the conditions set for ending its pariah status: ceasing terror, recognizing Israel's right to exist, and abiding by past Israeli-Palestinian agreements.
The Palestinian Authority Ceased Payments to Terrorists.
FACT
During their meeting in Bethlehem on May 23, 2017, President Donald Trump angrily accused Mahmoud Abbas of lying to him at their May 3 meeting in Washington, D.C., when the Palestinian Authority president insisted that the PA did not engage in incitement against Israelis and Jews. Trump was also furious about the PA's "pay-for-slay" policy of providing salaries to convicted Palestinian terrorists in Israeli prisons and reiterated the demand he had made at the White House for Abbas to end the practice (Nathan Guttman, "How Payments To Terrorists Became An Issue At The Trump-Abbas Meeting," Forward, May 4, 2017;Jack Moore, "Trump Raged At Palestinian Leader Mahmoud Abbas In Bethlehem Meeting: 'You Lied To Me,'" Newsweek, May 29, 2017).
On June 13, 2017, Secretary of State Rex Tillerson told senators that pressure from the president led the PA to change its policy. Palestinian officials, however, quickly denied Tillerson's claim. "There is no end to the payments" of Palestinian prisoners, declared Issa Karake, head of the Palestinian Committee of Prisoners' Affairs. "We reject ending the subsidies to the prisoners and families of martyrs. We will not apologize for it" (Dov Lieber, "Defying US, Palestinian official vows payments to terrorists will continue," Times of Israel, June 14, 2017).
According to Karake, Abbas told Trump he would not "stop the allowances of the families of the prisoners and Martyrs (Shahids), and emphasized his absolute support for them (i.e., for the payments)." Other Palestinian officials made similar comments (Itamar Marcus and Nan Jacques Zilberdik, "Did the PA lie to the US Secretary of State?" Palestinian Media Watch, June 14, 2017).
Following the Palestinian statements, Tillerson modified his testimony before a House committee on June 14, 2017, saying the United States was engaged in an "active discussion" on the payments and that "we've taken the position to the Palestinian Authority in a very unequivocal way." Tillerson said he told the Palestinians, "You either take care of this yourself or someone else will take care of it for you" (Eric Cortellessa, "Tillerson waters down statement that Palestinians 'changed policy' of terror payments," Times of Israel, June 14, 2017).
In a meeting with Palestinian officials on June 20, 2017, Trump's envoy Jason Greenblatt reiterated the demand that the Palestinians cease payments to the so-called Martyr's Fund. A Palestinian official said the meeting did not go well and the request was rejected (Kushner kicks off Mideast peace push with first solo visit, Associated Press, June 21, 2017).
Meanwhile, Congress is considering legislation, the Taylor Force Act, which would cut U.S. funding to the Palestinian Authority if it continues to provide monetary support to the families of those who commit acts of terror against Israelis and others.
Does Israel Need Checkpoints?
FACT
It is not unusual for nations to guard their borders and to establish checkpoints to prevent people from illegally entering their countries. The United States has checkpoints at its borders and airports, and as Americans saw on September 11, these are necessary but not foolproof security precautions.
In the case of Israel, the necessity for checkpoints has been created by the Palestinians. By pursuing a violent campaign of terror against Israel's citizens, they have forced Israel to set up barriers to make it as difficult as possible for terrorists to enter Israel to carry out acts of violence. The checkpoints are an inconvenience to innocent Palestinians, but they save lives.
For example, on July 4, 2017, border police foiled a terror attack thanks to a checkpoint near East Jerusalem. A car was stopped after security forces noticed its front and rear license plates did not match. Six Palestinians lacking entry permits were detained after the vehicle was searched and a bag of knives, stun grenades and Molotov cocktail materials were found (Jacob Magid, Border police say Jerusalem terror attack foiled at West Bank checkpoint Times of Israel, July 4, 2017).
The following are just a few other examples of how checkpoints prevent terrorism:
■ On October 23, 2012, a nineteen-year-old Palestinian was caught at the Kalandiya check point with eight pipe bombs he was trying to bring into Jerusalem.
■ On July 27, 2014, police stopped a suspicious vehicle at a checkpoint near Beitar Illit and discovered a large explosive device attached to gas cylinders inside the car.
■ On June 29, 2015, a female soldier was stabbed at a checkpoint between Jerusalem and Bethlehem.
■ On May 10, 2016, an Israeli officer was seriously wounded by an explosive device at the Hizme checkpoint near Jerusalem. Five other explosives were found at the scene.
Barriers are not set up to humiliate Palestinians, but to ensure the safety of Israeli citizens. Frequently, when Israel has relaxed its policy and withdrawn checkpoints, Palestinian terrorists have taken advantage of the opportunity to launch new attacks on innocent Israelis.
Still, Israel has dismantled most of its unmanned checkpoints, reduced the number of manned checkpoints, and streamlined the entry process.
Israel is violating the status quo at the Temple Mount by installing metal detectors.
FACT
Since 1967, the Temple Mount has often been a flashpoint for violence. On July 14, 2017, two Israeli policemen were murdered by Israeli Arab terrorists at the entrance to the Temple Mount (Nir Hasson, Barak Ravid and Jack Khoury, "Two Israeli Police Officers Killed in Temple Mount Shooting, Another Wounded," Haaretz, July 14, 2017). In response, Israel installed metal detectors. Subsequently, Muslim protestors attacked Israeli police trying to maintain order and to ensure the safety of all worshippers.
Critics of Israel's actions apparently are unconcerned that the third holiest place in Islam, the al-Aqsa Mosque, is used as an arsenal for provocateurs. Most recently, the men who murdered the two Israeli police officers had an accomplice who brought their guns in a backpack onto the Temple Mount and left them in the al-Aqsa Mosque (Alexander Fulbright, "Police video shows how Friday's terrorists got their guns onto Temple Mount," Times of Israel, July 20, 2017).
Rather than see the metal detectors as a way of protecting Muslims and other visitors to the Temple Mount, Palestinian Authority President Mahmoud Abbas and other Muslim leaders condemned Israel. The Jerusalem Wakf Islamic trust called on worshipers to refrain from entering the compound until the detectors are removed, and Abbas's Fatah declared a "Day of Rage," which was followed by clashes between Palestinians and Israeli security forces (Amos Harel, Jack Khoury and Barak Ravid, "Israeli Army, Shin Bet Urging Netanyahu to Relent on Temple Mount Metal Detectors," Haaretz, July 19, 2017).
A similar uproar occurred when Israel and Jordan mutually agreed that video cameras should be installed on the Temple Mount in 2016 following several weeks of rioting prompted by Palestinian propaganda accusing Israel of endangering the al-Aqsa Mosque (Shlomo Cesana, "Surveillance cameras to be installed on Temple Mount," Israel Hayom, March 6, 2016). Under pressure from the Palestinians, and threats to prevent their installation, Jordan reversed its position (Khaled Abu Toameh, "Jordan Abandons Plan To Install Cameras On Temple Mount," Jerusalem Post, April 18, 2016).
The need for such measures has been proven by the frequent outbursts of violence, and the use of the Temple Mount as an arsenal.
Greater security is also an answer to the "al-Aqsa Mosque is in danger" libel Abbas periodically resurrects to provoke violence as it will prevent any extremists from threatening the area's sanctity.
At a time when terrorism has made it commonplace for security checks at not only airports, but government buildings, shopping malls, stadiums and tourist attractions, it is difficult to fathom the logic behind opposing similar measures at the Temple Mount. Other holy sites, including the Vatican in Rome, the Buddhist pilgrimage site Bodh Gaya in India, and the Sikh Golden Temple in India, have security checks and cameras. Jews and other visitors to the Western Wall must go through scanners as well (Seth J. Frantzman, "From Mecca To Rome, How Do Other Countries Protect Their Holy Sites?" Jerusalem Post, July 19, 2017).
Metal detectors are inconveniences, especially in places where large crowds congregate such as the Temple Mount. Mecca has far more visitors, however, and that has not stopped the Saudis from installing surveillance cameras and issuing pilgrims electronic bracelets ("How Saudi Hajj pilgrim 'e-bracelets' work," BBC, September 9, 2016). Metal detectors also screen visitors before they get to Mecca.
Israel may yet decide the threat of violence from protests outweighs the value of security measures, as it did when it went along with Jordan's decision not to install security cameras on the Temple Mount. Such a decision would not change the legitimacy of taking the same type of steps to protect visitors and worshippers that are used at other holy sites around the world. Alas, this is the price terrorists have forced all of us to pay.
Anti-boycott legislation violates the First Amendment.
FACT
In response to the anti-Semitic boycott, divestment and sanctions (BDS) campaign, bipartisan legislation has been introduced in Congress to expand the existing anti-boycott law on the books since 1977. The ACLU and others have falsely claimed the new legislation is a violation of the First Amendment that will criminalize criticism of Israel. As legal scholar Eugene Kontorovich has noted, "the ACLU's position would make many U.S. sanctions against foreign countries (Iran, Russia, Cuba, etc.) unconstitutional" (Eugene Kontorovich, "Israel anti-boycott bill does not violate free speech," Washington Post, July 27, 2017).
The Export Administration Act (EEA) was adopted during the Carter administration after the scope of the Arab boycott became clear to members of Congress. Hundreds of U.S. companies were being blacklisted for associations with Israel, and those wishing to do business with Arab countries were being asked to certify that they had no connections to Israel. The law prevents companies from cooperating with the boycott by refusing to do business with Israel or furnishing information about their relations with Israel. The Arab League boycott remains in place and the Office of Antiboycott Compliance continues to enforce the law and impose fines and other penalties when companies are found to have violated the law.
The EEA applies only to the Arab League boycott. The proposed Israel Anti-Boycott Act simply enhances this existing legislation by applying it to boycotts against Israel by any foreign government or international governmental organization. It also specifically opposes the United Nations Human Rights Council resolution of March 24, 2016, which urges countries to pressure companies to divest from, or break contracts with, Israel.
The legislation would also amend the Export-Import Bank Act of 1945 to include efforts to penalize or limit commercial relations with Israel as a reason for the bank to deny credit applications for the export of goods and services between the United States and foreign countries.
Nothing in the law prevents expressions of support for boycotts. Even the anti-Semitic divestment campaigns mounted on many college campuses would remain protected.
The Palestinians are descendants of the Canaanites.
FACT
Palestinian claims to be related to the Canaanites are a recent phenomenon and contrary to historical evidence. The Canaanites disappeared three millennia ago and, over the last two thousand years, there have been massive invasions (e.g., the Crusades), migrations, the plague, and other manmade or natural disasters that killed off most of the local people. The entire local population has been replaced many times over. During the British Mandate alone, more than 100,000 Arabs emigrated from neighboring countries and are today considered Palestinians.
Sherif Hussein, the guardian of the Islamic Holy Places in Arabia, said the Palestinians' ancestors had only been in the area for one thousand years (Al-Qibla, March 23, 1918, quoted in Samuel Katz, Battleground-Fact and Fantasy in Palestine, NY: Bantam Books, 1977, p. 126). Even the Palestinians themselves have acknowledged their association with the region came long after the Jews. In testimony before the Anglo-American Committee in 1946, for example, they claimed a connection to Palestine of more than one thousand years, dating back no further than the conquest of Muhammad's followers in the seventh century (British Government, "Report of the Anglo-American Committee of Enquiry, 1946, Part VI," April 20, 1946).
In 2017, scientists examining DNA samples of the region's ancient and modern inhabitants found evidence that Lebanese Arabs, not Palestinians, are the most likely descendants of the Canaanites (Chris Graham, "Study shows ancient Canaanites survived divine call in Bible for them to be wiped out," Telegraph, July 28, 2017).
Meanwhile, no serious historian questions the more than three-thousand-year-old Jewish connection to the land of Israel, or the modern Jewish people's relation to the ancient Hebrews.
We know that some of those who live in our villages are Jews who converted to Islam after the Muslim conquests beginning in the 7th century, and most of us are the descendants of foreign workers who came to British Mandate of Palestine from the various Arab countries in the wake of the Zionist enterprise. By trying to trace our "ancestry" to the Canaanites, we lie to ourselves and demonstrate our silliness and self-deception to the world. And when we try to claim that Jesus was a Palestinian, we make ourselves an international laughing stock.
The Iran Nuclear Agreement is Working.
FACT
We definitely know that some aspects of the nuclear agreement have not worked. More ominous are the things that we do not know because of the failure of the supposedly "unprecedented" verification regime.
Critics warned that the Joint Nuclear Comprehensive Plan of Action (JCPOA) was flawed; nevertheless, it was signed by the United States and its international partners. The most immediate sign of its failure was the increased bellicosity of Iran and the intensification of its efforts to destabilize the regime and establish a hegemonic Shiite sphere of influence that threatens Israel and our Arab allies. "The list of Iranian transgressions has increased dramatically since the date that the [nuclear deal] was signed," said CIA director Mike Pompeo (Jenna Lifhits, "Cotton on Iran Nuclear Deal: 'I Simply Do Not See How We Can Certify,'" Weekly Standard, September 18, 2017).
David Albright, President of the Institute for Science and International Security, testified in Congress:
Those who argued that a key benefit of the nuclear deal would be a moderation of Iran's behavior in the region have been sadly disappointed. Armed with substantial funds and a growing economy, Iran is challenging the United States in the region and appears as committed to maintaining the capability to pursue a nuclear weapons path as before, just a longer path (David Albright, "House Subcommittee Testimony of David Albright on Assessing Iran Nuclear Deal,"
Institute for Science and International Security
, April 5, 2017).
On September 14, 2017, Secretary of State Rex Tillerson said, "Iran is clearly in default of these expectations of the JCPOA," adding that Iran's actions are "threatening the security of those in the region as well as the United States itself" (Nick Wadhams, "Tillerson Says Iran 'Clearly in Default' of Nuclear Deal's Terms," Bloomberg, September 14, 2017).
Besides contravening the spirit, Iran has also violated the letter of the agreement. Supporters of the deal say the International Atomic Energy Agency (IAEA) has certified Iran's compliance to prove that it is working. They neglect to mention, however, that the IAEA has found that Iran has committed several violations and only complied when caught. According to National Security Advisor H.R. McMaster, "the IAEA has identified, and we've identified some of these breaches that Iran has then corrected. But what does that tell you about Iranian behavior? They're not just walking up to the line on the agreement. They're crossing the line at times" ("General H.R. McMaster on global threats," Fox News, September 17, 2017).
Albright notes that it is difficult to assess Iran's compliance with the JCPOA because of "the excessive secrecy surrounding the implementation of the deal and its associated parallel arrangements" (David Albright, "House Subcommittee Testimony of David Albright on Assessing Iran Nuclear Deal," Institute for Science and International Security, April 5, 2017). Nevertheless, his institute found several Iranian violations of the agreement, as well as cases where Tehran exploited loopholes in the deal to weaken its effectiveness. For example:
Iran is not in compliance with UNSC resolution 2231's prohibition on conventional weapons sales and transfers or its prohibition on ballistic missile testing.
Iran has twice had more than its heavy water limit of 130 metric tons inside Iran.
Iran is operating advanced IR-6 centrifuges in excess of the limit allowed.
The Atomic Energy Organization of Iran has sought sensitive nuclear-related materials and facilities beyond what it needs or should get.
Iran is seeking to exploit a loophole in reactor restrictions involving naval propulsion reactors.
In addition, German intelligence has caught Iran seeking "products and scientific know-how for the field of developing weapons of mass destruction as well [as] missile technology" (Benjamin Weinthal, "Iran Still on the Hunt for Nuclear Weapons Technology Across Germany," Weekly Standard, July 7, 2017).
More important, the IAEA succumbed to Iranian demands to cease investigation of its prior weapons research and barred monitors from military sites despite the fact the JCPOA gives the IAEA the right to visit any site in Iran, whether military or civilian (David Albright and Olli Heinonen, "Verifying Section T of the Iran Nuclear Deal: Iranian Military Site Access Essential to JCPOA Section T Verification," Institute for Science and International Security, August 31, 2017). According to Israeli sources, within a few months of signing the JCPOA, the IAEA was given information regarding sites Iran had not reported as part of its nuclear program and where it was believed forbidden nuclear military research and development activity was being conducted. Few of the suspected sites were inspected because of Iran's refusal to allow access and the IAEA's unwillingness to confront Iran on the issue (Barak Ravid, "Israel: IAEA Received Info About Suspected Iranian Nuclear Sites but Didn't Inspect Many of Them," Haaretz, September 17, 2017).
This is quite different from Obama's promise of "unprecedented" inspections (Glenn Kessler, "President Obama's claim of 'unprecedented inspections' in Iran," Washington Post, February 6, 2014). Since the IAEA does not visit the sites where Iran is most likely engaged in prohibited activities, there is no way to know whether Iran is engaged in prohibited activities at those locations.
Setting aside the military installations that Iran has vowed never to permit IAEA inspectors to visit, the Iranians themselves have hinted at suspicious activities. The head of Iran's nuclear program, for example, has said Iran has the capability to build advanced centrifuges on short notice. Iranian Foreign Minister Mohammad Javad Zarif said Iran is fully prepared to return to the pre-JCPOA situation or even [to conditions] more robust than that if the U.S. reneges on its promises. Zarif added that Iranian scientists had been continuing work with advanced centrifuges (PressTV, March 21, 2017).
According to the Institute for Science and International Security, "The mass production of these centrifuges (or their components) would greatly expand Iran's ability to sneak-out or breakout to nuclear weapons capability, or surge the size of its centrifuge program if the deal fails, or after key nuclear limitations end. If Salehi's statement is true, Iran could have already stockpiled many advanced centrifuge components, associated raw materials, and the equipment necessary to operate a large number of advanced centrifuges" (David Albright and Olli Heinonen, "Is Iran Mass Producing Advanced Gas Centrifuge Components? Can we even know with the way the Iran deal has been structured and implemented so far?" Institute for Science and International Security, May 30, 2017).
The failure of the agreement to include Iranian sponsorship of terror, ballistic missile research and development, or aggression against its neighbors, combined with the release of billions of dollars in previously frozen funds, has allowed Iran to accelerate each of these activities. In September, for example, it was disclosed that Iran increased its support for the Hezbollah to $800 million a year and resumed payments of $60-70 million to Hamas (Anna Ahronheim, "Iran Pays $830 Million To Hezbollah," Jerusalem Post, September 18, 2017).
Director of U.S. National Intelligence Daniel Coats testified during a U.S. Senate briefing on May 15, 2017, that despite the nuclear agreement Iran has been hard at work developing Inter-Continental Ballistic Missile (ICBM) technology. Coats stressed that the range and accuracy of Iranian missiles has steadily improved over time, and stated that the ICBMs would be Iran's "preferred method of delivering nuclear weapons, if it builds them." The National Intelligence Director also suggested that "progress on Iran's space program could shorten a pathway to an ICBM because space launch vehicles use similar technologies" (Amanda Ulrich, "Iran 'is still developing ballistic missiles that could carry nuclear warheads in violation of UN resolution,'" Daily Mail, May 12, 2017).
Obama acknowledged that Iran would have no prohibition to producing a weapon after the deal's expiration while claiming the deal "cuts off all of Iran's pathways to the bomb" (Roll Call, July 14, 2015). Even with all pathways cut off, he admitted "in year 13, 14, 15 [of the proposed deal], they [Iran] have advanced centrifuges that enrich uranium fairly rapidly, and at that point the breakout times would have shrunk almost down to zero (emphasis added)" ("Transcript: President Obama's Full NPR Interview On Iran Nuclear Deal," NPR, April 7, 2015).
Iran can act much more quickly than Obama forecast. Iran's nuclear chief Ali Akbar Salehi said in July 2017 that Iran could reactivate the reactor capable of producing plutonium for a bomb and ramp up enrichment of uranium to the pre-agreement level of 20% within five days ("Iran: Five days needed to ramp up uranium enrichment," Al Jazeera, August 22, 2017; "Iranian Statements Underscore Weaknesses of Nuclear Deal," The Tower, September 12, 2017).
Given the loopholes in the nuclear agreement, and the failure of the IAEA to inspect Iran's military facilities, the organization cannot assure the world that Iran is not continuing its effort to build a nuclear bomb. We do know; however, Iran is violating the letter and spirit of the deal and has become a greater threat to the region and the world since the agreement was signed.
---