Trump Administration: Trump and Israel
Donald Trump was inaugurated as President of the United States on January 20, 2017, and two days afterwards Trump made his first official phone call to Israeli Prime Minister Benjamin Netanyahu. The two discussed the Iran nuclear issue as well as the regional threat of ISIS, and Trump invited the Prime Minister to visit the White House in February.
Trump held his first meeting with a leader of the Arab world, King Abdullah of Jordan, on February 2, 2016. After the meeting Trump's White House issued a statement clarifying that while they "don't believe the existence of settlements is an impediment to peace, the construction of new settlements or the expansion of existing settlements beyond their current borders may not be helpful in achieving that goal."
On February 15, 2017, Trump met with Prime Minister Netanyahu at the White House for the first time as President. During a joint press conference with the Prime Minister, the President dropped the historic U.S. commitment to a 2-state solution to the Israeli-Palestinian conflict, stating I'm looking at two states and one state, and... I can live with either one. Appearing to startle the Israeli leader, Trump later suggested that he would like to see [the Israelis] hold back on settlements for a little bit. The meeting was cordial and friendly, with Netanyahu speaking to Trump and his son-in-law Jared Kushner like old friends. To read a full transcript of the joint press conference, please click here.
Donald Trump's Administration declared May as National Jewish American Heritage Month in May 2017. To read the proclamation, please click here.
On May 2, 2017, President Donald Trump hosted Palestinian Authority President Mahmoud Abbas in the White House. To read the full text of their meeting, please click here.
The Washington Post reported on May 15, 2017, that five days earlier Trump had revealed highly classified information in a White House meeting to Russian Foreign Minister Sergei Lavrov and Russian Ambassador to the U.S. Sergey Kislyak. This information, pertaining to ISIS plans to use laptop batteries as bombs, was classified to the highest degree; what is known in the intelligence community as code-word information. It was revealed in the days following the Washington Post's bombshell that the information divulged to the Russian Foreign Minister and Ambassador had been obtained by an Israeli source embedded within ISIS in Syria. Israeli officials feared that the leak could compromise intelligence lines, and put current Israeli intelligence officers in danger.
President Donald Trump embarked on his first foreign trip as President on May 19, 2017, with plans to visit Saudi Arabia, Israel, the Vatican, and then various European nations on a 9-day trip. On May 21, 2017, Trump arrived in Israel on the first ever direct flight from Riyadh, Saudi Arabia to Tel Aviv, and was greeted by a red-carpet ceremony at Ben-Gurion International Airport. After issuing joint statements with Israeli Prime Minister Netanyahu, Trump met with Israeli President Reuven Rivlin and then toured Jerusalem's Old City with his entourage. President Trump wore a Yamurkle and prayed at the Western Wall during the afternoon of May 21, 2017, becoming the first sitting President to ever visit the holy site.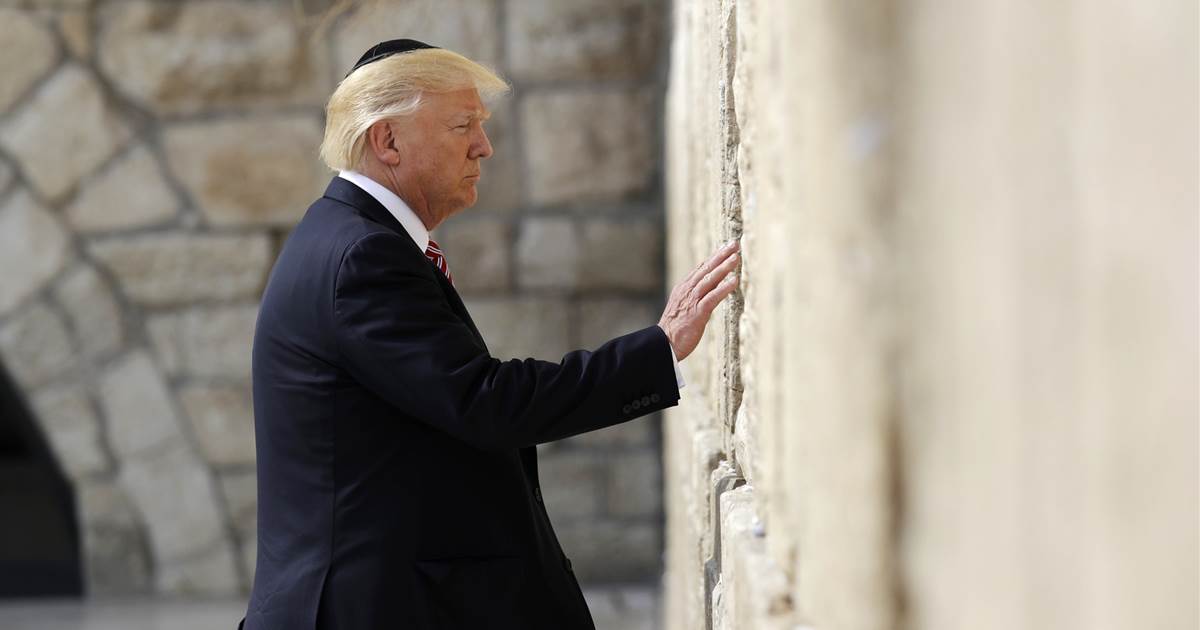 Trump visits the Western Wall
During Trump's visit to Israel he also took time to meet with Palestinian Authority President Mahmoud Abbas in Bethlehem. While initial reports surfaced of a cordial meeting, this was soon disproven by officials with knowledge of the exchange. Trump allegedly laid into Abbas, screaming at him that he had deceived me [Trump] in Washington, after being shown by the Israelis that Abbas personally ha[s] a hand in incitement.
Israeli Prime Minister Benjamin Netanyahu was the first person President Trump met one-on-one with during the United Nations General Assembly in September 2017.
President Trump's Ambassador to Israel, David Friedman, sparked angry reactions from around the globe on September 28, 2017, when he broke with formal U.S. policy and stated that the settlements are a part of Israel during his first on-camera interview since assuming his position. The U.S. State Department clarified that Friedman's statements did not indicate a shift in policy and should not be used to prejudge negotiations to come.
On December 6, 2017, President Trump announced the official U.S. recognition of Jerusalem as Israel's capital, and the begnning of the process of moving the U.S. embassy in Israel from Tel Aviv to Jerusalem. The decision was widely criticized by leaders from around the globe as ignorant of global security issues and detrimental to the peace process. Every other member of the United Nations Security Council voted in favor of a draft resolution reversing Trump's decision two weeks later on December 18, but the resolution was vetoed by the United States. To read this vetoed Security Council resolution, please click here. The United Nations General Assembly voted overwhelmingly in favor of a resolution calling for the U.S. to withdraw it's recognition of Jerusalem on December 21, 2017. To read this resolution, please click here.
The Trump Administration released a National Security Strategy paper on December 18, 2017, featuring a section detailing the administration's regional Middle East Strategy. To read this Strategy Paper, please click here.
---
Sources: Trump visits with Jordan's King Abdullah in Washington, Reuters, (February 2, 2017);
Transcript And Analysis: Trump And Netanyahu Hold Joint Press Conference, NPR, (February 15, 2017);
Kavita Surana, Dan De Luce, Robbie Gramer. Israeli Intelligence Furious Over Trump's Loose Lips, Foreign Policy, (May 19, 2017);
Peter Baker, Michael Shear, Ian Fisher. Trump Comes to Israel Citing a Palestinian Deal as Crucial, New York Times, (May 22, 2017);
Phillip Rucker, Karen DeYoung. In Israel, Trump urges new Middle East 'harmony' but faces old suspicions, Washington Post, (May 22, 2017);
Herb Keinon. Official says Palestinian terror glorification going out of style under Trump, Jerusalem Post, (May 28, 2017);
Loveday Morris. U.S. ambassador breaks with policy: 'I think the settlements are part of Israel', Washington Post, (September 29, 2017);
U.S. vetoes U.N. Jerusalem resolution, designed to reverse Trump recognition, CBS News, (December 18, 2017);
The White House;
The White House;
Israeli Prime Minister's Office.