---
---
China's Jewish Communities:
Pien-Liang (Kiafeng)
Map of China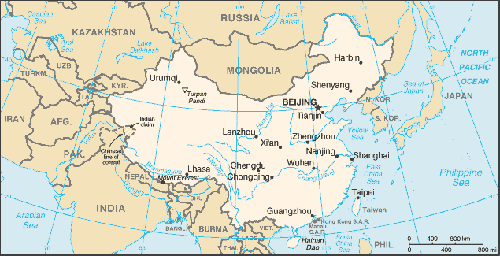 The merchant economy of ancient China brought Jewish traders to the region as early as the eighth century. Jewish merchants travelling the Silk Route settled in the far western region of the country in the city of Pien-Liang (today's Kiafeng), capital of the Honan province. Jews were officially allowed in Pien-Liang in 960 C.E. and built the Purity and Truth Synagogue, the first in the region, in 1163. The community thrived through eight centuries, reaching its height in the 17th century at 5,000 members. But following generations of war, poverty, and religious isolation, the Pien-Liang Jewish community significantly declined. The poverty-stricken community lost many Jewish traditions, including the knowledge of Hebrew, and by the mid-19th century, the community's last rabbi had died, long after the position of rabbi had become hereditary. The synagogue, repeatedly destroyed by floods, was finally demolished in around 1860.

Today, the community has begun to repair itself and is trying to reconnect with the world Jewish community. In Keifeng, an estimated 500 to 1,000 residents have ties to Jewish ancestry, though only 40 to 50 individuals partake in Jewish activities. It is speculated that this lack of religious affiliation is due to the strict police surveillance of religion under the Chinese government, despite the emergence of Capitalism. Citizens affirm their Jewish identity discreetly to avoid incuring official displeasure. The community as a whole manages to maintain only a few traditions, such as refraining from eating pork and mixing milk and meat. As the Keifeng Jews try to reach out to the world Jewish community and return to their Jewish roots, they face a number of obstacles, including poverty and lack of knowledge about Judaism. By adopting the Chinese patrilineal tradition, the Kiefeng Jews are no longer considered Jewish according to Orthodox Judaism. Nevertheless, the community is determined to reeducate its members and convert to revive Judaism in China.
Jews of Kaifeng, late 19th or early 20th c.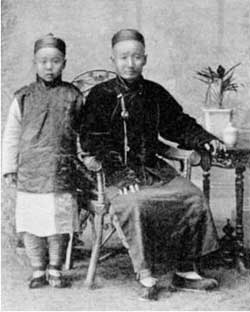 China's growth as a leading economic power combined with the remodeling of Kaifeng into a tourist destination has led to a greater acceptance of Jewish expression in the city. Tours of the city's historical sites are given, which give foreign Jews access to the remains of first synangogue and various synagogue relics, including a massive stone water jar and a large stone stele, both dating to 1489. These artifacts are located in the Kaifeng Municipal Museum, while other Jewish relics are housed in various museums worldwide, such as the British Musuem in London and the Royal Ontario Museum in Canada. The stele, originally one of many that decorated the synagogue, is inscribed with the history of the local Jewish population and how Jewish families recieved Chinese patronymics. A Ming emperor gave the Jews the typical Chinese surnames Ai, Gao, Jin, Li, Zhang, Shi and Zhau because he found Hebrew names confusing.

Harbin

In the late nineteenth century, communities of Russian Jews settled in Harbin and Tientsin, especially at the urging of the Russian government, which aimed to construct a railway to eastern Asia and needed population centers there. The Russian government, eager to populate the cities, encouraged minorities such as Jews and Karaites to move to these cities. As the religious freedoms in Eastern Europe became more limited and as pogroms in the Pale of Settlement increased, many Jews joined these Southeast Asian communities, raising the Jewish population of Harbin to 8,000 by 1908.

Shanghai

Shanghai, a port city in the Kiangsu province in Eastern China, opened to foreign trade in 1842. Subsequently, the city of Shanghai absorbed many of the Ashkenazi émigrés fleeing repression in Eastern Europe. Russian Jews fleeing persecution and massacres under the Tsar also emigrated and built the Ohel Moishe Synagogue in Shanghai in 1907. But the majority of the Shanghai Jewish population was Sephardim from Baghdad, Bombay, and Cairo, including the wealthy families Sassoon, Kadoorie, Hardoon, Ezra, Shamoon, and Baroukh. These families raised the Jewish population of Shanghai to approximately 700, including 400 Sephardim, 250 Europeans, and 50 Americans. Most of them were merchants, although some were in medicine, teaching, and diplomatic service.

Jews fleeing the Russian Revolution of 1917 further increased the Jewish population and raised awareness for the Zionist movement. Then in the 1930s and 40s, Jewish refugees from Germany and German-occupied areas fleeing the Nazi regime increased the Shanghai population to approximately 25,000. Lubavitch Hasidim, as well as remnants of the Mir and Slobodka Lithuanian yeshivot (Jewish religious schools), found refuge in Shanghai, which became a frequent destination because the free port did not require visas.

Between 1904 and 1939, three synagogues were built in Shanghai, and 12 Jewish magazines in English, German, and Russian were established and published there. A Hebrew newspaper was also published as early as 1904. The leading magazine, Israel's Messenger, was a Zionist monthly founded in 1904 by N. E. B. Ezra and published until his death in 1936.

Japan captured Shanghai in 1937 and closed it to further immigration in December 1941. They deported most of their Jews to the miserable Hongkew district of Shanghai and kept them in unsanitary semi-internment camps under Japanese occupation forces. The Shanghai Jews, including the transferred Japanese Jews, suffered great economic and property loss during the war, after which, most left to the United States, Britain, Israel, Australia, and other communities. Since 1948, 1,070 Jews from China have immigrated to Israel, with 504 leaving between 1948 and 1951.

Beijing

Today, there are about 2,000 Jews living in Beijing, a city of 17 million. A handful of Jewish communists came to this city decades ago but a growing number of secular and then Orthodox Jews have settled there recently, bringing along their families and their traditions. For the past 30 years, the world's Jews have been coming to China to take part in the rapid transformation and surging economic development. A small group of North American Jews first came to Beijing in the late 1970s. A congregation was established, called Kehillat Beijing, as a part of the Reform movement. The first Passover Seder was held in 1980 and then High Holy Day services were held in a hotel conference room, starting Friday night Shabbat open houses soon after. Jews from Europe and the Soviet Union began arriving during the 1980s.

When China established diplomatic relations with Israel in 1992, a joint Seder was held between Kehillat Beijing and the Israeli Embassy. The congregation began holding regular Friday night services in 1995, followed by the first brit milah in 1997, along with a Kehillat Beijing Sunday school. Today, the Ahavat Yitzhak school teaches 40 children. Although Kehillat Beijing does not have a permanent rabbi, the congregation now boasts approximately 50 families.

The Chabad House in Beijing is located at the end of a quiet street in an upscale gated community inside Fourth Ring road and down the block from the Israeli Embassy. Rabbi Shimon Freundlich serves as Beijing's Chabad-Lubavitch rabbi, arriving in Beijing in 2001. Chabad makes sure to work within the centralized Chinese system by allowing only holders of foreign passports to attend prayer services and cultural activities, and refrains from public advertising. The synagogue is technically in Rabbi Freundlich's home, since free-standing religious buildings are forbidden.

In 2002, Rabbi Freundlich's wife opened Ganeinu International School, an accredited Montessori school that educates about 50 children up to age 12 from a diverse range of Jewish backgrounds and various levels of observance. Chabad provides teachers for Kehillat Beijing's Sunday school, which shares Ganeinu's building, and the two communities come together for religious holidays.

The community has grown from 700 to 1,500 people in the last seven years. Chabad has established a downtown location in the city's central business disctrict as well as a community center. A womens-only mikveh, Mei Torah, was established, and a ritual slaughterer flies in from South Africa every three months to meet the kosher dietary needs of the community. In March 2007, Beijing's first (and only) kosher restaurant opened, called Dini's, which was open 24 hours, six days a week during the 2008 Summer Olympics Games, providing kosher food for athletes in the Olympic village, as well as snack baskets for spectators.

Hong Kong

An estimated 5,000 Jews live in Hong Kong at least part-time, as the community is very transient. The Jewish Community Center, which opened in 1995, is the main location for Jewish events in the city. Right next door is the Ohel Leah Synagogue, a Modern Orthodox synagogue that boasts a membership of 190 families. Rabbi Asher Oser has led the congregation since 2010.

Rabbi Stanton Zamek leads the United Jewish Congregation of Hong Kong, a Reform congregation of 170 families. The congregation is approximately 60 percent American, relatively young and career-oriented.

Chabad Hong Kong is led by Rabbi Mordechai Avtzon and his wife Goldie and has been in the area since 1987.

There are two Sephardic Orthodox congregations in Hong Kong, both with mostly Israeli congregants, that were established in the 1990s. Both have glatt kosher restaurants and are open to the public.
The Chinese Jewish Community Today
During the past decade, Jewish and Chinese students have met on academic exchange programs to Israel and elsewhere. A small Jewish Museum exists in Kaifang, though most remnants of the Jewish community lie in Shanghai. Israel and China established formal relations in 1992.

Today, China's Jewish community numbers around 200, nearly all in Shanghai. But led by Chabad-Lubavitch Rabbi Shalom Greenberg, efforts are underway to revive the small Jewish community.
Contacts
Kaifeng Tourist Administration
14 Yingbin Road
Kaifeng, Henan 475000, China
Phone: 011-86-378-595-4370
Fax: 86-378-595-6662
Kaifeng's tourist bureau can arrange tours, guides, traslators, and access to the Qingming park Jewish museum building and jewihs section of the municpal museum to visitors.
Chabad Lubavitch of Beijing
Fang Yuan Xi Lu, next to the south gate of Si De Park
Phone: 86-10-8470-8238 ext. 210
Email: info@chabadbeijing.cn
Website: www.chabadbeijing.com
Ganeinu International School & Menorah Academy of the Capital (MAC) Middle School
Grand Hills 262
Beijing, China
Phone: 86-10-8470-8238 ext. 200
Chabad Lunavitch of Guangzhou
31 He ping Lu, overseas village
Guangzhou, China
Phone: 86-20-8376-7070
Email: info@chabadgz.org
Website: www.chabadgz.org/ch/main.asp
Chabad of Hong Kong: Servicing Hong Kong, Kowloon and Lantau
11 Hart Ave. on the 2nd Floor, Tsim Sha Tsui
Phone: 852-2366-5770
Email: kowloon@chabadhk.org
Website: www.chabadhongkong.org/
Ohel Leah Synagogue (Orthodox) - Hong Kong
70 Robinson Road
Hong Kong, China
Phone: 852-2589-2621
Website: www.ohelleah.org
United Jewish Congregation (Reform) - Hong Kong
Phone: 852-2523-2985
Website: www.ujc.org.hk
Shuva Israel (Sephardic Orthodox) - Hong Kong
61 Connaught Road Central
Phone: 852-2851-6300
Website: www.shuva-israel.com
Chabad Jewish Center of Pudong - Shanghai
Vila #69, 2255 Luoshan Road
Shanghai, 200235 China
Phone: 86-21-5878-2008
Website: www.JewishPudong.com
Shanghai Jewish Center (Hongqiao area)
Shang Mira Garden, Villa #1
(entrance from) 89 South Shui Cheng Lu
Phone: 86-21-6278-0225
Fax: 86-21-6278-0223
Email: info@ChinaJewish.org
Website: www.chinajewish.org/SJC/index.htm
Intown Jewish Center - Shanghai
233 Wuding Road (near Changhua Road)
200042 Shanghai China
Phone: 86-21-6255-7770
Website: www.chinajewish.org/intownsjc/
Consulate General of Israel, Shanghai
7F, New Town Mansion
No. 55 Lou Shan Guan Road
Shanghai, China
Phone (Monday-Thursday, 10:30-3:30): 021-61264527
24-hour Fax: 86-21-5168-5099
Email: consul@shanghai.mfa.gov.il; consular@shanghai.mfa.gov.il; consular2@shanghai.mfa.gov.il
Website: www.isconshanghai.org/web/
---
Sources:
- Beker, Avi, ed. Jewish Communities of the World. 1998-1999 edition. Jerusalem: Institute of the World Jewish Congress, 1998.
- Dan Fellner, "The Jewish Traveler: Hong Kong," Hadassah Magazine, October/November 2011.
- Edinger, Bernard. "Chinese Jews: Reverence for Ancestors." Hadassah Magazine (December 2005).
- Gruber, Samuel D. Synagogues. New York: MetroBooks, 1999.
- Leowenthal, Rudolf. Shanghai. Encyclopedia Judaica. CD-ROM Edition: Judaica Multimedia, 1995.
- Levin, Dan. "Amid Beijing's Boom, a Jewish Community Blooms." Foward (August 8, 2008).
- Shanghai Jewish Center
- "Jews of Kaifeng" image from Jewish Encyclopedia