Yasser Abed Rabbo (Abu Bashar)
(1945 - )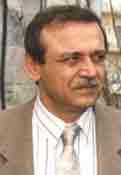 Yasser Abed Rabbo (also known as Abu Bashar) is a Palestinian politician and a member of the PLO Executive Committee.
Born in 1945 in Jaffa, Abed Rabbo worked alongside Yasser Arafat starting in the 1960s. In 1968, Abed Rabbo was a founding member (with Nayef Hawatmeh) of the Democratic Front for the Liberation of Palestine (DFLP), a leftist group in the PLO. He became its Deputy Secretary-General in 1973 and headed the Information and Culture department from 1973 - 1994.
He was part of the Palestinian negotiation team in 1988 - 1990 which involved Jordan and the U.S. In 1991, Abed Rabbo broke away from the DFLP and formed Fida, the Palestinian Democratic Union, a group that protested Jordanian involvement in Palestinian politics. Later the group solidly supported the Madrid and Oslo peace processes. Abed Rabbo participated in both Middle East peace negotiation teams.
When the Palestinian Authority was established in 1994, he headed the Information Ministry.
He was later appointed head of the Palestinian Authority's negotiating team's Final Status talks, but resigned in May 2000.
Abed Rabbo is part of the "old guard" yet some feel he recognizes the failures of the PLO to bring about a lasting peace with Israel. Some feel he appears to be someone who will officially recognize Israel's right to exist and will earnestly work for a viable peace plan.
In 2001, Abed Rabbo was one of three notable Palestinians who signed the Joint Israeli-Palestinian Declaration "No to Bloodshed, No to Occupation, Yes to Negotiations, Yes to Peace," a document which proposes negotiation instead of terrorism to resolve the Israeli-Palestinian conflict. Mr. Arafat's name is not listed.
As an outspoken official for the elimination of Israeli occupation, he favors implementation of the Tenet papers and Mitchell report for any supervision and monitoring that would occur with implementation of a peace plan.
---
Sources: PASSIA, IMRA.org; WashingtonPost.com, (Jan.14, 2003); PalestineChronicle.com, (Mar. 24, 2002); PLO Negotiations Affairs Department; Associated Press, (Oct. 2002); al-bab.com; PeaceNow.org; Dawn.com, (Jan. 6, 2002).