Wilhelm List
(1880 - 1971)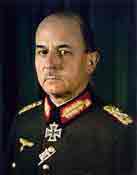 Wilhelm List served as a General Field Marshall during the Second World War. List was born in Oberkirchberg on May 14, 1880, into a doctor's family. Serving in World War I and the Freikorps, List held commands in the Reichswehr from 1923-1926. List climbed the ladder in the Reichswehr becoming a Lieutenant General in 1932 and gaining command of the Fourth Army three years later.
A Generaloberst by 1939, List lead the Fourteenth Army in the invasion of Poland and commanded the Twelve Army's assault on France in 1940. Awarded with a promotion to General Field Marshal in July of 1940, List was instrumental in arranging an agreement with the Bulgarians allowing the Wehrmacht to enter Greece via Bulgaria.
Commander-in-Chief of German armies in the Balkans from June through October of 1941, List's fortune changed dramatically as his armies moved into the Soviet Union. Hitler dismissed List on September 10, 1942, claiming that his Field Marshall failed to break the Russian line in the Caucasus. The American military tribunal at Nuremberg tried and sentenced List to life imprisonment in 1948. He was pardoned in 1953 and died on June 18, 1971, in Garmisch.
---
Sources: Wistrich, Robert. Who's Who in Nazi Germany, Routledge, 1995.