Singapore Virtual Jewish History Tour
By Elihai Braun and JVL
The Republic of Singapore is a city-state in Southeast Asia, formerly a British colony. The first Jews to settle there were of Baghdadi origin, mainly from India, who migrated to Singapore in 1840 when the Sassoon family established business interests. Today, the Jewish population of Singapore numbers approximately 2,500 according to the Jewish Telegraphic Agency (900 according to Sergio DellaPergola).
Community Beginnings
Maghain Aboth & Chesed El Synagogues
World War II & Today
Relations with Israel
Community Beginnings
In 1819, the Sultan of Johore permitted English businessman Sir Stamford Raffles and the East Indian Company to establish a trading post in Singapore. At the time, Singapore was a small, swampy fishing village on the Malay Peninsula. Nevertheless, with grand prospects ahead, several Jewish traders from Baghdad migrated to Singapore and established the highly successful trade center Change Alley.
In 1824, the Sultan ceded the 200 square mile area to Great Britain, and in 1830, according to historical records, the Jewish population totaled nine Jewish traders living in Singapore. In 1840, the wealthy Sephardic Sassoon family established business interests in Singapore, and the Jewish population soon increased. The Jewish community managed to build a 40-person synagogue on a street still called "Synagogue Street." By local custom, the Jews were allowed to travel by rickshaw on the Sabbath.
The Jewish population, mostly Sephardim, migrated mainly from Baghdad and other communities in the Near East. The new community also included Sephardim from Persia and Ashkenazim from Eastern Europe, searching for both religious freedom and economic opportunity. Some went first to Malaysia, and then on to Singapore when Malaysia did not offer the freedoms and opportunities they had originally sought. The Orthodox Singapore community was small but tight knit, strengthened by religious bonds, common geographic origins, and years of close marriages.
Maghain Aboth & Chesed El Synagogues
By 1879, the community population totaled of 172 members, 116 males and 56 females. With the steady increase in population, the 40-person 'Synagogue Street' synagogue was clearly no longer suitable. On April 4, 1878, the new Maghighhain Aboth Synagogue on Waterloo Street was consecrated. It was a single-story building, but an upper gallery for women was added later. Even today, the synagogue counts both Sephardim and Ashkenazim among its members.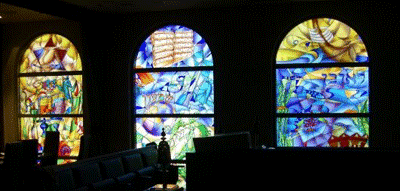 Stain Glass Windows at Chesed El Synagogue
Menasseh Meyer, supposedly the richest Jew in Asia, contributed funds to build the new synagogue. He had arrived in Singapore at age 15, poor but ambitious, and eventually owned nearly half of Singapore's property. He grew wealthy as a real estate dealer and as a trader of opium, legal under British rule. Some Jews of the Maghain Aboth Synagogue bear nameplates for Menasseh Meyer and his son Rueben Menasseh (it was the practice for the eldest son to inherit his father's first name as a surname). The Queen knighted Menasseh Meyer for raising the cultural level of the city.
A 1904 argument with a fellow member of the Maghain Aboth Synagogue led Sir Menasseh Meyer to build his own private synagogue, Chesed El, in 1905. To obtain the minimum ten men required for communal prayer, Menasseh Meyer employed "Minyan Men." In 1920, his Minyan Men went on strike, demanding higher salaries and rickshaw fare for their daily services. The Chesed El Synagogue was built on the grounds of Meyer's luxurious residence on Oxley Rise and is architecturally magnificent. The deep green trees that surround the structure accent the traditionally designed white exterior of the building. Impressive doorways, windows, and pillars complement the white marble floor, and the gold motifs add to its beauty.
In 1905, when the Chesed El Synagogue was built, there were roughly 500 Jews in Singapore. The community numbered close to 600 Jews in 1911, and 832 Jews in 1931. The 1931 census also indicated that there was a significant Arab population as well, which together with the Jews, were the largest property owners in the city.
World War II & Today
In 1939, on the eve of World War II, there were 1,000 Jews in Singapore, most of whom were interned by the Japanese during the war. They were forced to wear armbands and medallions with the word Jews inscribed on them; the men had to till the fields. After the war, many of the Jews left for Australia, England, the United States, and Israel.
The former president of the Jewish community, David Marshall, stayed in Singapore. He was born in 1908 to a Baghdad-Persian Jewish family and studied law in England before he joined the British Army as a volunteer and traveled to Singapore. When the British granted Singapore partial independence in 1955, Marshall was appointed as the first Chief Minister. But when Great Britain denied Singapore full sovereignty, David Marshall, Singapore's "Father of Independence," resigned from his post in protest. Singapore joined Malaysia in 1963 but withdrew two years later and became independent. After full sovereignty was finally attained, he was elected to the legislature and later served as Singapore's ambassador to several European countries.
Today, Singapore is approximately 80% ethnic Chinese, 15% ethnic Malay, and 5% ethnic Indian. The Jewish population numbers around 900. Anti-Semitism in Singapore does not exist. Religious life at the Maghain Aboth and Chesed El Synagogues is active, with daily services, adult education, and other community activities. A Jewish community center offers Sunday school for youngsters. The annually elected Jewish Welfare Board, created after World War II, manages community affairs.
Ben Benjamin, a member of the Jewish Welfare Board, told the JTA in 2022 that the Jewish community has always felt safe, protected, and supported by the greater community and the government. In March of 2021, however, a Singaporean soldier was arrested after it was discovered he planned to kill at least three Jewish men as they left the Maghain Aboth synagogue. Law and Home Affairs Minister K Shanmugam said, "As minister for home affairs, I have said more than once to you, that the safety and security of all in Singapore, including the Jewish Community is a key priority."
In 2022, the Jews of Singapore Museum opened on the ground floor of the Jacob Ballas community center — named for the Iraqi Jewish philanthropist who chaired the Singapore and Malaysia stock exchange in the 1960s. The museum, which received 40% of its funding from the government, tells the story of the Jewish community's 200-year history in Singapore.
"It's really important that Singaporeans know the part that the Jews have played in the 200 years of history, and it has been significant," said Benjamin. "We wanted to demonstrate that not only about the Jewish people in Singapore, it's about how 'Singaporean' Jews are."
Relations with Israel
In 1968, a trade agreement was signed between Israel and Singapore and, in May 1969, diplomatic relations were formally established. Israeli experts extended technical aid to Singapore, while several mutual visits were made by ministers, public figures, and senior officials. 
In 2004, it was revealed that the Singaporean army, which is considered one of the strongest in southeast Asia, was initially set up by Israel. In December 1965, an Israeli military delegation headed by Major General Ya'akov Elazari arrived in Singapore under a veil of secrecy and started to build the various branches of the armed forces there. Since then, security ties between the two countries have strengthened, and Singapore is now considered one of the biggest customers for Israeli arms and weapons systems. Singapore's founding father and prime minister, Lee Kuan Yew, asked Israel to help establish his country's army almost immediately after Singapore received independence from Malaysia in August 1965. He had earlier requested help from India and Egypt, but they turned him down.
The Israeli delegation consisted of six officers, who were divided into two teams. One, headed by Elazari, set up the defense and internal security ministries, while the other, headed by Maj. Gen. Yehuda Golan, established the military infrastructure. They followed the model of the IDF, with a standing army and reserves. The officers also served as instructors in the Singapore army's first basic training courses and its first course for officers, both commissioned and noncommissioned. The members of the delegation that went to Singapore were trained by the late cabinet minister Rehavam Ze'evi, who wrote the blueprint for Singapore's armed forces.
In 1968, a trade agreement was signed by the two countries and an Israeli trade mission opened in Singapore. On May 11, 1969, Singapore officially recognized the State of Israel and diplomatic relations were established between the two countries. In July of that year the Israeli ambassador presented his credentials.
Technical cooperation included the dispatch of Israeli advisers to the Singapore army. In 1970 the two countries signed an aviation agreement. The Singapore-Israel Industrial R&D Foundation (SIIRD) was established in 1997 to promote, facilitate, and support joint industrial R&D projects between Singaporean and Israeli high-tech companies. The Economic Development Board (EDB) of Singapore and the Office of the Chief Scientist (OCS), of the Ministry of Industry and Trade of Israel are the two cooperating government agencies responsible for the research and development support fund.
Lee Hsien Loong became the first ever Singaporean Prime Minister to visit Israel in April 2016, where he received an honorary Doctorate and gave a speech at the Hebrew University of Jerusalem. The Prime Minister was accompanied by his wife and a delegation of 60 Singaporean Ministers, and met with Israeli Prime Minister Netanyahu during his trip. While speaking at the Hebrew University in Jerusalem, he urged the Israelis and Palestinians to come together and forge a lasting peace agreement through direct negotiations. A Memorandum of Understanding was signed between the two countries prior to Loong's visit to Israel, establishing joint professional training programs for underprivileged individuals.
Israeli Prime Minister Netanyahu visited Singapore in February 2017, where he held meetings with officials and attended a dinner hosted by Singaporean Prime Minister Loong. 
In 2021, Defense Minister Benny Gantz visited Singapore in a sign of warming ties but the trip was not publicized because of Singapore's longtime concern about offending Malaysia, Indonesia, and other Muslim countries. In March 2022, however, Foreign Minister Vivian Balakrishnan visited Jerusalem and announced Singapore will upgrade its consulate to an embassy, which will be located in Tel Aviv.
---
BIBLIOGRAPHY
I. Cohen, Journal of a Jewish Traveller (1925), index. ADD. BIBLIOGRAPHY: E. Nathan, The History of Jews in Singapore 1830–1945 (1986); T. Parfitt, The Thirteenth Gate (1987).
---
Sources: Am Yisrael - The Jewish Communities of Singapore.
Amnon Barzilai, "Israel set up Sinagpore's army, former officers reveal." Haaretz, (July 15, 2004).
Avi Beker, ed. Jewish Communities of the World. 1998-1999 edition. Jerusalem: Institute of the World Jewish Congress, 1998.
Beth-Hatefutsoth: The Nahum Goldmann Museum of the Jewish Diaspora.
The Jewish Welfare Board of Singapore.
PM Netanyahu's Remarks at a Dinner with Singapore PM Lee Hsien Loong, Israeli Prime Minister's Office, (February 21, 2016) 
Herb Keinon, "In first visit ever by Singapore PM, leader thanks Israel for defense aid over the years," Jerusalem Post (April 18, 2016).
Encyclopaedia Judaica. © 2008 The Gale Group. All Rights Reserved.
Jordyn Haime, "A new museum tells the story of Singapore's Jews, starting with their Baghdad roots," JTA, (January 5, 2022).
The Jews of Singapore Museum.
Ron Kampeas, "Singapore to open embassy in Israel after 57 years of ties, in sign of Abraham Accords' spillover effects," JTA, (March 21, 2022).
Map: CIA World Factbook.
Photos: Singapore Skyline- CC/PD sources: File:Singapore Panorama v2.jpg.
Stain Glasss Windows- Elie Berman.