IAF Aircraft Inventory: Sikorsky UH-60/S-70 Blackhawk (Yanshuf)
Specification: Sikorsky UH-60A Blackhawk
Type: combat assault transport helicopter.
Powerplant: 2 * Genearl Electric T700-GE-700 turboshaft engines.
Performance: max speed at sea level - 296km/h, vertical climb rate - 137m per minute, service ceiling - 5,790m, range with max intenal and external fuel - 2,221km.
Weights: empty - 4,819kg, mission takeoff - 7,375kg, max takeoff - 9,185kg.
Dimensions: rotor diameter - 16.36m, overall length, rotors turning - 19.76m, height - 5.13m.
Armament: two side firing 7.62mm M60 machine guns.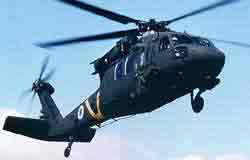 First flown in October 1974 to the US Army's Utility Tactical Transport Aircraft System competition for a UH-1 replacement, the UH-60 begun to enter service in 1979. The helicopter was quickly revealed to be an excellent type and number of special-role and naval variants have been produced. The Blackhawk has a high degree of air-portability by partial disassembly, large sliding doors on each side for quick troop deployment in the field, and a cabin that can carry 11 equipped troops, and which is also suitable for medevac (medical evacuation), reconnaisance and resupply duties. Battelfield survivability features include main rotor blades tolerant to 23mm gunfire, a transmission system operable for up to 30 minutes after total oil loss, twin turbines, crash-resistant bulletproof fuel tanks and armour-protected seats for the pilot and co-pilot. The type is operated by countless nations around the world.
The IAF had begun looking at the Blackhawk long before the type actually entered its service. In 1983 a single helicopter paid a visit to Israel and was evaluated by IAF pilots who warmly recommended the type as a future replacement for the Bell 212 Anafa. Lack of funding, however, postponed the arrival of the type for more than a decade. The IAF recieved its first Blackhawks in August 1994, 10 US Army surplus UH-60As awarded to Israel by the American administration after the Gulf War. The helicopters arrived in Israel on August 16 and 18 on board two US Mobility Command C-5 Galaxies, each carrying five of the helicopters. The new type, nichnamed 'Yanshuf' (Owl), entered service with the 124th "Rolling Sword" Squadron, operating alongside the squadron's Anafas. The ten aircraft, manufactured between 1977 and 1979, had logged some 2,000 flight hours before arriving in Israel, and were consequently overhauled and modified to bring them up to IAF standards. Changes to the helicopters included a new communication system, a moving map display, a self protection suite and more. The new type soon entered operational service as both an assault and evacuation helicopter. It saw its first combat use in April 1996, during operation "Grapes of Wrath" against the Hizbullah in southern Lebanon, and has since been in routine use in IDF operations in Lebanon (up to Israel's May 2000 withdrawl) and in fighting in the West Bank and Gaza Strip. In March 2000 three Blackhawks were used to ferry Pope John Paul II on his visit to Israel, with one aircraft carrying the Pope, another his medical team and a third standing on constant standby. One aircraft was adapted to the role by the removal of several seats, the addition of cushioning to others and the laying of wall-to-wall carpeting inside the helicopter's cabin. The Pope was flown around Israel by the CO of the 124th Squadron, Lt. Colonel Sharon.
During the course of 1997 Israel ordered its first newly built Blackhawks, 15 S-70A-50s built under a Foreign Military Sale agreement between the US Army and the IAF in a contract worth $180 million to Sikorsky. The S-70A-50 is similiar in configuration to the standrard US Army UH-60L configuration, Israeli modifications including locally built communication and ECM systems and an HH-60G rescue hoist. The first helicopter, 912, was formally accepted by the IAF at Sikorsky's Connecticut facility on March 23rd 1998 and the first five new aircraft arrived in Israel on May 27th, delivered by a USAF C-5 Galaxy which flew into Ben Gurion Airport. With deliveries complete by early July, the new helicopters, nicknamed Yanshuf-2, allowed the "Rolling Sword" Squadron to become an all Blackhawk squadron, its Bell 212s passing on to other squadrons.
In early 1999 the IAF begun a major improvement program of the new UH-60Ls, equipping the 15 aircraft with in-flight refuelling probes and shoulder-mounted fuel tanks which allow easy access to the cabin and the use of cabin-mounted machine guns. The first upgraded Yanshuf-2 prototype underwent the conversion during late 1999 and took to the air for the first time during early 2000. Tests on the new aircraft were carried out by the IAF's flight test center which performed its first inflight refuelling during March 2000. The first example, 934, was apparently in squadron service by May, when a number of aircraft were deployed to Turkey using the type's new inflight refuelling capabilities.
Modifications were also made to the older UH-60As, including the installation of new communication, ECM, navigation, night vision and rescue systems. The summer of 2000 also saw the IAF apply a new desert camouflague scheme to several UH-60As (as well as several AH-64A Apaches) in order to evaluate the possibility of making the normally all-black aircraft harder to detect during daylight operations. Although the results were said to be positive, this scheme appears to be no longer in use.
The IAF is due to open a second Blackhawk squadron during the second half of 2002 when yet more newly built UH-60Ls are to arrive in Israel. The new deal, estimated at $525 million, is said to include between 24 and 35 helicopters, 70 T700-GE-701C turbine engines, 29 spare T700-GE-701C turbine engines with containers, rescue hoist provisions, rotor brake systems, along with spare and repair parts, tools and support equipment. The new aircraft will arrive already fitted with the modifications previous UH-60Ls had undergone in Israel.
---
Sources: IAF Inventory