IAF Aircraft Inventory: Sikorsky CH-53 Sea Stallion (Yas'ur) Helicopter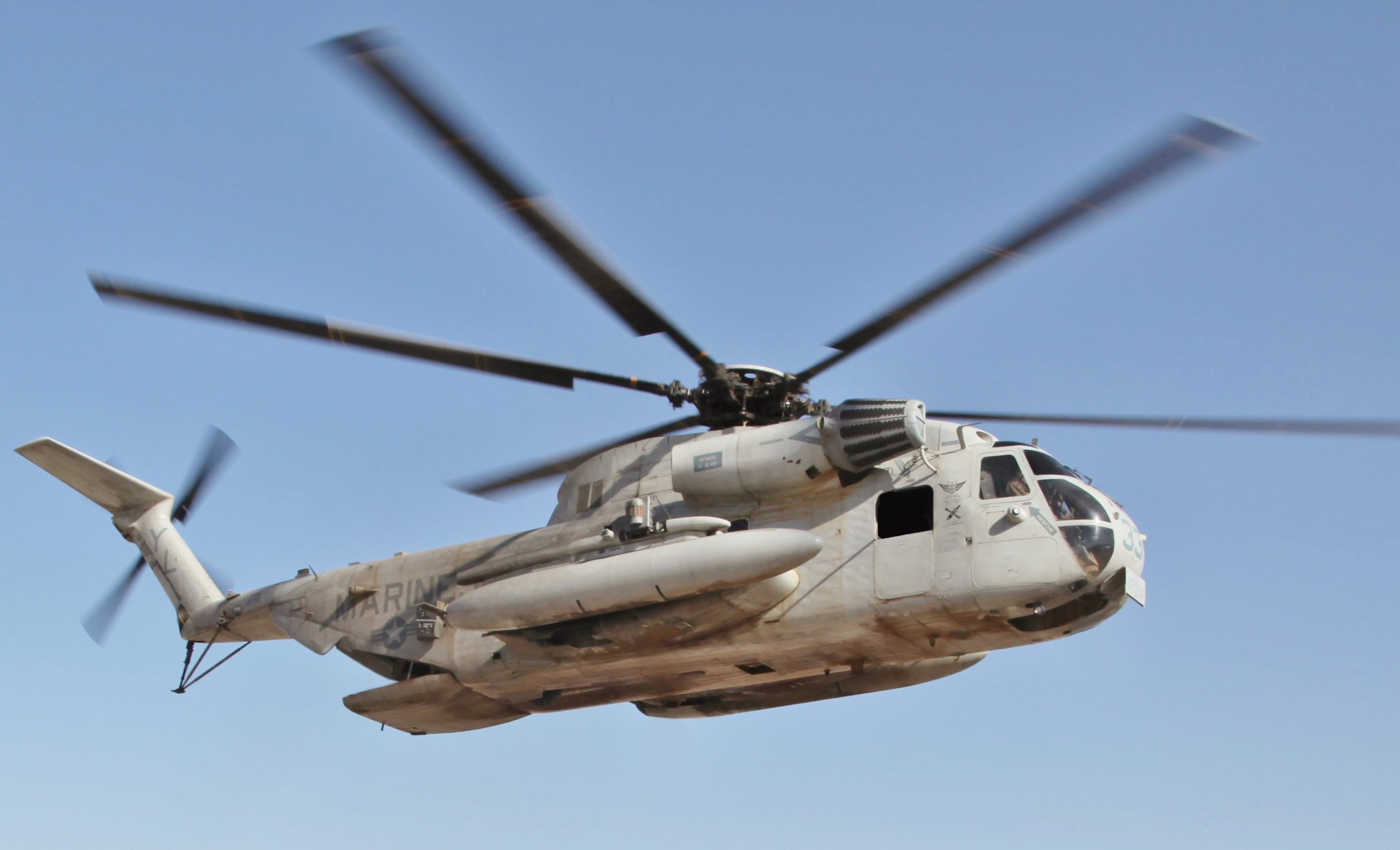 The CH-53 Sea Stallion (Sikorsky S-65) is a family of heavy-lift transport helicopters designed and built by Sikorsky Aircraft. The CH-53A carries a crew of four; pilot, copilot, crew chief, and an aerial observer. It can carry various payloads, including up to 38 fully-equipped troops, 24 litters with medical attendants, an internal cargo load of 8,000 pounds (3,600 kg), or an external load of 13,000 pounds (5,900 kg) on the single-point sling hook.
Access to the main cabin is via the large passenger door on the right side of the fuselage behind the cockpit, as well as by a power-operated loading ramp to the rear. This loading ramp was capable of facilitating drive-on loading operations, enabling quicker cargo movements. The CH-53A was designed to have a useful payload capacity, in terms of weight, of almost half of the rotorcraft's empty weight.
It is provisioned with mechanical flight controls, which are backed by three independent hydraulic systems. While the Sea Stallion's fuselage is watertight, the helicopter is not intended for amphibious use and its ability to land on water is meant to only be used in emergency situations. To save space, which is normally at a premium on board most naval vessels, both the tail boom and the rotors can be folded while the helicopter is stowed; to reduce the workload involved in this process, an automated folding system was developed by Sikorsky. Both the crew and vital systems are protected by armoring across key areas. All of the fuel was housed within sponsons on either side of the fuselage. The CH-53A was typically equipped with a pair of 7.62×51mm NATO M60 machine guns that point out to each side of the fuselage.
The improved CH-53D features uprated engines, initially using the T64-GE-412 that could provide up to 3,695 shp (2,755 kW), then the T64-413 with its further elevated output of 3,925 shp (2,927 kW); these more powerful engines necessitated the use of an uprated transmission. Interior changes included additional seats, which allowed for up to 55 troops to be carried at a time. The CH-53D is generally armed with twin .50 BMG (12.7 mm) M2/XM218 machine guns. During the type's later years of service, it has become commonplace for CH-53Ds to have been retrofitted with various defensive countermeasures; such apparatus has often included an AN/ALE-39 chaff dispenser and an AN/ALQ-157 infrared countermeasure.
Later production CH-53Ds featured a Blade Inspection Method (BIM) scheme to detect cracks in its metal rotors. BIM involved pressurizing the interior of the rotor blades with nitrogen. If a crack is present pressure is lost and a red indicator on the rotor blade tip was tripped. Later, the BIM system was connected to a cockpit display. BIM reduced the need to routinely swap rotor blades.
On October 2, 1969, the first S-65C-3 (CH-53D) helicopters were delivered to Israel of an initial order of seven. At the time, the country was engaged in the War of Attrition, and thus the type was quickly dispatched into combat. Receiving the Hebrew name Yas'ur (Petrel), a further 35 helicopters were delivered to fulfil subsequent orders. On August 6, 1970, the first Yas'ur squadron was established. For several decades, these served as the primary cargo helicopters of the IAF, being routinely used to carry both troops and heavy equipment.
During the 1980s, Israel Aircraft Industries, along with military high-tech firm Elbit Systems, commenced a major upgrade program for the IAF Yas'ur fleet. The project, which was completed in 1997, improved the CH-53's avionics and increased its robustness, as well as extending the fleet's operating life by at least two decades.
In 1989, several Yas'urs were used to perform firefighting operations on and around Mount Carmel. They performed dozens of low flyovers into the smoke and flames, dumped 700 tons of water on the fire, and doused it.
In 1992, a pair of CH-53s performed one of the IAF's longest-distance sea rescue operations to retrieve passenger from the distressed yacht Fantasy 2 off the coast of Sudan.
During the 2006 Lebanon War, Hezbollah shot down an Israeli CH-53 Yas'ur with an anti-tank missile, killing five air crew members. This was reportedly the only combat loss of an Israeli CH-53 during this conflict.
During 2015, it was announced that Israel planned to withdraw the last of its Yas'urs around 2025. In 2021, the Israeli Ministry of Defense announced the selection of the CH-53K to replace the Yas'ur fleet.
---
Source: "Sikorsky CH-53 Sea Stallion," Wikipedia.
Photo: Staff Sgt. Raul Gonzalez, USMC, Public domain via Wikimedia Commons.