Sammy Davis Jr.
(1925 - 1990)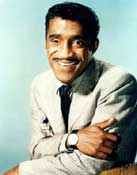 Son of a black vaudeville star and a Puerto Rican dancer, Sammy Davis Jr. became a world-class actor, singer and dancer. At the age of four he starred in a short act called "Will Mastin's Gang, featuring Little Sammy."
In 1932, he made his debut in the Warner Brothers film Rufus Jones for President. Davis played the part of Rufus, a little boy who dreams of becoming President one day. He continued appearing with the Will Maustin Gang throughout the 1930s.
In 1943, he was drafted to serve in a Special Forces unit during World War II. Davis' autobiography Sammy: An Autobiography, describes in detail the racial prejudice he encountered during his years in the army. This racial prejudice continued throughout his career and lifetime. After the war he was supposed to be cast with his friend Elvis Presley in Stanley Kramer's The Defiant Ones. At the last minute, however, the casting was changed. Presley confessed to him that his manager, Colonel Tom Parker, refused to allow Elvis to appear with a black actor, fearing the effect it would have on record sales.
Despite these challenges, Davis' career flourished. In 1946, he recorded "The Way You Look Tonight" with Capitol Records. A few years later he opened for Frank Sinatra at the Capitol Theatre in New York. Sinatra and Davis continued their friendship for many years.
Soon after, Davis landed a tour with Mickey Rooney and appeared with Bob Hope in a benefit show. The three performers appeared together at Circo's in Hollywood and on the Colgate Comedy Hour. Davis appeared solo at the Capacabana in New York, and was discovered by Decca Records in 1954. He released two albums with Decca Records: Starring Sammy Davis, Jr. and Just for Lovers.
Davis' career took off in the mid-50s. He appeared on Broadway with the Will Mastin Trio (formely the Will Mastin Gang) in 1956 in Mr. Wonderful. He made solo appearances on the Ed Sullivan Show. He performed in The Benny Goodman Story (1955) and Porgy and Bess (1959). His "Rat-Pack" group of Dean Martin, Frank Sinatra, Joey Bishop, and Peter Lawford starred with him in Ocean's Eleven (1960), Sergeants Three (1962), and Robin and the Seven Hoods (1964). Davis also starred in two serious dramas of Anna Lucasta (1958) and A Man Called Adam (1966). He appeared again on Broadway in 1964 in a musical version of Clifford Odets drama Golden Boy. In 1972, Davis made a No. 1 hit on the Top 40 charts with "Candy Man."
In 1954, he almost died in a car accident where he lost his left eye. While in the hospital, his friend Eddie Cantor enlightened him on the similarities between the Jewish and black cultures. Davis converted to Judaism after reading Paul Johnson's A History of the Jews in the hospital. One paragraph about the ultimate endurance of the Jewish people intrigued him in particular: "The Jews would not die. Three centuries of prophetic teaching had given them an unwavering spirit of resignation and had created in them a will to live which no disaster could crush."1
As an African-American, his later affiliation with Judaism sometimes caused him personal anguish. The Jewish community never fully embraced him as a member. After his marriage to Swedish actress May Britt and involvement in the Republican Party, the African-American community ostracized him.
Sammy Davis Jr. continued performing well into the 1980s, despite heavy drinking and drug use which contributed to his poor health. In the early 1980s, he performed in two Cannonball Run films with Dean Martin. In 1989, he performed in the movie Tap with Gregory Hines and then traveled on tour with Frank Sinatra and Dean Martin.
He died from throat cancer in 1990.
---
Sources: Biography.com.
Hollywood.com.
Jewhoo.
All About Jazz (February 2001).
Matthew Trzcinski, "Elvis Presley Cried Because His Manager Wouldn't Let Him Make a Movie With Sammy Davis Jr.," Showbiz CheatSheet, (February 14, 2022).

1. Slawecki, Chris M. "The Life and Times of Sammy Davis Jr." All About Jazz. February 2001. p. 2.