American Jewish Organizations: Alpha Epsilon Pi
Alpha Epsilon Pi, the international Jewish fraternity, was founded in 1913 at the New York University School of Commerce against the backdrop of the forthcoming First World War. The fraternity was initially established to provide Jewish college men an opportunity to join a brotherhood of men with similar religious backgrounds when other organizations discriminated against their beliefs. Now, Alpha Epsilon Pi serves as the testing ground for leaders in the American Jewish community. Since its founding more than 90 years ago, the fraternity has initiated more than 80,000 men, founded 132 chapters and colonies, and is currently one of the largest fraternities in the United States and Canada.
Alpha Epsilon Pi began when a group of eleven Jewish students at NYU decided to form a new fraternity on the basis that it was good for students, and that it could strengthen the character of student life at the university. When Charles C. Moskowitz, a skilled basketball player, transfered from City College of New York to NYU in 1912, his excellence in athletics was highly sought after by one of the fraternities at NYU. Moskowitz rushed this fraternity and was given a bid to become a member, but when he asked if bids could be extended to some of his close Jewish friends, he was told that the bid was for him alone. He met with his Jewish friends in the basement of the German rathskellar next to campus, and they decided to form a new Jewish fraternity that would allow in young Jewish men who had been excluded by the other fraternities at NYU.
The eleven founding members were: I.M. Glazer, Herman L. Kraus, Arthur M. Lipkint, Benjamin M. Meyer, Hyman Schulman, Emil J. Lustgarten, Arthur E. Leopold, Charles J. Pintel, Maurice Plager, David K. Schafer and Charles C. Moskowitz; Moskowitz was chosen as the fraternity's first president. Several of its founding members became distinguished citizens in the university and national communities. Most notably, Charles Moskowitz became the president and and treasurer of MGM Studios.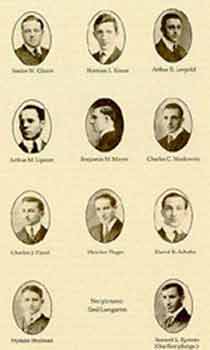 The Eleven Founders of AEPi
After several months of meetings, the fraternity decided that it would obtain official recognition from the university. A letter was sent to the Dean of the School of Commerce, and on November 7, 1913, Alpha Epsilon Pi was officially established as a fraternity at NYU. Remarkably, just four years earlier in 1909, a Jewish sorority was founded at Barnard College who had chosen the name Alpha Epsilon Phi. The men at NYU who founded Alpha Epsilon Pi apparently had no awareness that a Jewish sorority with similar letters even existed.
The difficult task ahead for the fledgling fraternity was the recruitment of new members to ensure its survival for generations of Jewish men to come. Alpha Epsilon Pi became a true national fraternity when contact was made with a group of men from Cornell University in 1917. The men from Cornell had created a small local fraternity there, which was incorporated into Alpha Epsilon Pi as the fraternity's second chapter.
When the United States entered into World War I in 1917, Alpha Epsilon Pi had only initiated just over 50 members. Almost every member joined the United States military during the war, which caused the fraternity to become nearly inactive during the war. After the war, expansion continued until nearly 30 chapters nationwide had been established in 1941. The onset of World War II again halted expansion as several of its members were called to duty. At the conclusion of World War II, the fraternity regained momentum and reopened its inactive chapters while recruiting hundreds of new members.
Today, Alpha Epsilon Pi is one of the leading fraternities in North America. It is the 13th largest of all national fraternities, and is the largest such organization in Canada. It has committed itself to several philanthropy activities, including Magen David Adom, The National Tay Sachs & Allied Diseases Association, Inc., and Ethiopian Jewish Community Centers in Israel. It counts several celebrated alumni as members, such as Wolf Blitzer, Paul Simon and Art Garfunkel, Jerry Lewis, Congressman Jerrold Nadler, and Gene Wilder (Go here for a complete list of well-known alumni). Although it is a Jewish fraternity based on Jewish ethics and values, it is a non-discriminatory organization and is open to any man who shares similar values. At several points in its nearly century-long history, Alpha Epsilon Pi has faced several challenges that could have led to its demise, but it continues today to be a leading Jewish social organization on college campuses.
---
Source: Information and Photographs courtesy of Alpha Epsilon Pi