Paul von Hindenburg
(1847 - 1934)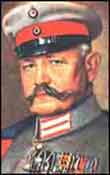 Paul von Hindenburg was born in Posen on October 2, 1847. After being educated at the cadet schools at Wahlstatt and Berlin, he fought at the Battle of Koniggratz (1866) and in the Franco-Prussian War (1870-71). He was promoted to the rank of general in 1903. Hindenburg retired from the army in 1911.
On the outbreak of the First World War, Hindenburg was recalled to the German Army, and after being sent to the Eastern Front, he won decisive victories over the Russians at Tannenberg (1914) and the Masaurian Lakes (1915). Seen as the savior of East Prussia, he was promoted to field marshal, and on August 29, 1916, he became Chief of Staff of the German Army.
With the support of senior military officers and right-wing industrialists, Hindenburg and his quartermaster general, Erich von Ludendorff, formed what became known as the Third Supreme Command. This military-industrial dictatorship held power until September 29, 1918, when with defeat inevitable, the government of Germany was returned to the Reichstag.
Hindenburg retired from the German Army in October 1918 but continued to take an active interest in politics. In 1925, Hindenburg replaced Friedrich Ebert as President of Germany. Re-elected in 1932, he did not oppose the rise of Adolf Hitler, who placed second. In January 1933, Hindenburg appointed Hitler Chancellor.
Paul von Hindenburg died on August 2, 1934.
---
Source: Spartacus.