Nelson Mandela
(1918 - 2013)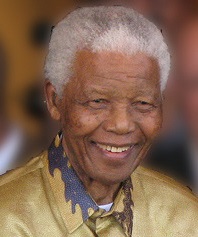 Nelson Rolihlahla Mandela was South Africa's first black democratically-elected president and a human rights icon.
Mandela was born on July 18, 1918, in Mvezo, Union of South Africa, to the Thembu royal family of the Xhosa tribe. He earned his college degree at Fort Hare University and studied law at the University of Witwatersrand. In Johannesburg, he joined the African National Congress (ANC) and became involved in anti-colonial politics. He rose through the ranks of the ANC after the South African National Party came to power in 1948 and instituted Apartheid.
Mandela was arrested repeatedly for seditious activities associated with the ANC and was prosecuted during the Treason Trial from 1956 until 1961. He co-founded the militant Umkhonto we Sizwe affiliated with the South African Communist Party, and spearheaded sabotage against the ruling apartheid government. He was sentenced to life in prison in 1962 and imprisoned for 27 years on Robben Island and two other prisons.
In 1990, Mandela was released while the country was in civil turmoil, and he negotiated with then-President F.W. de Klerk. Their talks led to the official end of apartheid in 1994 and the first multiracial elections in 1994, when he was elected South Africa's president.
For many people, Mandela was a controversial figure mainly because of his militancy prior to his time in prison. He had close-knit and meaningful associations with members of the Jewish community in South Africa but a complex relationship with the State of Israel. From his early years as a lawyer, South African Jews were Mandela's friends, confidants, and protectors. Lazer Sidelsky hired him as a law clerk in the 1940s, a time when it was considered taboo to hire blacks for white-collar jobs. The two men remained close friends until Sidelsky's death.
In the 1960s, Arthur Goldreich hid Mandela and fellow ANC members on a farm outside of Johannesburg. During these apartheid years, some Jews became leaders in the South African Communist Party and were among the few whites in the country to treat their fellow blacks with dignity and as equals. Several became friends with Mandela, including Solly Sachs and his father, Justice Albie Sachs. Party members Joe Solvo and Gill Marcus served as housing and deputy finance ministers, respectively, in Mandela's cabinet.
Notwithstanding the close ties between prominent Jewish community members in South Africa and Mandela, the community's relationship to the apartheid regime is a "very mixed picture," said South Africa-born Gideon Shimoni, former head of Hebrew University's Institute on Contemporary Judaism.  Some members of the Jewish community vocally opposed the country's racist policies, but the Jewish community as a collective had "an attitude of neutrality."
In 1993, Mandela and de Klerk won the Nobel Peace Prize "for their work for the peaceful termination of the apartheid regime, and for laying the foundations for a new democratic South Africa." That morning, Mandela told Israel's Ambassador Alon Liel to send a cable to Prime Minister Yitzhak Rabin telling him that he thought Rabin deserved the prize, not him. Several months earlier, Rabin and Yasser Arafat had signed the Declaration of Principles (the Oslo agreement), and, the following year, the two leaders shared the Peace Prize with Shimon Peres.
Mandela's relationship with Jews and Israel was complicated by his displeasure with Israel's military cooperation with the apartheid regime and Mandela's association with Arafat and his ANC party's ties to the Palestine Liberation Organization (PLO). While Mandela supported the Palestinian quest for independence, he empathized with Israel and understood the Zionist dream for Jews to live in their own land in peace with their Arab neighbors. Nevertheless, the organized Jewish community in the United States was put off by Mandela's embrace of the PLO and did not build relations with him until he became president of South Africa in 1994, four years after the end of his decades-long imprisonment.
Shortly after being elected president, Mandela spoke at the Green and Sea Point Hebrew Congregation in Cape Town and called on Jewish expatriates -- except "those Jews who left for their homeland [Israel]" -- to return to South Africa.
Mandela scheduled a trip to Israel in the early 1990s but canceled it because of an outbreak of violence. When he visited Israel in 1999, a few months after his presidency ended, he discussed the peace process with Prime Minister Ehud Barak. Mandela offered to mediate between the Israelis and Palestinians, but Barak feared he would not be an honest broker because of his close ties to Arafat and rejected the idea. 
During his visit, Mandela said, "My view is that talk of peace remains hollow if Israel continues to occupy Arab lands," but added, "I cannot conceive of Israel withdrawing if Arab states do not recognize Israel, within secure borders."
In his memoir, Long Walk to Freedom, Mandela wrote that " … in my experience, I have found Jews to be more broadminded than most whites on issues of race and politics, perhaps because they themselves have historically been victims of prejudice." The book is also filled with fond memories of Jewish people and positive comments about Israel.
Mandela died at age 95 in December 2013.
---
Sources: Alisa Solomon, "Don't Test Mandela on Israel," New York Times, (June 8, 1990).
Ron Kampeas, "Mandela says Israel must give up Arab land - but only for peace," AP, (October 19, 1999).
"Nelson Mandela and Zionism," JNS, (December 5, 2013).
Marilyn Neimark and Donna Nevel, "The Jewish establishment refused to embrace Mandela in 1990," Mondoweiss, (December 6, 2013).
Raphael Ahren, "Nelson Mandela was close to Jews, resolutely loyal to Palestinians," Times of Israel, (December 6, 2013).
Richard Goldstone, "Nelson Mandela, Iconic Leader for Jews of South Africa -- and World," Forward, (December 5, 2013).
Wikipedia