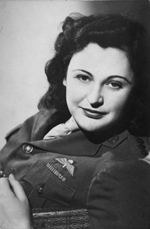 Nancy Wake (aka The White Mouse) was the Allies most decorated woman during World War 2, saving thousands of soldiers and eventually becoming the #1 most wanted person by the German Gestapo in 1943. Nancy never believed that women should just stay at home or stand on the sidelines while men went to war and proved herself to be a fantastic leader during the French Resistance, in which pockets of independently organized individuals fought against the Nazi occupation of France in the early 1940's. There have been many movie, television, and written adaptations of her life made, and she has written an autobiography entitled "The White Mouse".
Wake was born in Wellington New Zealand on August 30,1912, significantly younger than her other six siblings. In 1914, soon after her birth her parents made the move from New Zealand to Australia and settled in North Sydney. Nancy's childhood was wrought with poverty and instability, and after a short period her journalist father moved back to New Zealand, abandoning the family under the guise of filming a documentary about the Maori tribe and leaving her mother with six children to care and provide for. She attended school in Sydney but eventually ran away from home and began working as a nurse at age 16 in other parts of Australia. After a short while working as a nurse, Wake was pleasantly surprised with a gift of $200 (a large amount of money at the time) from her Aunt and used this money to travel to France and London and soon found work as a journalist. She lived extravagantly and eventually settled in France where she married a rich industrialist named Henry Fiocca in 1936 and enjoyed the Parisian social scene to the fullest.
During her time in 1930's Europe, Wake was unfortunate enough to witness the rise of the Nazis. She witnessed Jews being tortured and beaten in the streets by Nazi Gestapo and this inspired her to work tirelessly and do everything that she could to stop the Nazis. Wake stated that after seeing these original displays of brutality against Jewish individuals that "my hatered of the Nazis was very very deep". When the Nazis invaded France in 1940 her wealth and high social status afforded her relative saftey, and she began helping local resistance groups. She became a courier and a transporter, helping Jews and allied soldiers escape France into the safer country of Spain. During this time she purchased an ambulance and used it to help get refugees across borders. As a wealthy wife of a prominent businessman, she travelled with relative ease. She assisted the famous Scottish Officer Ian Garrow in transporting British military personnel stranded in France back home. Wake and Garrow collaborated with Belgian Major General Albert-Marie Guérisse to organize escape routes out of France for the soldiers.
In 1943 the Nazi Gestapo caught wind of her activities and she became the Gestapo's #1 most wanted individual, with a $5 million Franc price on her head. This forced Wake to flee her home in Marseille and leave her husband behind. Her husband was later captured, tortured and executed by the Gestapo during questioning about Wake's whereabouts. When trying to flee France Nancy was captured, tortured and interrogated for 4 days by the French militia, but she eventually convinced them to let her go. Nancy Wake fled from France to England and was accepted for training by the British Special Operations Executive (SOE), a British government intelligence unit working with the French Resistance. During her time with the SOE she was trained in survival skills, silent killing, codes and radio operation, night parachuting, plastic explosives, Sten guns, rifles, pistols and grenades. After her training, in 1944 she was parachuted into France along with 39 other women and 430 men in order to prepare for the Allied D-Day operation. Her job was to organize parachuted ammunition drops, set up communication and supply lines, and organize resistance individuals in preparation for the D-Day attack. In preparation, Wake organized her fighters and set about weakening the German posts in the area. Wake led her team of only 7,000 and carried out guerilla attacks against German forces in the area numbering around 22,000, severely damaging their supply lines and posts. Nancy claims that the most heroic and useful thing that she did during the entire war was ride her bike 310 miles both ways through several German checkpoints in order to reestablish contact with London by replacing codes that had been destroyed during an earlier German raid on the post. Without these codes there would have been no fresh supply or ammunition drops because the British planes would have not had their location. The total ride took her 71 hours, during which she barely rested.
During her time preparing for D-Day Wake discovered that her men had captured a young female German spy but did not have the heart to kill her. Wake took care of the deed and has stated that she never once regretted it. Wake is also known for killing an SS officer with her bare hands by delivering a fatal karate-chop to his neck to prevent him from sounding an alarm during a raid that she led on a German gun factory. She is also well known for leading a successful raid on the Gestapo headquarters in Montucon. She was a brilliant war strategist and on multiple occasions took control of units that were not her own and facilitated victories in battle through suppressive fire and ambushes. In June 1944 her troops were advanced on by the full might of the German forces in the area, and although they were forced to retreat they had killed 1,400 Germans and only lost 100 of their own men.
German troops began to be pushed out of France in June 1944, and on August 26 1944 Paris was liberated and Wake led her resistance troops into the city. This return was bittersweet for her, as she also learned of the death of her husband at this time. Her husband had been executed less than one year after she fled France.
Immediately following the war Wake recieved the George Medal from the United Kingdom, the Medal of Freedom from the United States, the French Resistance Medal from France, and three Croix de Guerre (military decorations) from France. After the war she continued her work for the British SOE in the British Air Ministry and Intelligence divisions. Eventually she married again, this time to a former prisoner of war John Forward, and the two returned to Australia to live in 1960. Upon returning to Australia she took an interest in politics and ran 2 unsuccessful campaigns in the Australian Federal Elections for the Sydney seats of Barton and Kingsford Smith. Wake and Forward lived a quiet life in Australia and never had any children. In 1985 Wake published her autobiography "The White Mouse" and moved to Port Macquarie with her husband, 242 miles north of Sydney Australia. Wake's husband John Forward died after 40 years of marriage on August 19, 1997, and she left Australia and moved to England for the last time in 2001. In England she lived at the Stafford Hotel in St Jame's Place where the hotel rarely charged her for any of her expenses. She spent most of her time at the hotel bar with a gin and tonic in her hand, and continued to come back to the bar after she moved to a nearby home for retired service men and women in 2003. Wake spent her last years at the Royal Star and Garter Home for Disabled Ex-Service Men and Women in Richmond, London.
Nancy Wake died on August 7, 2011, less than one month before her 99th birthday. After initially being admitted to Kingston Hospital for a minor chest infection, her health deteriorated quickly. Wake fought the infection for over one week, but eventually died peacefully on Sunday August 7.
---
Sources: The Independent, The Daily Telegraph, The New York Times, New Zealand Edge, The New York Times,Wikipedia.org