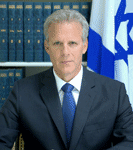 Dr. Michael B. Oren is the current Ambassador of Israel to the United States.
A graduate of Princeton and Columbia, Dr. Oren has received fellowships from the U.S. Departments of State and Defense, and from the British and Canadian governments. Formerly, he was the Lady Davis Fellow of Hebrew University, a Moshe Dayan Fellow at Tel Aviv University, and the Distinguished Fellow at the Shalem Center in Jerusalem. He has been a visiting professor at Harvard, Yale, and Georgetown.
Ambassador Oren has written extensively for The Wall Street Journal, The New York Times, and The New Republic, where he was a contributing editor. His two most recent books, Six Days of War: June 1967 and the Making of the Modern Middle East and Power, Faith, and Fantasy: America in the Middle East, 1776 to the Present, were both New York Times bestsellers. They won the Los Angeles Times' History Book of the Year prize, a National Council of the Humanities Award, and the National Jewish Book Award.
Raised in New Jersey where he was an activist in Zionist youth movements and a gold medal winning athlete in the Maccabia Games, Ambassador Oren moved to Israel in the 1970s. He served as an officer in the Israel Defense Forces, in the paratroopers in the Lebanon War, a liaison with the U.S. Sixth Fleet during the Gulf War, and an IDF spokesperson during the Second Lebanon War and the Gaza operation in January 2009. He acted as an Israeli Emissary to Jewish refuseniks in the Soviet Union, as an advisor to Israel's delegation to the United Nations, and as the government's director of Inter-Religious Affairs.
Ambassador Oren is married to Sally and have three children.
---
Sources: Embassy of Israel
Photo: This file is licensed under the Creative Commons Attribution 3.0 Unported license. Author: Anne Mandlebaum.