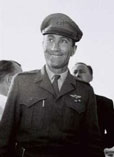 Meir Amit was born Meir Slutzki on March 17, 1921. He was an Israeli politician, general, and Director of the Mossad.
Meir Amit was born in Tiberias during the British Mandate to Ukrainian immigrants and grew up on Kibbutz Alonim in the lower Galilee. He joined the Haganah in the 1930s and fought for them during the 1948 Arab-Israeli War. He remained in the military and rose through the ranks to become a major general and served as chief of staff to IDF commander Moshe Dayan.
In the late 1950s, Amit studied and earned his business degree at the Columbia Business School in New York. When he returned to Israel, Amit entered the Israeli intelligence community first as Major General and was appointed head of the IDF intelligence branch in 1961 and then succeeded Isser Harel as Mossad Director in 1963. He was the only person in Israel's history to hold the position of Mossad chief and head of military intelligence at the same time.
As Director of Mossad, he orchestrated many high profile operations. In 1965, Israeli spy Eli Cohen managed to penetrate the highest levels of the Syrian government, though he was later detected and executed. In 1966, Amit engineered the defection of a Maronite Iraqi pilot who flew the then new Mig-21, among the most modern of the U.S.S.R.'s fighters, from Iraq and landed at an Israeli air base. Amit immediately shared the plane with the CIA, helping to cement the alliance between the two nations' intelligence agencies.
Amit is particularly known for his success in expanding Israel's human intelligence (HUMINT), especially in the Arab world. During the lead up to the Six-Day War in 1967, Amit had a network of informants that permeated the entire Egyptian military, providing key details for Israel's pre-emptive strike on Egyptian air bases and subsequent ground offensive.
Since his retirement from the Mossad, he continued to be an active voice in the intelligence community and did work for the Israeli government. Following the lead of other former generals, Amit joined the Dash party and served in the Knesset. In 2003, he was awarded the Israel Prize for his lifetime achievements and special contributions to society and the State of Israel. Amit was later the chairman of Israel's Center for Special Studies.
One of his cousins was the Jewish Russian poet, Boris Abramovich Slutski.
---
Sources: Wall Street Journal, Wikipedia