Main Terrorist Incidents Within the Green Line
In 1999, 153 people were wounded by terror within Israel, among them: 93 were civilians and 55 were members of the security forces.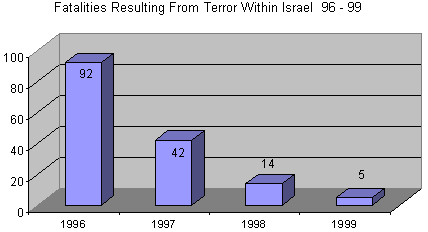 January 26 - A Palestinian from the neighborhood of Isawiah in east Jerusalem was killed and 4 others wounded during a Palestinian demonstration. During the funeral of the dead Palestinian, three Molotov cocktails were thrown at Israel Police and two toward the nearby Hadassah Hospital.
March 1 - Palestinian prisoners caused a disturbance in the Megido Jail in protest at being notified of renewing their prison term two days in advance following a previous promise to notify them ten days before the end of the administrative detention.
August 11 - 11 soldiers were wounded during a hit and run incident in which a stolen car ran over two female soldiers crossing the road at the Nahshon junction and escaped. Shortly after, the car made a U-turn and ran over nine more soldiers at a hitchhiking post. The driver, a Palestinian from Bethlehem, was killed by Israeli and border police fire.
August 30 - Two bodies with stab wounds were found in the Megido forest in northern Israel. An Israeli Arab suspect was arrested, and it was later disclosed that the murder on nationalistic grounds.
September 5 - Two terrorists killed and two civilians wounded - one seriously and one lightly during an incident in which an Audi car, belonging to a resident of the Israeli town of Daburiah, exploded in Tiberias. The two terrorists on their way to carry out a terrorist attack, were inside the car during the explosion.
September 5 - One terrorist killed during an incident in which a Fiat car belonging to a resident of the Israeli village of Mashad (in the Galilee) exploded in Haifa. The terrorist, on his way to carry out a terrorist attack was killed in the explosion and three additional cars caught fire.
November 7 - 28 civilians and two soldiers were wounded from three of four explosive charges that exploded in a garbage container in Netanya. The fourth charge was neutralized by an Israel police bomb squad.
Source: IDF