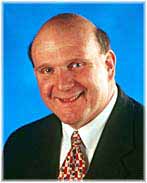 Steve Ballmer was president and CEO of Microsoft Corp. from January 2000 until his retirement in February 2014.
Ballmer's responsibilities included boosting the business discipline and performance of all Microsoft's existing and emerging businesses as well as continuing to improve customer satisfaction. Ballmer also focused on reinventing the Microsoft working environment so that the company is even more responsive to changing customer needs, new technologies and market dynamics.
Ballmer has held a number of positions since joining Microsoft in 1980. Most recently, president, responsible for broadening the leadership of the company and positioning it to take advantage of future growth opportunities. Prior to that, he was executive vice president of sales and support, where he drove all activities related to Microsoft's sales, support and marketing. He shaped the new model of broad customer service in the '90s, building and maintaining comprehensive long-term relationships with customers.
Ballmer also has been responsible for leading Microsoft's channel efforts, and has been instrumental in forging strategic relationships with key business associates at every level of the value chain. He is a member of Microsoft's Business Leadership Team, which shares responsibility with Bill Gates and 12 other senior executives for broad strategic and business planning for the entire company.
A graduate of Harvard University, Ballmer earned a degree in applied math and economics and later worked at Procter & Gamble Co. as an assistant product manager. He then attended the Stanford Graduate School of Business. He is also a member of the Stanford Business School Advisory Council. In his free time, he enjoys working out at the gym, jogging and playing basketball.
The Detroit-born son of a Jewish mother was ranked as the 24th richest person in the world, with an estimated wealth of $15 billion, in Forbes magazine's 2006 "World's Richest People" ranking.
---
Sources: Microsoft and the Jerusalem Report, (2/14/2000), Wikipedia