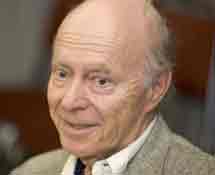 In October 2004, Irwin Rose was awarded the Nobel Prize in Chemistry along with Israelis Aaron Ciechanover and Avram Hershko. The three scientists discovered the major pathway through which cellular building blocks, known as ubiquitin proteins, are regulated and degenerated. This feat has opened the door to new means of developing drugs that are able to fight such illnesses as cancer, cystic fibrosis, Alzheimer's and Parkinson's disease: thus enhancing and prolonging the lives of many.

Born in Brooklyn, N.Y. on July 16, 1926, Rose attended Hebrew school, but became a "confirmed secularist" at age 10. He grew up in Spokane, Washington. He later studied at Washington State College and then served in the U.S. Navy as a radio technician near the end of World War II. He completed his undergraduate degree under the G.I. Bill of Rights in 1949 at the University of Chicago and went on to earn his doctorate in biochemistry there. He served on the faculty of Yale Medical School's biochemistry department from 1954 to 1963. In 1963, he became a senior member of the Fox Chase Cancer Center in Philadelphia, where he stayed until retiring in 1995. While at Fox Chase, he became a member of the National Academy of Sciences.

Rose was a specialist with the Department of Physiology and Biophysics at the UC Irvine College of Medicine in California.

Rose and his wife lived in Leisure World in Orange County, are active in the retirement community's Concerned Citizens group, and, he said, expressed their Jewish identity mainly through their ties with Israel.

Irwin Rose passed away in his sleep at 88 years of age on June 2, 2015, in Deerfield, Massachusetts.
---
Sources: Jerusalem Post, (October 11, 2004); Medical News Today; Science Daily; UC Irvine. Photo credit Paul R. Kennedy.