Aaron Ciechanover
(1947 - )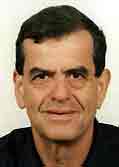 Aaron Ciechanover is an Israeli biochemist and winner of the 2004 Nobel Prize in Chemistry.
Ciechanover (born October 1, 1947) was born in Haifa in pre-State Israel. Ciechanover studied medicine at the Hebrew University Medical School in Jerusalem, receiving an M.D. in 1974. From 1974 to 1977, Ciechanover performed his obligatory service in the Israel Defense Forces.
From 1977 to 1981, Ciechanover was a graduate student with Avram Hershko at the Technion and he received his Ph.D. in 1981. From 1982 to 1984, Ciechanover worked as a postdoctoral fellow at the Department of Biology at MIT where he studied lasialoglycoprotein and transferring receptors.
Ciechanover's independent work began in 1986, at the Unit of Biochemistry, Technion, Israel. In 1997, Ciechanover was awarded the Henry Taub Prize from the Technion in recognition of Excellence in Research.
In 2004, Ciechanover was awarded the Nobel Prize in Chemistry "for the discovery of ubiquitin-mediated protein degradation." He shared the award with fellow Israeli Avram Hershko as well as American biologist Irwin Rose.
In 2005, Ciechanover and Hershko were jointly voted as the 31st-greatest Israelis of all time in an online poll.
---
Sources: Albert and Mary Lasker Foundation; NobelPrize.org; Wikipedia