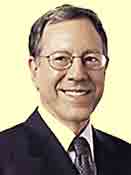 Law Professor, Constitutional and Comparative Law Scholar, International Human Rights Lawyer, Counsel to prisoners of conscience, NGO Head, Public Intellectual, Peace Activist, Member of Parliament, and Minister of Justice and Attorney General of Canada – Irwin Cotler has been variously described in these roles and responsibilities as being "at the forefront of the struggle for justice, peace and human rights."
Irwin Cotler was first elected to Parliament in a by-election in November 1999 with 92% of the votes, in what was characterized as "the most stunning electoral victory in this century by any standard." He was re-elected in the general elections of November 2000, June 2004, and January 2006, with the highest Liberal majority in the country, and, most recently, in October 2008.
On December 12, 2003, the Prime Minister appointed him Minister of Justice and Attorney General of Canada. He was reappointed following the General Election of June 2004 and served in that office until the general election of January 2006, when the Liberal government was defeated. He is currently serving as Liberal Special Counsel on Human Rights & International Justice, is a member of the House of Commons Foreign Affairs Subcommittee on International Human Rights, and Chair of the All-Party Save Darfur Parliamentary Coalition. A leading public advocate in and out of Parliament for the Human Rights Agenda, he headed the Canadian Delegation to the Stockholm International Forum on the Prevention of Genocide.
As Minister of Justice and Attorney General, he helped transform the face of the judiciary through the appointment of two outstanding women justices to the Supreme Court of Canada –Mesdames Justices Rosalie Abella and Louise Charron– making the Supreme Court of Canada the most gender representative Supreme Court in the world, while appointing the first ever visible minority and aboriginal justices to appellate courts. He also initiated legislation for the Protection of Children and other Vulnerable Persons; the first ever legislation to criminalize trafficking in persons; made the pursuit of international justice a priority, including, in particular, the combating of mass atrocity and genocide; initiated the first ever prosecution under the Canadian War Crimes and Crimes Against Humanity Act for incitement to genocide in Rwanda; issued the first ever National Justice Initiative Against Racism and Hate; and quashed more wrongful convictions in a single year than any prior Minister.
Cotler has served as a Professor of Law at McGill University, where he is Director of its Human Rights Programme, and Chair of InterAmicus, the McGill-based International Human Rights Advocacy Centre. He has been a Visiting Professor at Harvard Law School, a Woodrow Wilson Fellow at Yale Law School, and is the recipient of nine Honourary Doctorates, including from the Hebrew University of Jerusalem, whose various citations refer to him as "a scholar and advocate of international stature."
A constitutional and comparative law scholar, he litigated every section of the Canadian Charter of Rights and Freedoms, including landmark cases in the areas of free speech, freedom of religion, women's rights, minority rights, war crimes justice, prisoners' rights, and peace law. He has testified as an expert witness on human rights before Parliamentary Committees in Canada, the United States, Russia, Sweden, Norway, and Israel, and has lectured at major international academic and professional gatherings in America, Europe, Asia, Africa, and the Middle East.
An international human rights lawyer, Professor Cotler served as Counsel to former prisoners of conscience in the former Soviet Union (Andrei Sakharov & Nathan Sharansky), South Africa (Nelson Mandela), Latin America (Jacobo Timmerman), and Asia (Trade Union Leader Muchtar Pakpahan). He later served as international legal counsel to imprisoned Russian environmentalist Aleksandr Nikitin; Nigerian playwright and Nobel Laureate Wole Soyinka; the Chilean-Canadian group Vérité et justice in the Pinochet case; Chinese-Canadian political prisoner, Professor KunLun Zhang. More recently, he served as Counsel to the leading democracy advocate in the Arab world, Professor Saad Edin Ibrahim; and more recently, as International Legal Council to Shoaib Choudhury, a Muslim Bangladesh journalist presently charged with sedition, treason, and blaspheme for advocating nothing other than inter-faith dialogue and peace with Israel.  
A feature article on him in Canada's national magazine - Maclean's - magazine referred to him as "Counsel for the Oppressed."
He has testified as an expert witness on human rights before Parliamentary Committees in Canada, the United States, Russia, Sweden, Norway, and Israel, and has lectured at major international academic and professional gatherings in America, Europe, Asia, Africa, and the Middle East.
A noted peace activist, he has been a leader in the movement for arms control, and helped develop "Peace Law" as an area of both academic inquiry and legal advocacy; as well, Professor Cotler has been engaged –both as scholar and participant observer– in the search for peace in the Middle East. He has lectured in both Arab countries and Israel for over thirty years, and has been an active participant in rapprochement dialogues between Israelis and Palestinians. He was the first Canadian Government Minister to visit the Middle East – promoted a common justice agenda in the region– and secured agreement among the Justice Ministers of Egypt, Jordan, Israel and the Palestinian Authority to participate in the first ever joint Justice Forum.
A leader in the struggle against impunity and the development of international humanitarian law, Professor Cotler served as Counsel to the Deschênes Commission of Inquiry in the matter of bringing Nazi war criminals to justice; filed amicus briefs before the International Criminal Tribunals for former Yugoslavia and Rwanda; and was leading advocate for the establishment of an International Criminal Court.
A long-time advocate in the international struggle against racism and discrimination of any kind, Professor Cotler was at the forefront of the international struggle against apartheid, as well as the architect of legal remedies against racism in Canada and beyond, both in his capacity as Minister of Justice and formerly as legal counsel for national and international NGOs.
Professor Cotler's efforts have resulted in his chairing, or being a member of, a number of governmental and citizens' Commissions of Inquiry –including being Chair of the International Commission of Inquiry into the Fate and Whereabouts of Raoul Wallenberg; Chair of the Commission on Economic Coercion and Discrimination; and member of the Commission of Inquiry on the Crime of Apartheid.
In 2020, Cotler was appointed Canada's first special envoy to combat anti-Semitism.
---