Irmfried Eberl
(1910 - 1948)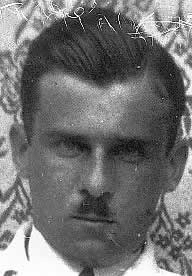 Irmfried Eberl was an Untersturmfuhrer in the SS and the first commandant of Treblinka.

Eberl (born September 8, 1910; died February 16, 1948) was born in Austria and joined the Nazi Party in December 1931 while still a medical student at Innsbruck University.

In February 1940, shortly after the Nazis had commenced their T-4 euthanasia program, Eberl became the medical director of the killing facility at Bradenburg and in 1941 he assumed the same position at the Bernburg Euthanasia Center.

After public outcry lead to the termination of the T-4 program in Germany, Eberl was transferred to the Chelmno extermination camp to begin using variations of the T-4 program to kill Jews in much larger numbers. In July 1942, Eberl was assigned to command of the Treblinka extermination camp as part of Operation Reinhard.

His command over Treblinka, however, did not last long as his ambitions to kill as many Jews as possible became untenable. In August 1942, he was dismissed from the post for incompetence in disposing of the bodies of the thousands of people who had been killed.  Eberl was also relieved of his duty because he was not killing people in an efficient and timely enough manner, and also because he was not properly concealing the mass murder from locals.

In 1944, Eberl joined the Wehrmacht, where he served until the conclusion of the war. He continued to practice medicine until he was arrested as a war criminal in January 1948. A month later, Eberl committed suicide to avoid trial.
---
Sources: Wikipedia