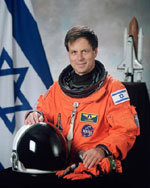 Colonel Ilan Ramon was an Israeli Air Force combat pilot and the first Israeli astronaut to take part in a space mission, the fatal Space Shuttle Columbia mission..
Ramon was born on June 20, 1954, and grew up in Tel Aviv, Israel. In 1972, Ramon graduated from high school and in 1987, during a long and highly distinguished career in the Israeli Air Force, he received his bachelor of science degree in electronics and computer engineering from Tel Aviv University.
In 1974, Ramon graduated as a fighter pilot from the Israel Air Force (IAF) Flight School. From 1974-1976, he participated in A-4 Basic Training and Operations and from 1976-1980 he took part in Mirage III-C training and operations. In 1980, as one of the IAF's establishment team of the first F-16 Squadron in Israel, he attended the F-16 Training Course at Hill Air Force Base, Utah. From 1981-1983, he served as the Deputy Squadron Commander B, F-16 Squadron. From 1983-1987, he attended Tel Aviv University. From 1988-1990, he served as Deputy Squadron Commander A, F-4 Phantom Squadron. During 1990, he attended the Squadron Commanders Course. From 1990-1992, he served as Squadron Commander, F-16 Squadron. From 1992-1994, he was Head of the Aircraft Branch in the Operations Requirement Department.
In 1994, Ramon was promoted to the rank of Colonel and assigned as Head of the Department of Operational Requirement for Weapon Development and Acquisition. He stayed at this post until 1998. Colonel Ramon has accumulated over 3,000 flight hours on the A-4, Mirage III-C, and F-4, and over 1,000 flight hours on the F-16. Ramon also served in the Yom Kippur War and Operation Peace for Galilee. He was reported also to be one of the pilots involved in the raid on the Iraqi nuclear reactor at Osirak in 1981 (Jerusalem Post, January 17, 2003).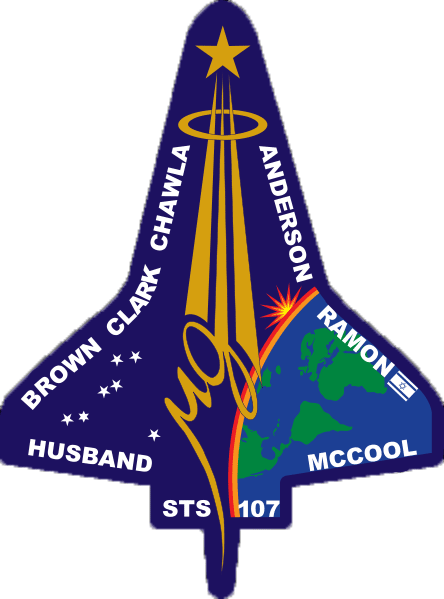 Shuttle Columbia Insignia
In 1997, Colonel Ramon was selected by NASA to serve as a Payload Specialist on the Space Shuttle Columbia. In July 1998, he reported for training at the Johnson Space Center, Houston.
The seven member crew of STS 107, including Col. Ramon, successfully launched aboard the Space Shuttle Columbia at 10:39 a.m. EST from the Kennedy Space Center in Florida on January 16, 2003, for a 16-day mission. During the mission, Ramon conducted a number of experiments and the flight was considered a great success.
"Being the first Israeli astronaut -- I feel I am representing all Jews and all Israelis," Ramon said. Referring to his mother and grandmother, who both survived imprisonment in Auschwitz, he added, "I'm the son of a Holocaust survivor -- I carry on the suffering of the Holocaust generation, and I'm kind of proof that despite all the horror they went through, we're going forward."
Although Ramon described himself as a secular Jew, special kosher meals were made for his journey and he consulted with rabbis before leaving about the proper way to observe Shabbat from space.
Ramon carried several personal souvenirs with him into space. His wife gave him four poems and his father gave him photographs of the family. His 15-year-old son, Assaf, and Ramon's brother, Gadi, both gave him letters to be unsealed and read only after he was in orbit. Israel's president, Moshe Katsav, gave him a credit card-size microfiche copy of the Bible. He also took a pencil drawing titled "Moon Landscape" by a 14-year-old Jewish boy, Peter Ginz, who was killed at Auschwitz.
Ramon's journey into space occurred as Israelis continued to suffer through a horrendous period of violence and helped lift the nation's spirits. Ramon was a national hero and a symbol of hope.
Tragically, just minutes before landing on February 1, 2003, the Columbia exploded; Ramon and the six American astronauts aboard with him were killed. Miraculously , Ramon's in-flight diary was discovered almost completely intact and legible despite the fact that the shuttle had completely disintegrated upon re-entry with burning debris falling across the southern United States. In the diary, Ramon wrote: "Today was the first day that I felt that I am truly living in space. I have become a man who lives and works in space."
Ramon posthumously received the U.S. Congressional Space Medal of Honor, and is still the only non-American to be awarded the prestigious honor.
Ramon leaves behind a wife, Rona, and four children. One of his sons, Captain Asaf Ramon, tragically died during a routine training mission while he was piloting an Air Force fighter plane only three months removed from graduating as the top cadet in his flight school.
---
Sources: NASA.
Washington Post (February 2, 2003)