Israel Humanitarian Operations: Earthquake Relief Efforts in Haiti
(Updated February 2010)
On January 12, 2010, a 7.0 magnitude earthquake struck the impoverished nation of Haiti in the Caribbean. The quake, centered only miles away from its capital city Port-au-Prince, and the tens of strong aftershocks that came in its wake, led to the death of an estimated 320,000 and left more than a million Haitians homeless.
Almost immediately, Israel prepared to send an aid delegation as a well as an IDF search & rescue unit to Haiti.
On January 14, two 747 jets leased from El-Al took off from Israel carrying a 220-person delegation made up of volunteers, doctors and soldiers and including aid packages the Ministry of Foreign Affairs, Magen David Adom and the Israeli Police.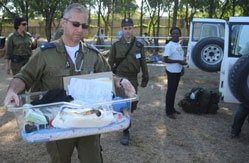 Dr Yuval Levi transfers a baby born in the IDF field hospital
This first delegation landed in the capital of Port-Au-Princ on January 15, 2010, and established its operation center in a soccer field near the airport.Israel's ambassador to the Dominican Republic, Amos Radian, was already in Port-au-Prince coordinating Israel's contribution with local authorities and international aid agencies.
On January 19th, an additional team joined the IDF team operating in Haiti since the January 12th earthquake, consisting of GOC of the Home Front Command, Maj. Gen. Yair Golan, CEO of the Ministry of Health, Dr. Eitan Hai-Am, and the Chief Medical officer, Brig. Gen. Nahman Esh. After landing, the team arrived at the IDF field hospital and was updated on the current situation regarding the treatment of victims.
Israeli Ambassador to the Dominican Republic Amos Radian and Maj. Gen. Yair Golan, head of the IDF Home Front Command, met with the Prime Minister of Haiti and toured the demolished UN headquarters and other disaster areas in order to asses the continuation of Israeli aid.
Two teams, comprised of search and rescue personnel and canine operators from the IDF canine unit, were sent out on rescue missions. The first team was sent to the Haiti UN headquarters in order to assist in rescuing survivors. The rescue teams were working in cooperation with local authorities in order to reach disaster-struck areas where survivors can be located and assisted.
The IDF medical and rescue team concluded its operations on January 27, 2010. The delegation's 236 members, including 218 IDF soldiers and officers and 18 civilians, returned to Ben-Gurion International Airport in Tel Aviv the following day. On board the air plane was a five year old child from Haiti who is scheduled to undergo heart surgery in order to correct a heart deficiency.
The delegation left 30 tons of medical equipment for use in the ongoing aid effort. This included bandaging gear, surgery equipment, two incubators and other medical accessories as well as 1150 blankets, 30 large-sized tents, 500 mattresses, 200 sleeping bags and kitchen equipment. The equipment will be distributed to tent-cities in different locations in Haiti, under the coordination of the Israeli ambassador in the country.
During its stay in Haiti, the delegation treated more than 1110 patients, conducted 319 successful surgeries, delivered 16 births including three by Cesarean sections and saved many from within the ruins.
Following the conclusion of the IDF medical and rescue team operations in Haiti on January 27, the Israeli government decided to continue its official assistance to Haiti as part of the global effort of reconstruction of the country. The ongoing effort is being coordinated through MASHAV - Israel's Agency for International Development Cooperation, Ministry of Foreign Affairs.
Continuing projects included building the Israeli Children's Village that will include an elementary school, playground, sports field and medical center. A planned community center will work with youngsters on post trauma treatment and counseling, psychological rehabilitation and afternoon activities. In coordination with the mayor of Port au Prince, a local principal and teaching staff will be recruited for the school, which will be comprised of 6-8 classrooms (between 30-50 students per class). They will be joined by professionals from Israel and, possibly, volunteer teachers from Jewish communities around the world. Meals will be provided to the school through an arrangement with various NGOs.
Other Israeli aid efforts in Haiti:
 On February 18, a school serving 400 pupils was opened in the IDF tent compound that was left in place after the initial emergency relief efforts in January. The school, the third temporary school to be opened, was organized by Natan - the Israeli Coalition for International Humanitarian Aid. Approximately 1500 pupils are attending the schools that have been opened so far. Teachers have also been trained in how to treat the children for trauma.

Latet (lit. "To Give"), another Israeli organization for international aid, is active in establishing schools and providing medical care in the stricken areas.

Tevel b'Tzedek, under the auspices of IsraAID, is also involved in the ongoing humanitarian aid efforts in Haiti, especially post-trauma treatment in the refugee camps, together with the Israel Center for the Treatment of Psychotrauma of Herzog Hospital.

The medical professionals from ALYN, an Israeli rehabilitation center for physically disabled children and adolescents, arrived in Haiti on Wednesday, February 17, to examine and evaluate the type and number of injuries and amputations, as well as to assess the abilities of the local medical staff in Haiti to carry out the necessary rehabilitation of its people. ALYN Hospital has considerable expertise in treating orthopedic injuries, spinal cord injuries and head traumas - and particularly in rehabilitating children with prosthetics.

When the earthquake struck Haiti a month ago, five-year-old Simmorville Keture was buried underneath her home. Simmorville survived, but her right leg had to be amputated. For a month, she lay helpless in bed among the many wounded, until therapists from ALYN Hospital came with the IsraAID relief team. Within minutes after being provided with crutches, treated and taught to stand, Simmorville began to walk.
---
Sources: Israel Ministry of Foreign Affairs, The Israel Project, IsraAID