Hayyim Nahman Bialik
(1873 - 1934)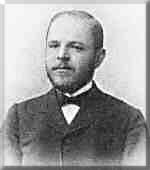 Hayyim Nahman Bialik was born in Radi, Volhynia in Russia to a traditional Jewish family. Bialik studied at a yeshiva in Zhytomyr. At the age of 17, he was sent to the great Talmudic academy in Volozhin, Lithuania, where he was attracted to the Enlightenment movement and joined the Hovevei Zion group. Bialik gradually drifted away from yeshiva life. His poem, HaMatmid ("The Talmud student") written in 1898, reflects his great ambivalence toward that way of life.
At 18, Bialik left for Odessa, where he became active in Jewish literary circles and first met Ahad Ha'am, who had a great influence on his Zionist outlook. It was at this time that his first poem was published, El Ha-Tzipor ("To the Bird"), which reflected his feelings toward Zion and Russia, themes that he was to return to frequently during this period.
Bialik was not yet a full-time writer and poet. For some time, a bookkeeper in his father-in-law's business, he later taught, published and translated, and for six years was literary editor of the weekly Hashiloah in Odessa. He had hopes of becoming successful in business, but after a four-year period in the lumber trade he decided to make his living by teaching. In 1901, his first collection of poetry appeared and was greeted with much acclaim. Over the next three years, he wrote a considerable number of works. Commentators say that this was his golden period. Although his later writings became more universal in outlook, his "In the City of Slaughter," written in response to the Kishinev pogrom, was a powerful statement of anguish at the situation of the Jews.
He moved to Berlin in 1921, where he founded the Dvir publishing house. He moved the company to Tel Aviv in 1924 and devoted himself to cultural activities and public affairs. Bialik was immediately recognized as a celebrated literary figure. In 1927, he became head of the Hebrew Writers Union which had been established six years previously. He retained this position until his death in 1934.
Bialik's poetry and prose have been widely translated. His poems are still read in contemporary Israel, and several have been put to music by some of the country's most gifted composers. During his lifetime, he was called the "national poet," a title that has remained to this day.
The work of Hayyim Nahman Bialik takes on many genres and modes of expression. His national poetry laments the degeneration of the Jewish nation in exile and strives to stimulate latent forces to create a new destiny. Expressing a wide range of emotions, his personal verse reflects the inner conflicts of modern man. His nature poetry is rich in imagery, and his love poems show both tenderness and violent passion. Bialik's stories deal realistically with subjects drawn from contemporary events, and his legends and folktales evince a fertile imagination and a gentle sense of humor. In his career called "a watershed in modern Hebrew literature," Hayyim Nahman Bialik answered the silent cry of a people in need of articulation in a new era.
Books Published in Hebrew
Poems, Tushia, Warsaw, 1901.Poems, Hovevei Hashira Haivrit, Kraków, 1908.The Writings of H. N. Bialik, Hovevei Hashira Haivrit, Berlin, 1924. Poems and Songs (children), Dvir, 1933.The Writings of H.N. Bialik (four volumes), Dvir, 1938.Collected Poems ­ Critical Edition, Dvir, 1983; 1990.
Books in Translation
Hadari, Atar. Ed. Songs from Bialik: Selected Poems of Hayim Nahman Bialik. NY: Syracuse University Press, 2000.
Writings, Yiddish: New York: Jewish National Workers Alliance, 1946; Buenos Aires, IWO Ateneo Literario, 1964.
Aftergrowth, English, Philadelphia, J.P.S., 1939.
Hebrew Poems, French, Tunis, Editions Angel, 1945.
Az Ujheber Kulturaert, Hungarian, Budapest, Makkabea Maunkakozossege, 1942.
Stikhi I Poemy, Russian, Tel Aviv, Dvir, 1964.
Legendes, French, Jerusalem, WZO, 1960.
Der Waldsee, German, Jerusalem, Todros Verlag, 1962.
Poems, Spanish/Hebrew, Buenos Aires, Pardes, 1986.
E Accade Un Giorno, Italian, Bergamo, Ianus, 1967.
Mantoua Minunatc, Romanian, Bucharest, Editura Bikurim, 1945.
Poems, French, Jerusalem, WZO, 1958.
Hebrew Poems, French, Paris, Rieder, 1933.
The Poems of Bialik, English, Columbus, Alpha, 1987.
Selected Poems, English: Tel Aviv, Dvir, 1981